Experience VR with HyperVR Virtual Reality Headset
Who knew virtual reality could be so inexpensive?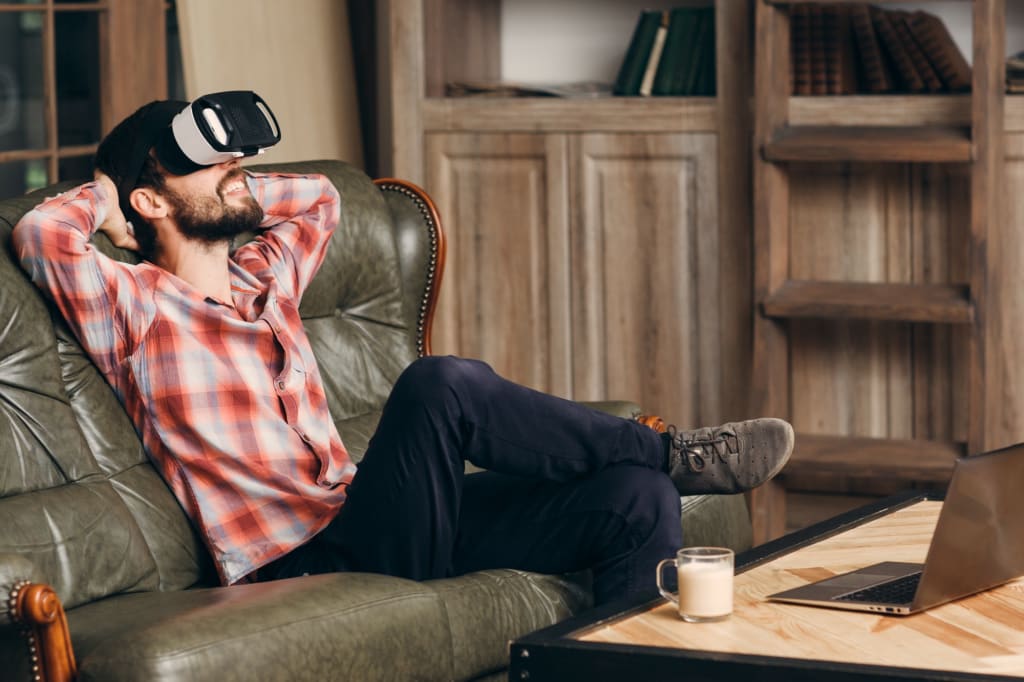 As someone who is not necessarily technologically-savvy, hearing terms like "virtual reality" and "augmented reality" made me feel like I was living in an episode of The Jetsons. Those terms, for all intents and purposes, sound so other-worldly to an older gentleman like myself, that I never imagined I would ever consider purchasing that kind of technology. After all, how much could something that literally puts you in another reality costs? Hundreds, if not thousands, right?!
Well, I was wrong about it all.
This past Christmas, I received a HyperVR Virtual Reality Headset from my son. Keep in mind, my son is 10 years old. Naturally, I asked him, "Where the HELL did you get the money for this?!" He told me it was from his allowance.
I probed my wife to see whether or not she gave my young son money for the gift. She simply laughed, and replied, "Brett, it was only $20."
I was pretty astonished. How could such incredible technology exist for such a cheap price? Obviously, I'm just not up with the times, but even doing some research, this was clearly a good deal. I just had to see if it was still a quality product, and boy, is it ever.
So the headset I got easily synced up to my iPhone. Apparently, it's both iPhone and Android compatible, so you shouldn't have a problem regardless of the phone you have.
The HyperVR also supports both VR and AR, so you can immerse yourself in either of the ultra-realistic forms of content consumption.
The one thing that really took me by surprise with the headset was just how powerful the sound system was for something so small. I might not be a tech expert, but I'm pretty familiar with sound systems, as I used to work in electronics years ago. I was shocked at the specs within these high qualities headphones—it contains a 40mm diaphragm with 32 ohm low impedance, which gives it a clean treble and an explosive bass. It was like having surround sound in a pair of goggles. A very inexpensive pair of goggles, I might add.
The Japanese lenses, which are very high quality, also provide an immersive 120º field of view at 35mm focal distance. This means, essentially, that you can get a peripheral view of the landscape within the VR—just like in real life. You might not get the full 180 degrees, but this is certainly close enough.
Comfortably is a major plus.
The headset was also surprisingly comfortable. It comes with ventilation for both your phone (in case of overheating) AND your face, so you never feel trapped while you're wearing the headset. I can, at times, get a little claustrophobic, so this actually proved to be a necessity for me. I don't think I could possibly watch a full feature-length film without the ventilation, to be honest.
The headphones and headbands within the headset are also adjustable, and were able to fit perfectly around my rather large chrome-dome. The HyperVR is also super lightweight, making it easy for transport. That only makes sense though, considering it's made for your mobile smartphone. Still, it was a pleasant surprise as to just how lightweight it was.
It's also super easy to use.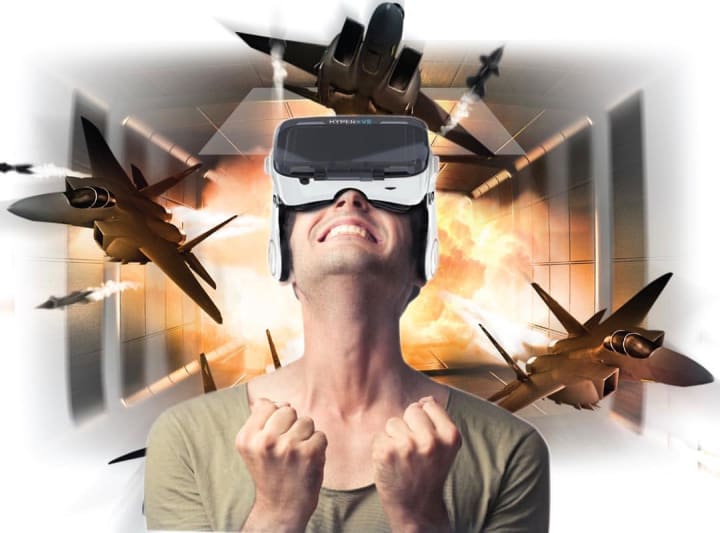 For someone like me, who is a bit, err, technologically impaired, I was a bit nervous to even try my hand at VR. But my 10-year-old son was able to show me everything I had to know in just a few short minutes. Sure, he's a smart kid, but obviously, it doesn't take rocket science to understand how to use this product.
Luckily, the HyperVR allows you to watch a variety of classic films in VR. I decided to watch something aesthetically pleasing. I went with Christopher Nolan's The Dark Knight, as I felt as if the dark, almost neo-noir cinematic aspects would look great in the HyperVR. Plus, I had a chance to check out the "surround sound" aspect of the headset.
Well, I could not have been more pleased. The action sequences, in particular, looked visually stunning. The integrated audio headphone certainly lived up to its billing, and I felt as if I was in the movie, at times. The bass was incredibly loud, and startling, but I mean that in the best way possible. The opening bank-robbing sequence with the Joker made me feel like I was one of his henchmen. I almost felt like going out to the store and grabbing a clown mask myself, but I didn't want to get THAT into the story. You know, for my own sanity's sake.
And as for the device's interface? Really, it couldn't get much easier. Even for a geezer like me. Basically, there are standard remote buttons that control volume and play/pause movies. But they also have buttons on there that can answer phone calls during movies, and even a "Google Cardboard" trigger, which allows you to utilize Google's own VR app.
Would I recommend it?
I'm not just saying this because it was a gift from my 10 year old—I would recommend this VR headset 1,000 times over. My main concern, obviously, was cost, but apparently VR just isn't very expensive anymore. My second concern was comfortability, but as I said earlier, I was actually shocked at how comfortable the HyperVR headset was. After a while, it didn't even feel like I was wearing anything. I'm also looking forward to using it on my commute. I tend to read on the train if possible, but I think this might be my next course of action.
To be honest, I can't really think of any potential cons with this VR headset. Maybe I'll come across some issues in the future (I haven't really toyed with any augmented reality features), but right now, I'd give this thing a 10/10.

Brett Tortorello
I'm a middle aged man currently working as a Shift Supervisor at Bob's Furniture. I'm thinking about opening up my own restaurant some day, but my real passion is expressing myself through writing.
See all posts by Brett Tortorello →