Everything You Need to Know About Samsung Galaxy S21 Series & Galaxy Buds Pro
Everything You Need to Know About Samsung Galaxy S21 Series & Galaxy Buds Pro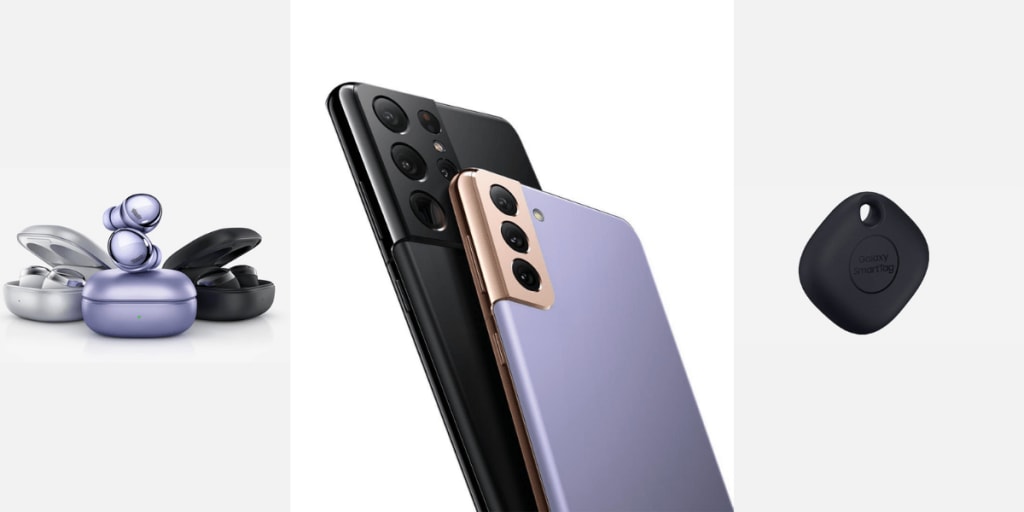 One of the major brands in the smartphone category, 'Samsung' has come up with brand new model series and we can't keep calm!
Samsung Galaxy S21, Galaxy S21 Ultra, Galaxy S21+, and the Galaxy Buds Pro TWS earbuds are available for open sale in India. The Samsung S21 series are offered in 6 exciting colors including Phantom White, Phantom Black, Phantom Silver, Phantom Grey, Phantom Violet, and Phantom Pink and vary according to the model you will choose.
Find all your favorite Cell Phones & Accessories at free Shopify website easily.
Samsung S21 Series and Galaxy Buds Pro Price & Availability
The premium Samsung Galaxy S21 Ultra are being offered in 2 major variants. The 12 GB + 128 GB model starts from Rs. 1,05, 999 and the 16GB + 512GB version is priced at Rs. 1,16,999. For the Samsung S21 + also, there are 2 main variants available. The base version with 8GB + 128GB of storage starts from Rs. 81,999, while the 8GB + 256GB is be offered for Rs. 85,999.
The last model Galaxy S21 is also be accessible in 2 variants of 8GB + 128GB and 8GB + 256GB with prices set at Rs. 69,999 and Rs. 73,999 respectively.
The Samsung Galaxy Buds Pro TWS Earbuds is be priced at Rs. 17,990 for users in India.
Samsung S21 Series and Galaxy Buds Pro Major Specifications
The Samsung Galaxy S21and S21+ have similar features. The former model has a 6.2-inch Flat FHD+ AMOLED 2X Infinity O display screen, while the latter model has a 6.7-inch Flat FHD+ Dynamic AMOLED Ultra 2X Infinity O display screen.
The S21 has a refresh rate 120 Hz refresh rate. The camera specification for both phones stands at similar positions.
The setup includes a 10-megapixel punch-hole front cam for selfies. There is a triple camera setup for the rearview pictures and videos. It includes a 12-megapixel wide-angle lens, a 12-megapixel ultra-wide-angle, and a 64 megapixels telephoto lens supporting 30X space zoom.
The S21 comes with 4000 mAH battery backup while the S21+ has a 4800 mAH battery power.
Coming to S21 Ultra, the phone has a 6.8-inch Edge QHD+ Dynamic AMOLED 2X Infinity O display screen, with a resolution rate of 3200 X 1440 pixels.
It will be powered with a 5nm 64-bit Octa-core processor.
The camera specifications include a 40-megapixel selfie camera on the front. The rear camera is a quad-cam setup with an ultra-wide, dual Tele sensor and a wide-angle camera, also supporting a 108-megapixel sensor. It will offer up to 100X space zoom with the help of a Dual-tele lens system. The phone comes with a huge battery backup of 5000 mAH. It is also the first phone in the S-series to come with S-pen support.
All the S21 series models will support Exynos 2100 chipset and 5G connectivity.
The Galaxy Buds Pro will come with some advanced technology features like ANC (Active Noise Cancellation), IPX4 rating water-resistant, and wireless charging.
It uses a two-way speaker system and will also come with a 360-degree audio feature. It will help the earbuds re-calibrate the music and help in adjusting you in the center whenever you turn your head.
The earbuds will be able to offer up to 28 hours of battery life, with the ANC mode in an off position.
Smartphones are only getting better with time and these mobiles are here to tell a tale. Tell us what do you think about the gadgets and leave your comments about the performance of these smartphones if you already own them.