Buying and selling of gadgets in classified sites
Classified sites are the world of second hand laptops and mobiles. It is the easiest way to buy or sell second hand gadgets with best price while sitting at your home.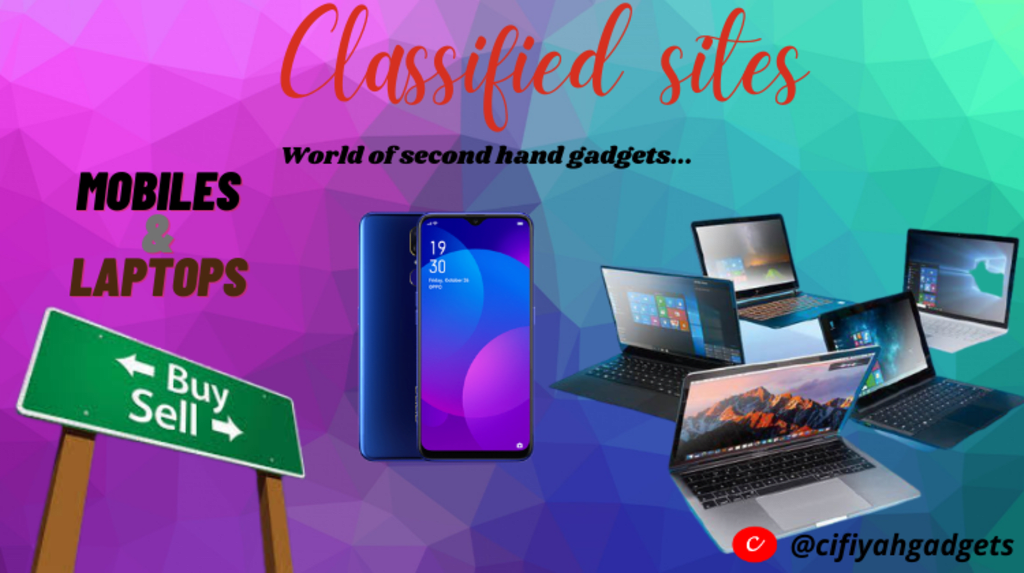 Buying and selling of used gadgets is now gaining popularity in India as the customer are now comfortable with the classified business. Everyone whose budget is a bit low or need an extra mobile or laptop are searching for searching for second hand laptops and mobiles in the classified sites.
Classified sites are being so popular as you can get everything like real-estate, jobs, gadgets, vehicles, electronics, and services. Don't need go to anyone and ask that will you purchase my phone, want to sell your second hand mobile phone just post a free ad in classified sites.
The procedure for buying & selling of laptops and mobiles in a classified site is very, let us see the procedure for both buying and selling.
Buying
Buying from classified site are very secured and trustworthy nowadays. It's a little different from the e-commerce website let us see the procedure for buying.
• First thing sign up in the classified site that you have chosen I would recommend you to choose the best one.
• Select your category like mobile phones or laptops and then a list of mobile and laptops is shown to you.
• Then go to the product that you want to buy here you will get the description of the product and the seller details.
• Read the description and contact the seller with the details given and check for genuine deal as some fake profiles post fake ads.
• There are different options to contact the seller like you can chat, email, or directly call.
• Meet with the seller check the product thoroughly and make deal with the seller.
Selling
Selling your products with classified sites are very convenient. To sell your product there is no extra seller account with your single account you sell and by things with ease. Let us see the procedure of selling with classified sites.
• Signing up is the first thing same as buying and choosing the best one.
• You can post ads in classified website to sell your product, and your ads will be show to the user.
• There are two types of ads paid and free.
• In paid ads your ad in shown at the top of the page in short it is promoted by the site as you pay for it.
• And in free ads your ad is shown but is not promoted and is shown somewhere in the list mostly sorted by date.
• There are some buyers who calls just to waste time so you can hide your phone number and only keep the chat option available.
• When you get a genuine buyer, who wants to buy your product then you can contact the buyer and sell your product.
• The decide a place meet and make the deal.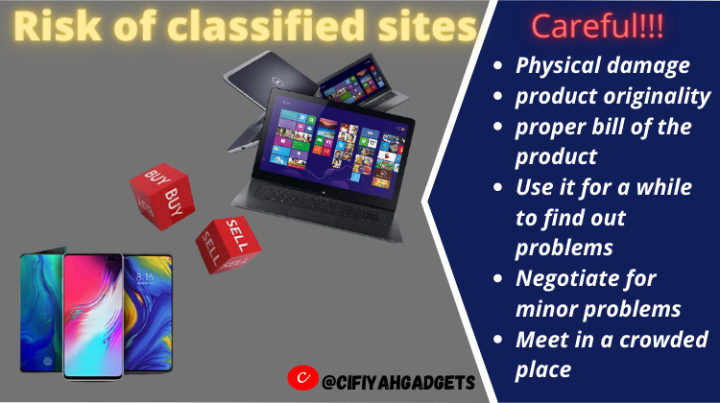 Risk of classified sites
As these are used products so there is a bit risk, but you can overcome it if you buy or sell smartly. They might be new but not brand-new right, so you need to check It thoroughly. Some of the things you need to check while buying a second hand mobile or laptop are: -
• Check for any physical damage.
• Check the product originality.
• Ask for proper bill of the product.
• Use it for a while before buying it to find out for problems if any.
• If some minor damage is there, then negotiate accordingly.
• Meet the seller at a crowded place as you don't know the person.
Which classified site are you going to choose for buying and selling? I would recommend you go for Cifiyah the best classified site for latest gadgets. Here you will find used laptop for sale. The second hand laptop price are very cheap here and sell old mobile online for best price. Purchase second hand mobile phone online and get the best deals on laptops only at Cifiyah.
Buy or sell according to your city, In Mumbai then you can get best second hand laptops in Mumbai or in Bangalore then buy best second hand phones in Bangalore. In any other city simply set the region to your city and start shopping.