Best Sound Bars to Buy
Sleek, slender, and strong, these are the best sound bars to buy—if you want to have an amazing sound experience.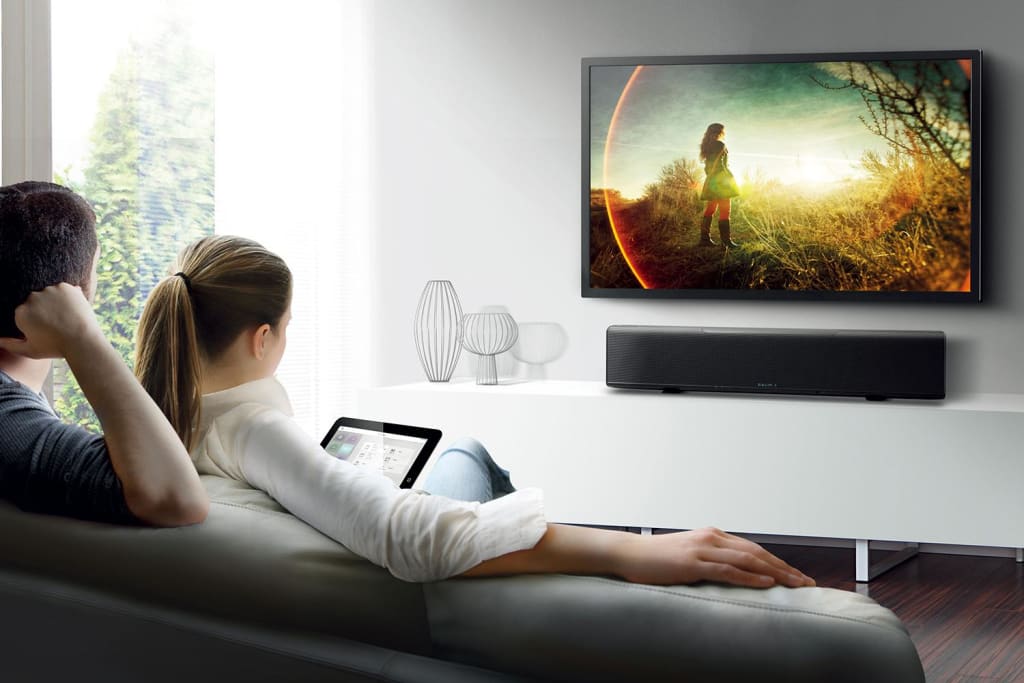 Everyone loves music, and everyone particularly enjoys being able to get crisp, clean sound at home. That's why things like portable speakers are so popular, and why smart home devices come equipped with the ability to play your favorite stoner rock Spotify lists for you.
Most people think that sound bars, those slim speakers usually laying on top of desktop computers or televisions, are archaic. However, this is not the case. They're perfect for homes that want to avoid an overly techy appearance—and can provide amazing power.
The right sound bar will make you want to grab one, even if you're not a "sound bar" kind of person. If you don't believe it, check out what experts are calling the best sound bars of the year.
VIZIO is one of the best sound bars for people who want to have quality without having to shell out hundreds of dollars to get it. Dell's sound bar is known for having incredibly crisp quality, a sleek design, and for the fact that it regularly competes with other top dollar brands.
Make no mistake about it; this sound bar will bring your TV viewing experience to new levels and also look super stylish. Dell did good with this model.
Samsung has become a leader when it comes to creating high quality sound equipment. The Samsung HW-K950 would put most tech gadgets to shame with its spectacular design. This sound bar is designed to sit in front of your TV—and work in conjunction with all your entertainment devices.
The HW-K950 has built-in wifi compatibility, multi-room compatibility, and Dolby Atmos installed for a surround-sound experience. It's a truly beautiful design that provides 15 speakers' worth of clear sound. That's why it's one of the best sound bars of 2017.
The LG SH7B has reguularly been called one of the best sound bars for people who want something small, crisp, and stylish. This awesome speaker set comes with wi-fi stream, hook up to your entertainment system, and also deliver amazing bass with its subwoofer.
Currently, it's considered to be one of the best speaker sets under $500. It also comes with a Dolby Digital recorder. So, if you want to record your own, you can.
Yamaha's solid reputation for making awesome mid-level electronics has been proven once again, this time with an epic 200W sound bar called the YAS-207. This stylish sound bar comes with a rich full-scale 200W speaker system and Bluetooth streaming capability, too.
Bassheads will also enjoy learning that the YAS-207 comes with a wireless subwoofer—perfect for adding that extra blast of "oomph" to your EDM playlist.
Polk Audio wants to remind you that big things can, indeed, come in small packages. They do that by bringing out the Magnifi Mini—one of the best sound bars you can find in its size. With its 6.5 inch subwoofer and equally petite amp, it's capable of blasting out sound better than most full-scale bars.
This amplifier has voice adjusting technology to help deliver crystal-clear dialogue. Meanwhile, the amplifier's "night time mode" is perfect for those moments where you want to play music but don't want to disturb your neighbor. If you're looking for one of the best sound bars for you and your roommates, this is it.
This is one of the best sound bars for people who want to get a true-to-life sound experience when they're watching TV or playing movies. Built-in subwoofers, 140W of power, and Bluetooth streaming capabilities make this a great choice for almost any kind of home entertainment.
If you're looking for a really massive sound bar for your giant flatscreen, you'll love the SB500. That being said, this may be a lot more speaker than a smaller TV can handle.
If you're looking to pioneer into other realms of sound, but don't want to kill your budget, the Pioneer SP-SB23W is one of the best sound bars you can buy. A built-in subwoofer, Bluetooth streaming, wall mounting keyholes added in, bundled together with its impressive 218W of power make the SP-SB23W a great option.
Need style? Need a lot of power in your sound box? Of course you do—but only a few will be able to enjoy the sheer, stylish luxury of the W Studio sound bar set from Definitive Technology.
Clocking in at around 320W of power, the W Studio Sound Bar System offers wi-fi audio streaming, crystal-clear quality, and multiple input sources. It's versatile, and one of the best sound bars you can get for its price point.
400 watts of power, with that thin of a design? Yes, it's possible—and the fact that Sony proved that is why their HT-NT5 is one of the best sound bars for its price. This sound system offers you all the crisp quality you want, minus all the headache of having to find a way to keep the bar looking low-key.
4K sound quality? Check. Sleek sound bar design? Absolutely check. Value? You know it—and that's why you'll love it.
If you're looking for one of the best sound bars from a speaker company you trust, look no further than Bose's SoundTouch 300. As the name suggests, using this sound bar is as easy as a touch of a button—but that's not what makes it so cool.
Rather, most sound experts are digging the 4K sound, the room calibration capabilities, and the HDMI pass-through. Sounds just got a lot crisper, and we can all appreciate that. When you add that to the bar's Bluetooth capabilities and it's wi-fi pairing, you have an awesome sound bar that will bring your entertainment to life.
product review
About the author
Thinking in nodes of progress, futurism, science, culture, and existence. I experience life in a number of ways, pertaining to mathematical concepts mixed with rich flavors of art.
Reader insights
Be the first to share your insights about this piece.
Add your insights