Buyer's Guide
Best Smartwatches to Buy Right Now
Upgrade that relic on your wrist and look into some of the best smartwatches on the market.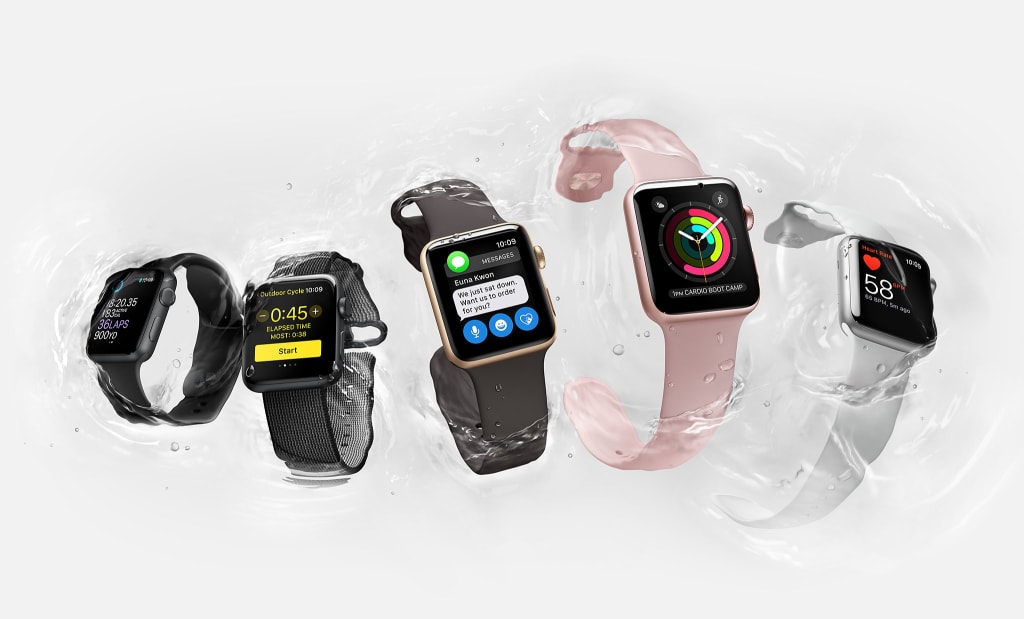 If you've been debating about whether or not to purchase a smartwatch for a while now, debate now longer: the time is now. There is such a surplus of great smartwatches on the market these days that you cant get a good one at a fair price. Wouldn't it be nice to be able to get apps and email notifications directly to your wrist? Plus, many of these have sleek and attractive modern designs, so don't think of them as something out of Star Trek.
So, it's time to upgrade from your old watch, and there is no better place to start than the best smartwatches to buy right now. Here are some of the most versatile and in-demand smartwatches right now.
The Apple Watch Series 1 is a great place to start if you're really serious about looking into the best smartwatches. You get the reliability you've come to expect from Apple, access to the app store, and a useful heart rate sensor and fitness tracker.
With an estimated 18 hours of battery life, you don't have to worry about heading out for a run and missing an important email or notification ever again.
The Ionic Smartwatch by Fitbit works well with Android, iOS, and Windows Phone. The Fitbit will also help you get the most out of your workouts, and being able to track your progress with the fitness tracker will keep you going strong when you feel like quitting. It's one of the best smartwatches on the market, and if you try it out I bet before to long you find yourself addicted to your Fitbit.
The Huawei Watch 2 comes compatible with Android and iOS, and the battery is capable of lasting up to two days—two! Its sleek design is perfect for exercising or sporting around the office.
In addition, it comes with a built-in GPS and continuous heart rate monitor—track your heart rate and workouts without your phone. It can play music and comes with a feature called "Workout Coach" where you can get real-time guidance and inspiration when you need it most.
This upgraded (and a bit more expensive) version from Apple comes with the capacity to make phone calls—from your wrist. It also comes with up to four days of battery life and a silicone and leather sport band.
This is among the best smartwatches money can buy, and its crystal clear LCD screen will make you wish you could watch movies on it. The Series 3 is also water resistant and can be taken down to 50 meters and still keep functioning.
The Samsung Gear S2 looks an awfully lot like a regular, stylish watch. But, this great little accessory does far more than your old watch could ever imagine. It works seamlessly with Android and has one of the cleanest watch faces of any of the best smartwatches around.
It comes with some great fitness features, such as a heart rate monitor and accelerometer. It does not come with cellular connection, but the battery can last up to an impressive three days.
The ZenWatch 3 is a handsome stainless steel and accentuated by its sturdy leather band, making it one of the most attractive looking among the best smartwatches.
It's made with Gorilla Glass, providing protection against the rigors of everyday use, and allow easy access to your favorite apps. While it can't make phone calls, built-in wi-fi extends its range and connectivity with your iPhone or Android.
This Style Smartwatch from LG comes with Android Wear technology, making it easy to synch up your devices. This stainless steel design is ideal for both leisure activities and around the office, and the Android connectivity lets you keep track of everything.
It comes with multiple face options so you can customize it to your liking, easily one of the best smartwatches to buy right now.
You can text, call, and get notifications directly from your Bluetooth connected Gear S3, clearly one of the best smartwatches you can buy right now. It comes with built-in GPS so you can track and share your location.
It's water resistant and comes with near-military level technology, able to perform in extreme temperatures—both cold and warm—and keep on ticking. It can track your heart rate and comes with a powerful battery that can last nearly four days.
Fossil is a reliable watchmaker and it's no surprise to find out that they make one of the best smartwatches around. In addition, you can receive notifications from your wrist while not skimping on style.
You can help boost your productivity, track your steps, keep tabs on your heart rate, and achieve your various fitness goals. The magnetic charger on the Fossil Q Wander provides up a full day of battery life.
Lastly, coming with a stainless steel watch face and a durable rubber band, this Garmin is one of the best smartwatches you can buy right now. It has 15 built-in sports apps, and provides fitness monitoring, stress tracking, GPS, as well mobile payment capabilities so you can bank from your wrist. The design is suitable to wear everywhere, and you can download multiple widgets to personalize it to your tastes.