Best Smart Home Security Devices
From security cameras that act as housekeepers to specialized locks, the best smart home security devices give you an awesome peace of mind.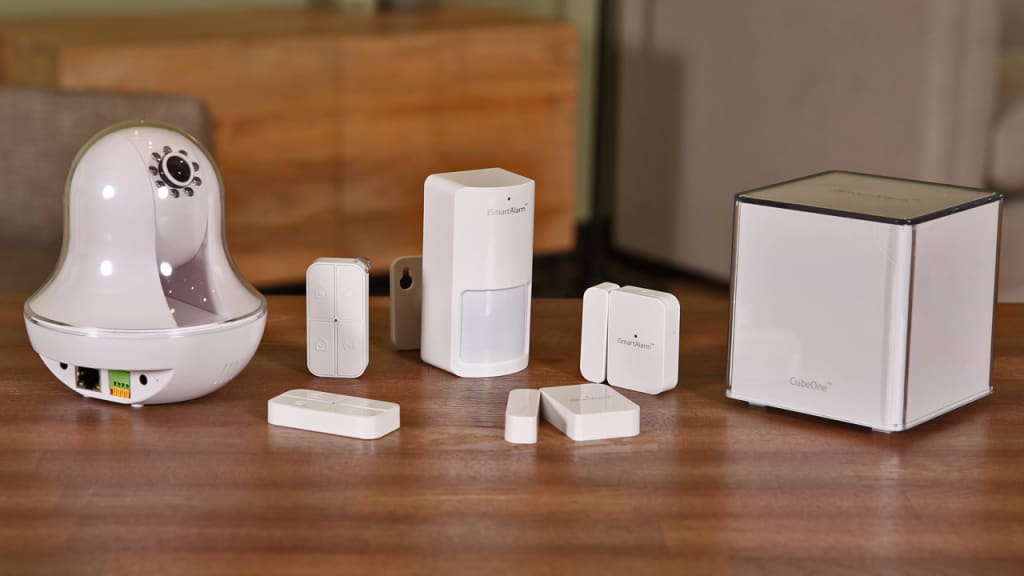 Smart homes have a lot of benefits and advantages that definitely make them worth the money. People have already talked about the perks of having a smart thermostat, and how easy it is to turn any home into a smart home.
However, we haven't really gone over how much security a smart home can offer. A regular CCTV camera can only offer so much security. Smart home devices can offer a seeing eye, and possibly even call the cops for you.
If you live in a bad neighborhood, or if you are just looking to keep your family safe, the best smart home security devices are exactly what you should be buying.
Not all of the best home security devices are supposed to prevent break-ins. Sometimes, the threat they protect against is one involving cyber attacks.
If you are worried about your personal information being compromised, then you need to look into getting CUJO. This smart internet security system plugs into your router and helps prevent viruses and malware transmission.
It's easy to install, works well for home and business use, and also looks adorable. What more can you want?
Many smart homes tend to be filled with a bunch of different smart devices, all of which do a single task. Canary drops the number of gadgets you need to buy by being an all-in-one home security system that protects the whole house with ease.
Canary offers air quality readings, HD night vision-capable camera monitoring via an app, app-based emergency services calls, pet check-ins, data encryption, as well as one bonus that most other smart devices won't have: insurance discounts.
It comes with its own app that's easy to use, but that's not all. Canary also can be expanded with other cameras, which means that every corner of your home can be secure — no matter how large your home is.
Simply put, if you want all-around security, getting a Canary is a good option. That's why it's one of the best smart home security devices out there.
Regularly cited as one of the best smart homes security devices in existence, the iSmartAlarm security package regularly competes with Canary.
Unlike Canary, which tends to be most well-known for its camera capabilities, iSmartAlarm uses sensors as a way to reduce the privacy invasion issue that many people feel when installing their own security system at home.
Just like Canary, it's expandable and can use cameras. It also gives live updates via text and app, and also allows you to arm and disarm the house as necessary.
Netgear has always been friendly to internet connectivity and capabilities, and that's probably why their Arlo security system happens to be one of the best smart home security devices currently on the market.
This beautiful, sleek, and durable camera system has HD vision, allows you to watch livestreamed or recorded footage on your home computer, and also is wireless. So, cameras can be discreetly placed throughout the house without too much messy plug issues.
Like others on this list, Arlo offers realtime security updates via app and email. Unlike others, though, this one is also compatible with Amazon Alexa. So, it's definitely part of the smart home device crew.
Many people really don't like the unsettling feeling of security cameras dotting the landscape of their homes — and who can blame them? That's a totally Orwellian thing to see.
If you get a bit uncomfortable about the idea of security cameras around your home, or if you want a more subtle touch, then you might want to look at the Maximus Video Security Camera and Outdoor Light series.
This series of smart lights offer a hidden camera, and also are one of the best smart home security devices for people who want to avoid the feeling of being in a remake of 1984.
This was one of the only smart home security devices to be voted as one of the best smart security devices of 2017 by PC Magazine, and we totally see why.
This massive security system can add up to 100 different sensors into its network, has a specialized app that disarms and arms the system, and also is designed to call the police if you notice something abnormal.
Along with being Z-Wave compatbile, SkylinkNet also has a back up power system. So, in the event of a power outage, you still will be protected to the fullest extent of its capability. Better still? There's no monthly fee, either.
Needless to say, that feature alone lands it among the best smart home security devices on the market.
This smart home camera is a little bit more than just a camera. It offers HD nightvision footage, 2-way talk that can allow you to check in on kids and pets, and also gives you special snapshot alerts to suspicious activity in your home.
Along with being a great security camera, the Nest Cam also has a mobile-friendly app that allows you to access the camera at any time and even give alerts to the camera about "hotspots."
Easy setup and Alexa capability makes the Nest Cam one of the best smart home security devices out there — especially if you have prior experience with the company's start thermostats.
About the Creator
Riley Reese is comic book fanatic who loves anything that has to do with science-fiction, anime, action movies, and Monster Energy drink.
Reader insights
Be the first to share your insights about this piece.
Add your insights