Best Earbuds on the Market
MPOW M30 Plus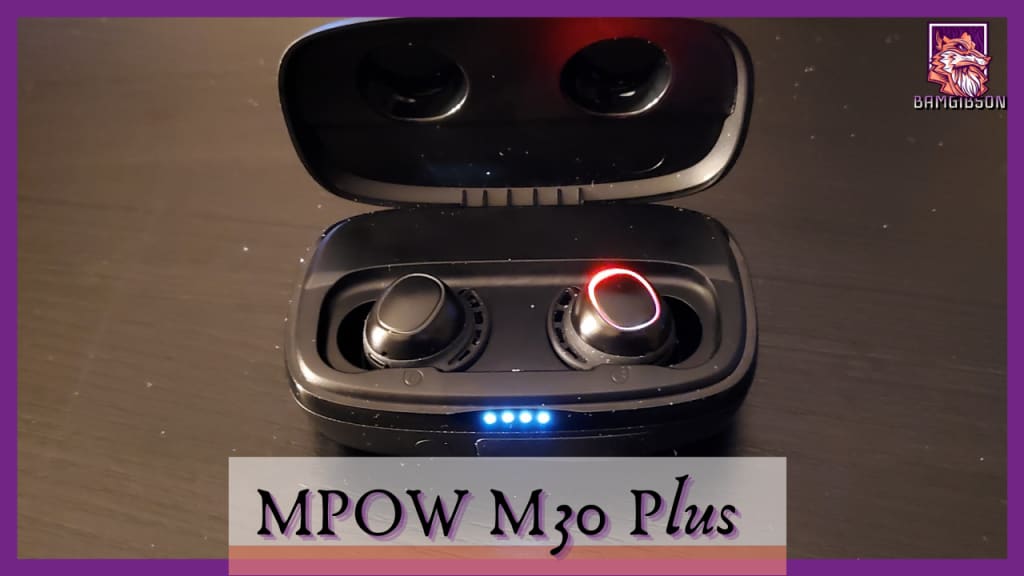 MPOW M30 Plus
Wireless earbuds. I am very late to this game. In fact, it was only last year - (2020) when I started using the Samsung Z flip as my everyday phone, that I started experimenting with earbuds.
I can't justify spending the ridiculous amounts of money on Samsung's own earbuds, and some of the other brands out there are still just too expensive for my liking. In present day, good tech does not have to be expensive tech.
Enter the MPOW M30 Plus. Bought for around £30 I was expecting a number of sacrifices- as is common with cheaper tech like this.
Will they go loud enough? Will they stay in my ear? Will they give me earache? So many questions and- well, there is a reason why they are my favorite.
First thing first- Sound quality.
If you are buying earbuds you want to know what the sound quality is going to be like. It's obviously the most important part.
So what are they like? Something close to perfect.
These earbuds block out the sound around you and put the music inside your head. A high-quality bass gives the equalizer much more reach than other competitors.
Not to get overly technical, but there is a reason why different genres prefer different equalizer settings. Rock and metal want that lead guitar and base line, to hit louder than other instruments, smooth jazz wants you to focus on keys and trumpets- you get where I am going with this.
In my time listening to all sorts and playing with the equalizer, each genre is able to hit the tones highlighting the instruments and beats to perfecting.
By blocking out the noise around you, you can walk down a very busy road with lorries, busses, and everything else and you'll never have your listening disrupted. For me, this is a massive improvement. The odd car or something like that wouldn't be too bad, but my walk to work (and back home) can often replace whatever song I'm listening to with the sounds of engines. The MPOW M30's ability to block all of that out makes my walk in the sun, rain, wind, and snow a much more pleasant time. In-fact knowing that I won't miss a sing work has given me more time to listen to more audiobooks and enjoy them so much more.
Niel Gaiman's Sandman was always meant to be listened to on the M30's!
A simple touch to either earbud will paused whatever you are listening to and the touch pressure needed for this has proven to be the best I've experienced. I've not paused my music with an accidental touch from a hat adjustment, nor am I there constantly pressing on my ear with nothing happening.
This, is another win.
How do they fit? Well.
Next?
Okay some more detail, for me, the question of; 'how do they fit?' is an important one. I've had more expensive earbuds with alright sound quality but they just don't stay in my ears. The wingtip design on the M30's means that they fit, and stay in your ears. I've done housework, long walks, heavy workouts- including shadow boxing and all manner of jumping and these earbuds haven't budged a millimeter!
With such a secure fit it would be easy to think that the M30's would lead to some kind of ear pain after a while.
That is not the case. I have walked a 2.2-mile walk to work, kept one earbud for hours more while I am on shift and at no point was there any kind of discomfort. And after my shift, I've put the other earbud in, walked back home, and then had a work with the same earbuds in.
I want to stress that, my shifts are 10 hours long and yes, the earbuds lasted that long without needing re-changing.
I can't say if you'll have the same, but this is my experience with them.
The Microphone it has to be said leaves a lot to be desired. While a typical phone call will give you a clear ling, hearing everything being said, the same can't be said for both ends.
The mic isn't horrible and for a normal phone call it is fine- something like a Zoom call just isn't going to work. So if you need to be heard clearly, I wouldn't use these buds.
For me- and this is just me, that is fine. As I said, for phone calls it's fine and the microphone just isn't a priority for me but it is something you should take into account if it's one of your priorities.
Finally, I want to talk about the case of the earbuds itself.
It is chunky. I do not like to carry a lot of things on me and the chunky case at first was a mark against the M30 earbuds.
At first. When I discovered that the case is able to charge my phone, I quickly marked this as one of the best cases you could possibly have.
Phone battery life is a thing. I think it is something that is in the back of most of our minds. If I am going to a place and I think there is a chance of me staying the night, or if I am going to work for a night shift, I always pack my charger.
This isn't actually something I like doing. It's been just under 12 months since I got my phone and the charging wire has already seen better days.
The damage done is simply to folding the wire up to put it in my bag, taking it out, and repeating.
The charging wire that comes with the M30 earbuds doesn't just charge the earbuds and case, but with a USB C charging wire and port, this case will charge most modern phones out there.
I never need to take my charger out with me again and that is something that I love!
These are earbuds that I will recommend every single day of the week and because of these, I have taken note of Mpow.
I want to see what the company does next, I want to get my hands on some of the other products for a very simple reason, the Mpow M30 Plus are cheap headphones with very high quality. I want to see the next step.
But to end this, good and great tech doesn't need to be expensive. Mpow have shown that with the M30 plus. So if you are in the market for the best, cheap earbuds, you have my recommendation
Reader insights
Be the first to share your insights about this piece.
Add your insights