Benefits of Developing an Augmented Reality App for the eCommerce Industry
AR app for ecommerce industry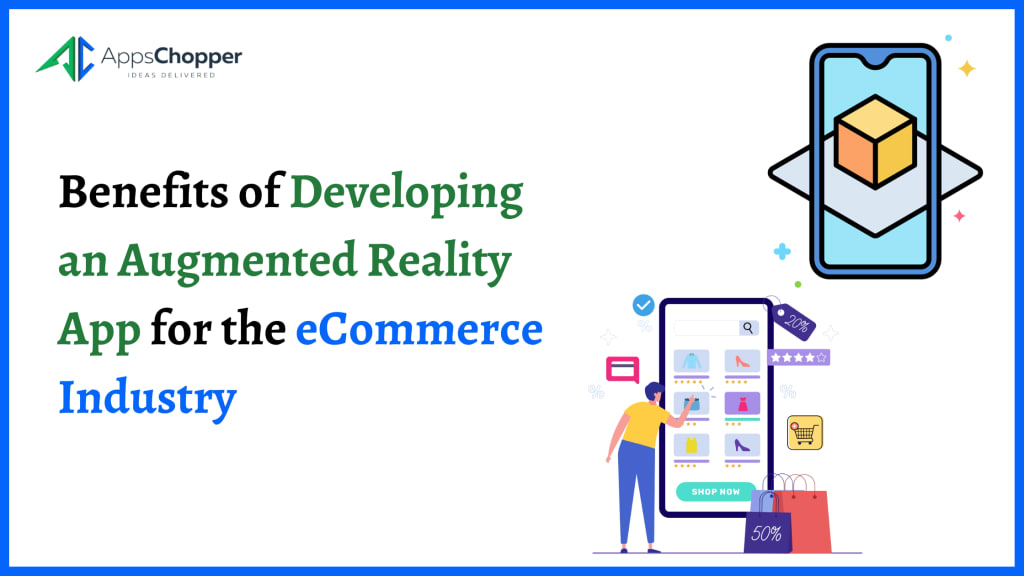 Ecommerce is evolving at an unprecedented pace. Businesses are adapting to market demands and integrating technologies like Augmented and Virtual Reality that bring users closer to the digital world. AR has advanced considerably in the past few decades, its functionality proving useful for several mainstream sectors.
Augmented Reality, as the name suggests, is about augmenting the reality we see by overlaying digital elements over it. This is done through glasses, smartphones, tablets, and other similar devices. Although it gained popularity through its application in entertainment and video game apps like Snapchat and Pokémon Go, there are many well-known examples of its use in other sectors, such as eCommerce.
If you feel this technology would be useful for your omnichannel brand but are not sure how to apply it, the information below, and the services of an experienced eCommerce app development company, will help.
Why Build An Augmented Reality App for E-Commerce?
AR is no longer just a fancy tech buzzword. There are several ways eCommerce businesses can benefit from it these days. We will also look at some popular examples corresponding with these advantages that show how bright the future of Augmented Reality.
Enhanced Customer Experience
AR offers features like virtual 'Try Before You Buy' that allows consumers to visualize products in a real-world context before making a purchase. For instance, a customer can see how a pair of shoes looks on them or how a sofa fits in their living room. Features like virtual try-on also help visualize changes in appearances and reduce the guesswork, ensuring the product meets their expectations.
Interactive Product Demos
Through AR, products come alive in 3D, offering a comprehensive view, zooming capabilities, and a 360-degree rotation. Products can be explored in detail, allowing customers to understand the intricacies, dimensions, and usability of an item, making the shopping experience more interactive and informed.
Reduction in Returns
Products visualized in AR closely match their real-world counterparts. By providing a true-to-life representation of products, an AR app development company can help you minimize the gap between customer expectations and the actual product. This diminishes dissatisfaction post-purchase, leading to a notable decrease in product returns.
Personalized Shopping
AR can create tailor-made shopping experiences and offer personalized recommendations by analyzing user preferences and behaviors. For instance, a user trying out sunglasses might be shown hats or scarves that match their chosen style, enhancing cross-selling opportunities.
Boosting Brand Value and Loyalty
Brands employing AR are often perceived as innovative and forward-thinking, which can elevate their status in the market and attract a tech-savvy customer base.
Top Examples of AR in E-commerce Apps
IKEA Place allows users to place furniture in their space virtually. Not only can they see how a sofa or table fits, but they can also explore its texture, size, and how it complements other items in the room.
L'Oreal's AR app lets users virtually try on makeup. Users can make more informed decisions, by seeing how a lipstick shade or eyeshadow palette suits their complexion in real-time, leading to satisfaction post-purchase.
Sephora's Virtual Artist uses AR to analyze the user's facial features and recommends makeup products and styles, enhancing the possibility of cross-selling and upselling.
Nike's AR feature not only lets users try on shoes virtually, but also provides access to exclusive sneaker drops, enhancing brand loyalty among its community.
Conclusion
AR makes shopping more than just a transaction; it becomes an engaging, memorable experience. That is why the integration of Augmented Reality in e-commerce platforms is not just a fleeting trend. It is a significant leap towards a future where shopping becomes more intuitive, informed, and immersive.
As technology continues to advance, AR's potential in e-commerce will only expand. It is, indeed, a crucial tool for any eCommerce app development company looking to help businesses stand out and deliver unparalleled customer experiences.
Reader insights
Be the first to share your insights about this piece.
Add your insights