Basic Functionalities of Property Management Software
Property Management Software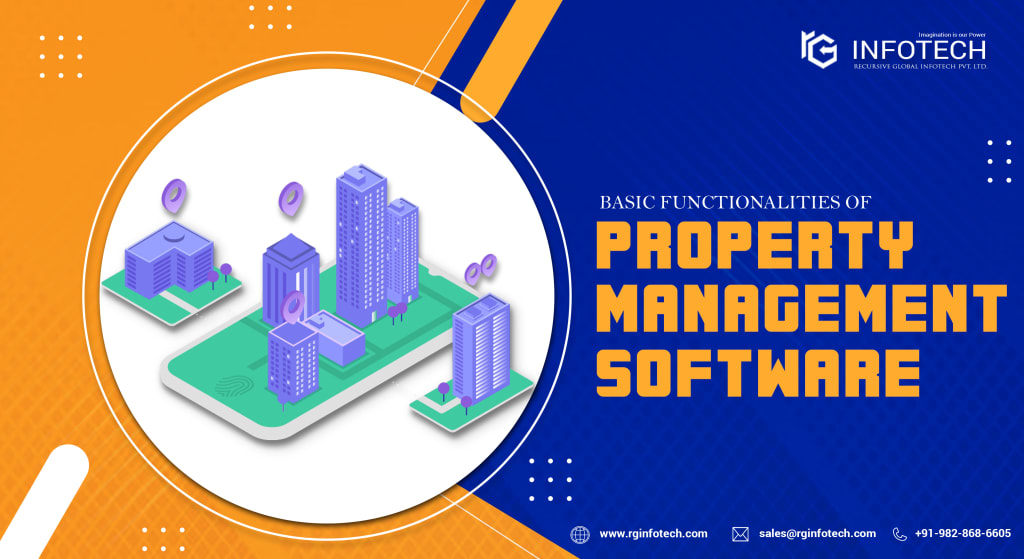 Are you tired of hiring multiple people to manage your property business? Even after hiring efficient employees, manual management is affecting your time and efforts. Property Management is an online solution, solves all your problems on managing your property business. It is an automatic and quickest method to keep a record of all your properties, transactions, customers, etc.
Now, no need to worry about housekeeping of multiple properties or remembering the status (sold, pre-booked, or on sale) of the properties, purchase on-demand property management solutions. For integrating multiple features, you can hire RG Infotech.
Check out the write-up to understand more about property management systems, their functionalities, and their advantages.
WHAT IS A PROPERTY MANAGEMENT SOLUTION?
A Property Management Solution is an online software for managing the property. It is a very useful software for a person who owns multiple properties/real-estate management and wants to generate revenue out of it. All the details of giving property on rent, selling it, or buying, everything are automatically maintained here.
Nowadays, all the Property Management Software are cloud-based and offer multiple tools to manage reservation, buying, selling regular maintenance, housekeeping, pricing, etc. This software is helpful for both customer and the owner, as it removes the chances of human error (which usually happens while maintaining the record).
Moreover, this on-demand property management solution makes it easy to keep the record and statistics of every activity.
ATTRACTIVE DASHBOARD
When you or your customer login to your Property Management Software, a friendly, simple, and easy-to-go dashboard should be there. A simple and understandable dashboard provides you with a glimpse of regular tasks. While doing Property Management Solution development, make sure all the landing pages are easy to navigate and don't take long to open.
The process should be quick and smooth. The easy dashboard will save your time to figure out multiple activities and any of your business employees can use it.
Also, when a customer is using your Online Property Solution, he/she should have a rich user experience. The user interface has a huge effect on attracting potential customers.
CALENDAR
A calendar is a great feature to manage reservations and pre-bookings of your property. By mentioning everything on the calendar, you can unlock new possibilities. The calendar also keeps an update of meeting with any special guest or showing them property etc.
For example, a customer asked you to have a tour of property A, but it is already pre-booked by someone else. This will remind you that Property A is not for sale and you can inform your customer and ask them to check alternative options.
There should be no confusion during the final stage, it affects the credibility of the company. Make sure you don't miss any single chance of selling or renting your property.
REGULAR MAINTENANCE
The Housekeeping functionality of the on-demand property management solution will help to keep regular maintenance of all types of properties. While giving property to rent or sell, it is the owner's responsibility to make sure it is in good condition and tidy. An untidy property will affect customers negatively and build a bad reputation for your services. Housekeeping is part of regular automotive tasks.
This functionality maintains the record of cleaning /other properties and keeps the regular maintenance under check. Housekeepers can update the status, once they are done. This provides a seamless property buying and renting experience to the customers.
PAYMENT METHOD
The property management software must have a payment processor to avoid the manual process of accounting and updating the ledger, after each sale. This feature eases the accounting and helps to maintain more transparent reports.
PROPERTY REPORTING
Whether you have given the property on rent or sell it, maintaining a record is very important. Reporting is one of the most important features of On-Demand Property Management solutions. Reporting keeps the record of all of your expenses, transfers, and payment received from the seller or tenant.
To make the property business successful, one must know their investment, returns, profit, and loss; this will take your business to the top level. As per experts, the property solutions development should have built-in reporting features. This functionality will help you to keep an eye on stats and make an analysis of your ongoing property business easy to go.
BOOKING ENGINE FEATURE
Consider a property management solution that has a booking engine, free from any kind of commissions. For most of the properties, direct booking is the most valuable source. No user would like to pay to book any property. Keep it simple and direct, you can include it in the charges or property rate. When a property solution comes with the booking engine, it removes your problems related to integration.
PRICE MANAGEMENT
The price of your property is affected by many features like the rate of the market, shares market, price of raw materials, etc. Moreover, by selling property through any kind of advertisement, the particular company also varies the property price. The Property Management solution helps to manage all the varying prices of the property in one place. Moreover, you can design different price plans for properties by adding features.
For example, there are two adjacent flats in a building. Both flats are unfurnished. But one customer wants to buy a furnished flat and the other as it is. You can include the furnishing charges in the price and sell it.
CONCLUSION
Hence, now property and Tenant management has become an easy process using the Property Management Software. The advanced features and functionalities, help the business owner to keep the track of all the activities in his/her property business. It is advisable to buy an on-demand property management solution to avoid the hectic process of building it from scratch if you are new in the business. Buy an efficient PMS from RG Infotech.