10 Best Laptop Stands and Risers
For those days of non-stop Netflix or work, get one of the best laptop stands and risers to keep your laptop in place 24/7.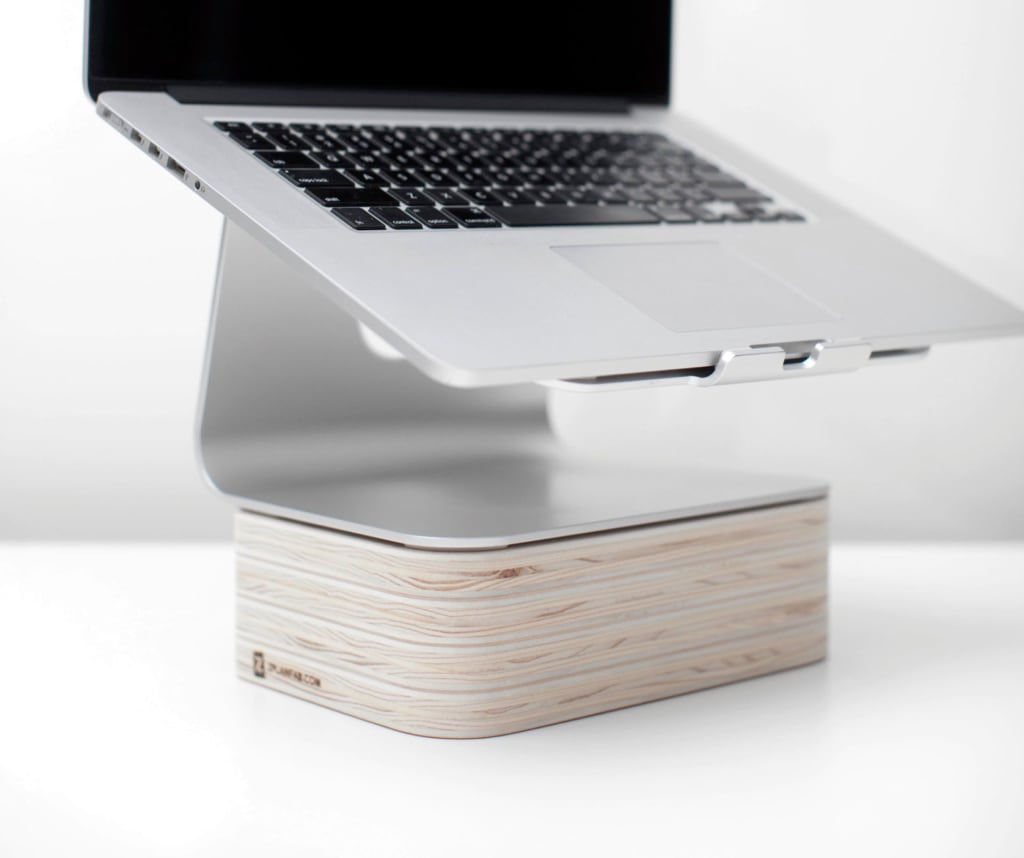 We've all had those days where we've been in front of our laptop screen all day, and there is a number of reasons for why we do that. We could be starting a Netflix binging marathon or maybe social media is too addicting to log off that day. Some of us, including myself, use our laptops to work and cannot be away from it for long. One of the biggest drawbacks of our constant laptop usage is the effects it has on our bodies.
People will usually stay seated and in a slouched position while on their personal computers. My back and neck would become incredibly tense and even hurt at times due to this but I couldn't help it. That's where laptop stands and risers come in. They offer you the option to stand every now and again while working and force you to sit up when you are seated. So if you find yourself sitting in front of your laptop most days, a high-quality stand can help with overall posture and spine pain.
The aluminum loft from Belkin provides an optimal viewing angle if you decide to stand and the open design helps the airflow to your computer. So it will improve your own health—when you stand instead of sit all day— and your computer's—so it doesn't overheat. The rubber grip will keep your laptop from sliding so you won't have to worry about it falling.
One of the best laptop stands and risers that can also be used as a bed tray, this sounds like heaven. This lap desk is perfect for lying upright and doing work in bed or at a table, it'll keep your posture aligned properly either way. It has adjustable legs that can be folded up, making it a portable laptop desk that's easier to transport than you might imagine when first looking at.
The stand can also be adjusted to suit your eye level and there is even a pull-out drawer on the other side. It's hard to beat that antique walnut finish too. You just don't see finishes like that anymore. Yes, I watch some HGTV here and there, so I know what I'm talking about on that one.
A stand for all trades, this model from Macally is designed to hold Macbooks, Macbook Airs, Macbook Pros, Asus, Dell, etc. Whatever kind of laptop you have, this will be able to hold it. It will elevate your laptop to the perfect eye level, preventing any unnecessary hunching, which in turn, will reduce neck and shoulder strain. With a lifetime guarantee thrown into the mix, it makes sense that 94 percent of Amazon reviewers have scored this model with four or five stars, with most saying it was easy to set up and holds laptops securely.
An official Amazon Choice, displaying high-quality, a reasonable price, and quick shipping capabilities, means this is one of the higher-end laptop stands and risers you can get. Rain Design offers a sleek design that is available in three colors (gold, silver, and space gray).
The sand-blasted and silver anodized finish matches the same smooth and aesthetically pleasing design that Apple laptops have. This is essentially an add-on to your laptop if you own one from Apple, it will match anything in the style department.
Another exclusive Amazon Choice, this mesh and metal riser is ideal for all heights. It is fully adjustable, so you can move it to whatever height would suit you best. The unique combination of the mesh and metal draw heat away from your laptop and ventilates it outwards.
The most interesting aspect of this deal is that you can buy a six-pack for much less than it would cost if you bought six individually. So if you're an office administrator or anything of the sort, this would be the best option for your workplace.
Another one of the best laptop stands and risers that can act as a bed tray is also an Amazon Choice, win-win. Coming in two different colors (black and beige) and two different sizes (medium and large), the Bed Tray Table by NEARPOW can do it all. It's easy to set up, has a mouse pad, has adjustable legs, and can be installed almost anywhere. It also folds, is portable, and lightweight. I don't know what else it could offer; it's an all-around great design.
Exclusively for the MacBook and iPad, if you're an Apple person through and through, this may be for you (mad rhymes, I know). All you need to know is that this is an Amazon Choice, showcasing its top of the line status as a product. I'll go into more detail though because it has a few other cool features you should know.
It has an open wedge design that increases cooling and won't let your laptop overheat, leading to maintaining your power more efficiently. The built-in cable management system allows your chords to have easy access to your laptop without unnecessary fuss. It's a simple design but does what you need it to for a low price, sounds like the right move to me.
Available in three unique color combinations—black, aqua sky, rose quartz—this lap desk can be eye-catching if you want it to be. Potentially the comfiest of all the laptop stands and risers on here, LapGear has an ergonomic wrist pad to keep you comfortable while typing AND a pad below in case you put it on your lap.
It also comes with two velcro side storage pouches and a mouse pad. There is actually a designated mouse pad on either the left or the right, suiting everyone, regardless of handedness. It's so much easier to create an engaging social media presence when you are comfortable and in the zone. Well, that's exactly what this lap desk offers.
If you want cheap and portable, this is your best bet. Just Mobile's Lazy Couch provides two tiny pegs that increase the reading and typing angle of your laptop and doesn't break the bank.
Considering how tiny they are, these pegs are perfect for the traveling type. Capable of fitting most MacBooks and PCs, these can be used by almost everyone. If you don't want to spend too much or fit into the expert travel category, I think these would suit you best.
There are four laptop stands and risers in the iLap series by Rain Design. All are created to accommodate laptops of varying sizes but all maintain the same benefits. The biggest being the padded cushions that keep you comfortable and ensure the heat from your laptop stay off of your lap or desktop.
The lightweight aluminum design allows the heat to sink and dissipate before it builds up. While it can be used on beds and couches, if you remove the padded cushion it makes for the perfect desktop stand for any home office. Either way, it will reduce the strain on your neck and back, protecting you from laptop-itis.