Unforgettable NASCAR Crashes
Some of the most unforgettable NASCAR crashes have impacted fans, drivers, and the safety of the sport.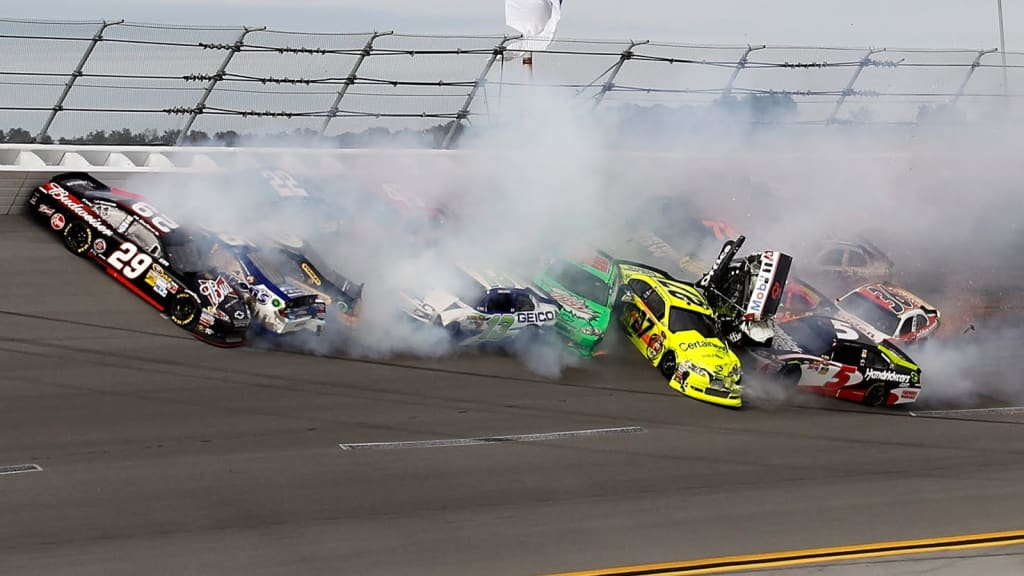 At almost 70 years since its inception, fans have just as many memories of unforgettable NASCAR crashes as they do of driver's individual performances and accomplishments. A crash can haunt a driver for the rest of their career, with some crashes even changing the sport for future NASCAR drivers. These are some of the 8 most unforgettable NASCAR crashes that left an unmistakable mark on the sport.
Carlos Pardo at the NASCAR Corona Series in 2009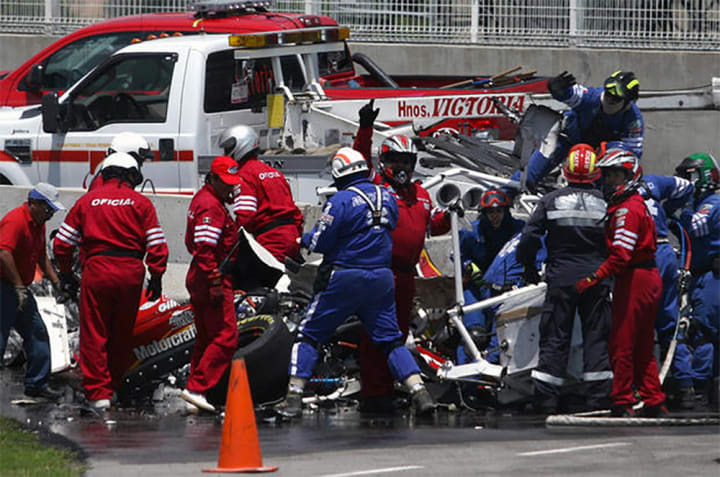 Carlos Pardo came into the NASCAR Corona Series as a decorated driver, winning the circuit nine-times. Pardo looked poised to win it again in 2009, with only three laps separating him from glory. During turn 3, Pardo's car ended up being bumped from behind. The seemingly "small" tap of 120 mph, managed to send Pardo's car spinning into a wall near the entrance to the pit road while still traveling at a very high rate of speed.
Pardo's car disintegrated as soon as it hit the wall. The Mexican announcers of the event immediately were concerned with Pardo's condition, which set an ominous scene as Pardo ended up being transported to the nearest hospital (by helicopter). Pardo ended up dying 45 minutes later, owing to his injuries. Pardo would go on to be the post-mortem winner of the Corona Series, winning a tenth and final time.
Rusty Wallace at Daytona in 1993
The 1993 season became an eventful one for the eventual NASCAR Hall of Famer. One highlight from this season was when his car, traveling on the track at a speed over 200 mph, ended up being bumped by two other cars that spun out.
The small bump from these two cars managed to put Wallace sideways where he suddenly became thrusted into the air. Rusty tumbled down all over the track. All that was left of Rusty's car was the safety cage.
The scene looked scary, with fans wondering if Rusty made it out okay. But miraculously, Wallace avoided injury and went on to keep captivating racing fans for several more years. This was one of the most unforgettable NASCAR crashes for the fact he walked away from the crash relatively unscathed despite the scene on the track.
Ryan Newman at Daytona in 2003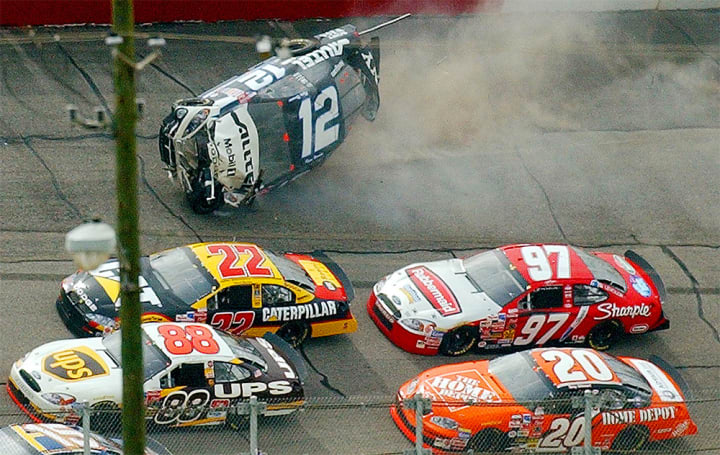 Newly minted 2002 Rookie of the Year, Ryan Newman, lost control of his car coming out of turn 4, causing him to crash into a wall and another car before Newman's car spun out of control. The scene became memorable because Newman's rear axle disconnected upon impact, causing him to go airborne and sending his tires flying across the track. Luckily, no other driver collided with Newman or with any of the debris that came from the crash.
Newman's car looked like a complete mess and an ambulance came on the scene with paramedics bracing for the worse. But he appeared from his car unaffected by the crash. Newman managed to walk from the scene under his own power, even waving to the crowd that gave him a standing ovation.
Kyle Larson at Daytona in 2013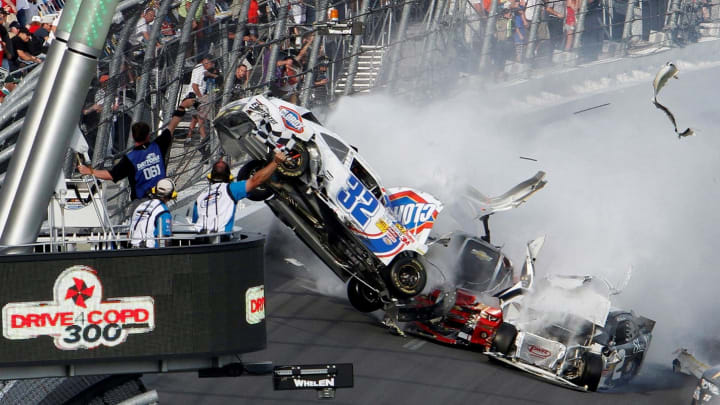 Larson fought to secure a better position in the ending moments of Daytona; he did so coming in hot, going at a high speed to secure whatever position he could. Unfortunately for Larson, his efforts ended up being all for naught as a bump from behind sent his car straight into the catch fence around the track. Replays showed Larson's car went into the fence as if it were a soccer ball shooting straight through a net.
Larson's car immediately disintegrated, and his engine block ended up flying into the stands. Nobody ended up in the path of the engine block, but 30 spectators sustained injuries from the debris and other wreckage that came from one of the more recent unforgettable NASCAR crashes of all-time. Larson's car was torn to pieces and in flames by the time it stopped moving.
Johnny Sauter at Talladega in 2002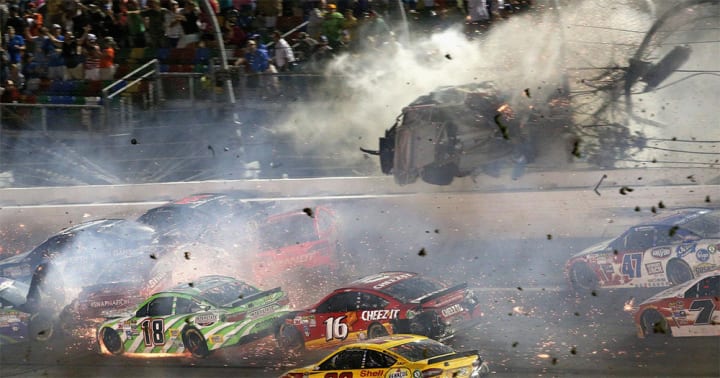 Johnny Sauter's crash is one of the few on the list of unforgettable NASCAR crashes that does not take place in Daytona. That being said, his crash, known as a "Big One," is one that most fans remember. A reason why it's so memorable stems from it happening so early in this NASCAR race, in lap 14.
Sauter lost control of his car and immediately started flipping and rolling. The chaos of it all took other drivers with it and caused complete havoc on the track. Sauter's crash claimed a total of 33 cars that piled up and also destroyed the general positioning for the race.
Sauter's "Big One" ended up being one of the biggest wrecks in NASCAR history for the sheer amount of collateral damage it caused.
Richard Petty at Darlington in 1970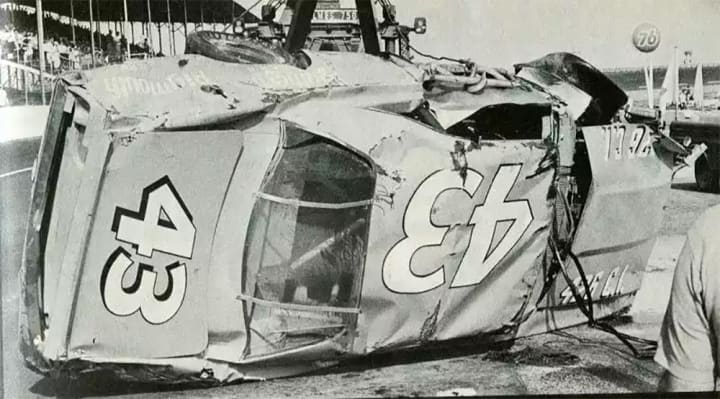 Most safety innovations that fans see in NASCAR stem from horrific crashes that beg for them. Richard Petty's crash in 1970 was such an event.
In a freak chance of events, Petty's steering failed during lap 176, casting his car back-and-forth into an outside wall then back toward a pit wall. Petty's car still didn't stop there, it then rolled five times before coming to a complete stop. Fans watching were visibly stunned by seeing Petty's arm and shoulder completely injured.
Petty ended up recovering from this setback and went on to race until his retirement in 1992. The aftermath of the crash led to the research and development of safety netting that would become a standard feature for cars. The innovation has since saved numerous lives.
Fireball Roberts at Charlotte in 1964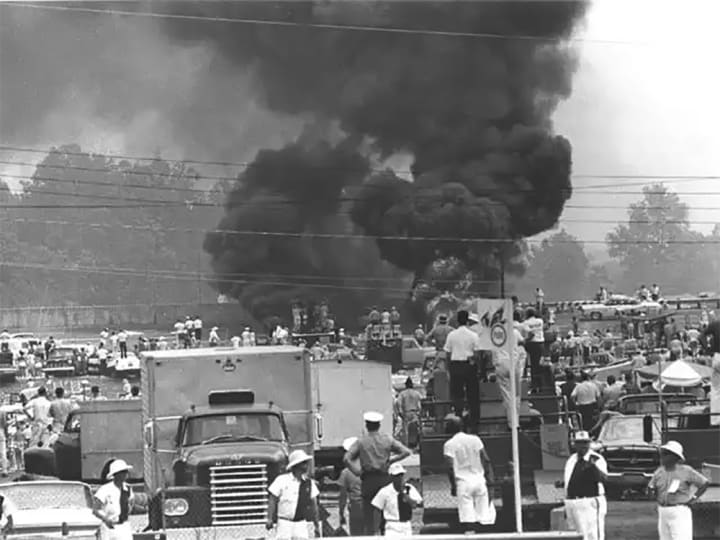 Glenn "Fireball" Roberts was one of the more popular drivers in NASCAR's early years and in 1964, he was rumored to be mulling a ride off into the sunset. Fate had other ideas. In just his seventh lap, two cars collided with Roberts' and slammed backward into a wall, then rolling over and bursting into flames.
The flames grew in part to the car's fuel tank and engulfed Robert's entire body. The flames burned over 80 percent of his body. He spent the rest of his remaining life in a hospital where he succumbed to his injuries. Robert died at just 35 years-old.
This is one of the earliest unforgettable NASCAR crashes. And because of Roberts' death, drivers were required to wear fire-retardant gear. The innovation now saves drivers from suffering the same fate Roberts did.
Dale Earnhardt at Daytona in 2001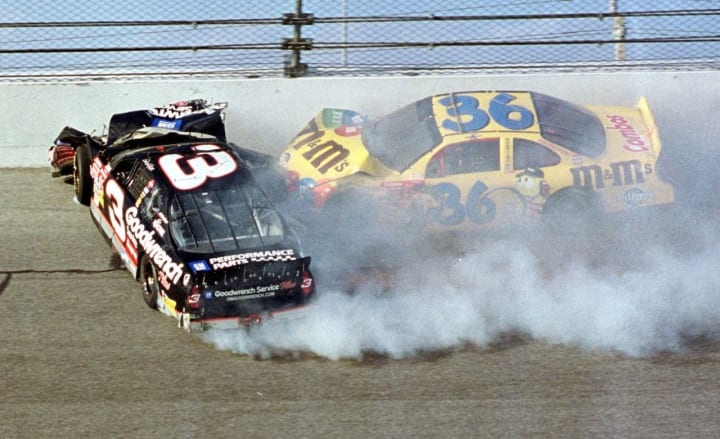 NASCAR never lost a legend in a crash before. To some fans before this crash, the thought even seemed unimaginable. But in 2001, it finally happened. Number 3, Dale Earnhardt, lost control of his car when tapped in the lap of the race.
All this transpired during the emotion of Michael Waltrip winning his first race to snap a streak of 462 cup races without a victory. Waltrip later said that his teammate Earnhardt willingly let him in line so Waltrip could take the lead.
The tap from behind caused Earnhardt's car to go forward into the wall and go back suddenly into the field. It looked like a normal crash, but after Earnhardt did not leave his car for several minutes, fans and drivers alike focused on that black No.3 car. Earnhardt later died from his injuries sustained during the crash.
Earnhardt's crash led to an outpour of grief and more safety reforms in NASCAR. What was known as The Head and Neck Support (HANS) became standard for all cars and Steel and Foam Energy Reduction (SAFER) barriers phased out the harder concrete walls that surrounded the speedways.
Earnhardt's 2001 crash closes out the 8 most unforgettable NASCAR crashes of all-time. The list included a couple of close calls, miracles, and tragic ends. Earnhardt's crash is perhaps the most influential on the sport and perhaps the most memorable for NASCAR fans everywhere.
Reader insights
Be the first to share your insights about this piece.
Add your insights