The Future of Motorsport? It's Not as Clear Cut as That.
After both Mercedes and Porsche announce Formula E programmes, it would make sense that the championship is the future of motorsport, right?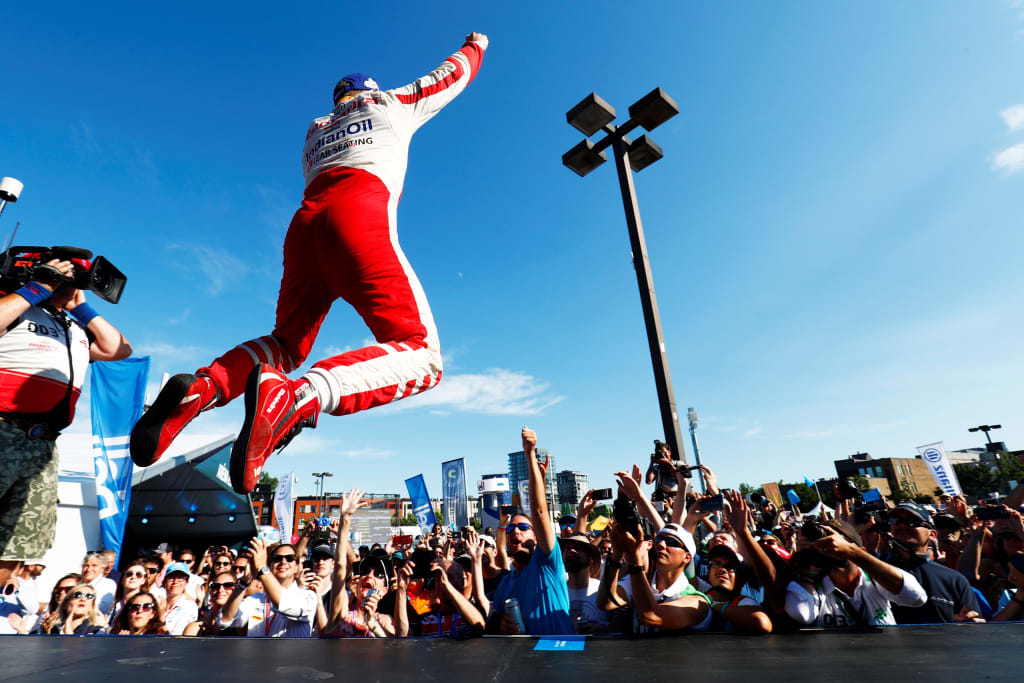 Photo (@FIAFormulaE)
It's been quite the fortnight for the world's premier electric racing series.
Current Formula 1 champions Mercedes-Benz announced that their DTM programme will cease at the end of the 2018 season, and will be replaced by an entry into the 2019/20 Formula E season.
Mere days later, Porsche announced that they would be withdrawing their LMP1 programme in the FIA World Endurance championship, following sister brand Audi into the all-electric open wheel championship.
This brings Formula E's manufacturer teams up to eight which double the amount of Formula One's factory teams, which is currently four.
Then there was the finale.
In a turn of events no one could have predicted, reigning champion Sebastien Buemi produced the defining moment of the season after the first race in Montreal, Canada.
After a very mixed race, which saw Buemi carve through the field with slightly broken steering, Buemi leaped out of his car in Parc Ferme and went on a rampage, first arguing with Andretti driver Antonio Felix Da Costa, then team mate Robin Frijns, before squaring off against Audi Sport Abt's Daniel Abt. [Video Below]
With media coverage most championships could only dream of, a large helping of controversy, and more manufacturers than most top tier series combined, surely Formula E is the long term future for racing.
Right?
Formula E is an excellent series, and a great test bed for developing electric technologies. However, what it doesn't yet have in the regulations is total freedom. All of the cars currently use the same base chassis, and development is controlled by the series. As a result, it can be difficult to see the point in manufacturer entries when the cars are, on the surface, very similar. At least to a casual fan anyway.
In my opinion, the future of motorsport does lie in electric racing but to explain it, we must first look at an unlikely source of inspiration—GT3 racing.
For those unfamiliar, GT3 is a set of regulations for production based sports and super cars. The cars are closer to road cars than purpose built racing machinery, and have brands such as Aston Martin, Ferrari, Mercedes, Audi, Bentley, and Porsche, offering factory support to independent outfits, and selling cars to customers throughout the world.
The formula is incredibly popular, with the Blaincpain Endurance Series gathering a reputation for producing some of the finest sportscar racing on the planet, racing on some of the most prestigious tracks in Europe.
GT3 class cars are also used in many national championships, as the flagship class in the UK's British GT Championship and Germany's ADAC Masters series. The cars also make up the GTD class in IMSA's endurance series, and many GT3 cars feature in the Pirelli World Challenge, proving the class can produce exceptional racing in the United States of America too.
So how difficult would it be to simply take the GT3 regulations, but with electric power?
Porsche are believed to be working on an electric 911, and Mercedes have already made an electric SLS AMG. Aston Martin are testing out an all-electric Rapide, whilst Audi debuted an all electric R8 last year.
The downside currently, is the range of the batteries. For example, the legendary Spa 24 Hours race, the Super Bowl for GT3 cars if you will, is still a long way off from becoming an all electric affair, unless a team is willing to spend 12 hours racing and 12 hours charging.
Despite this, it hasn't stopped an all electric GT series being pitched.
eGT debuts in late November at Paul Ricard, using identical race prepared Tesla Model S machines. According to the official website, the cars develop nearly 800 brake horsepower, and nearly 1000 newton metres of torque.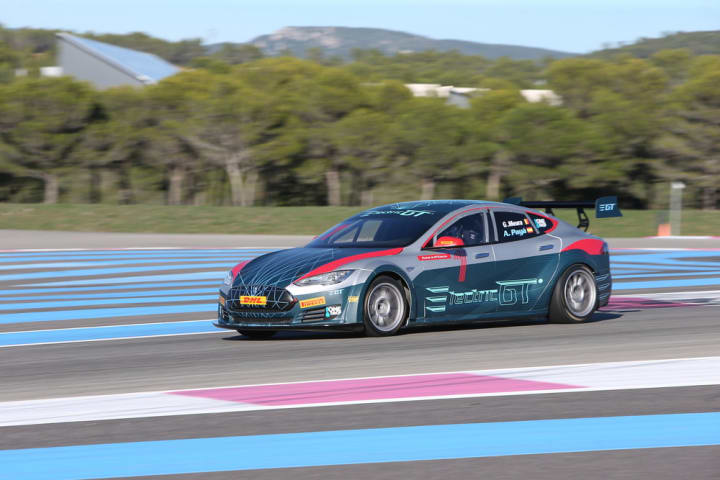 While it would be easy to doubt eGT as just a one-make race series with no future, it is even easier to forget that the first season of Formula E also used identical cars.
Importantly, eGT has gone beyond a normal racing series and has created an infrastructure, which in theory, should attract exciting new blood to the series.
Launching alongside eGT is an electric kart, with the intention to use a karting championship to produce the stars of the future to gain the series a reputation for nurturing young talent. Alongside this, a sim racing initiative called "VirDual" has been announced, which sees to indicated a close tie up between reality and virtual racing in the series.
Despite looking promising, I have my doubts over eGT. The series is less than four months away and there is no solid confirmed teams or drivers, though a calendar has been revealed for the 2017/18 season.
Whether it becomes a success or not, eGT is a step in the right direction. While Formula E will continue to develop the technology, GT racing will allow manufacturers to use it in cars which are much closer to the ones that you can buy in a showroom.
After all, there's an old saying in motorsport: "Race on Sunday, sell on Monday," and electric GT racing could be just the thing manufacturers need to convince a skeptical majority about the merits of electric cars.
About the Creator
Motorsports fan and Journalism student. Talks a lot about cars, politics and video games. That British guy.
Reader insights
Be the first to share your insights about this piece.
Add your insights