The California Lemon Law for Vehicles
What Is It And Do I Qualify?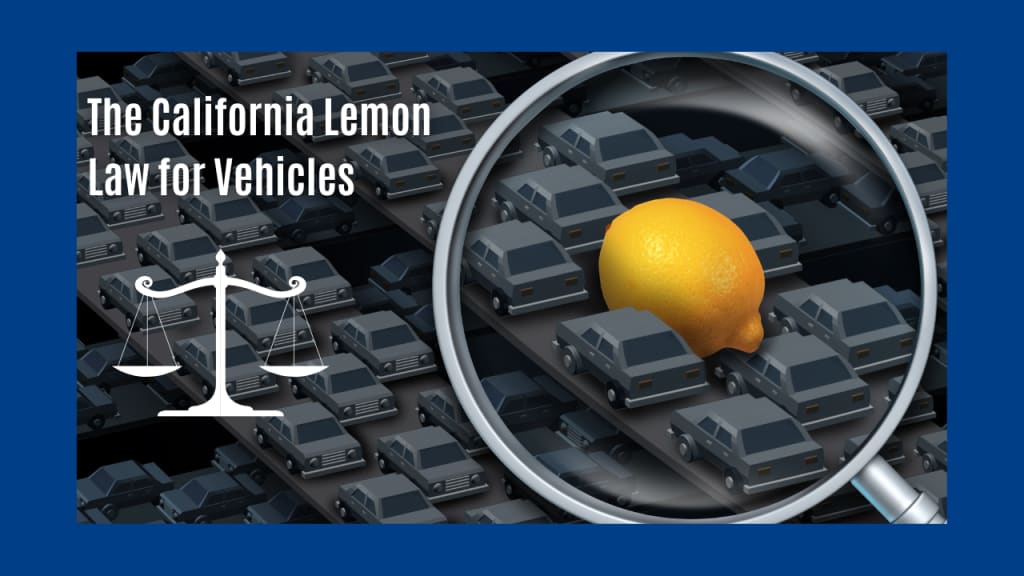 The California Lemon Law for Vehicles
The California Lemon Law was created to protect consumers against defective products and the companies that produce them. The law provides strict guidelines for manufacturers and ensures that they honor the warranties that come with the products they sell.
The law was originally enacted to protect people from unscrupulous companies that would sell products with known defects and then refuse to honor warranties on those products. It requires businesses like these to replace or repair defective goods free of charge during this period; after which point consumers have the option of either getting their money back or receiving a replacement product that is substantially similar to the product they had issues with. Replacements are much less common than the lemon law buyback or refund, which is the best option for consumers.
The California Lemon Law covers all kinds of products that fall under the category of durable goods: anything from refrigerators to cars. If your product falls within this category and it fails due to a manufacturing defect within its warranty period, then it's likely covered by the California Lemon Law. While the laws cover a wide array of products and consumer goods, a large portion of lemon law claims in the State of California involve vehicles with manufacturing defects.
These laws cover vehicles that have been purchased or leased in the state of California and which are still covered by the manufacturer's warranty. And when it comes to vehicles, the California Lemon Law regularly saves consumers from having to pay for expensive repairs on defects they did not cause. If a vehicle has been to a repair agent authorized by the manufacturer for the same problem repeatedly, it's likely covered by this law. In order to qualify, a vehicle must have been taken to the dealership at least two times for a serious safety issue, four times for a non-substantial safety issue, or the vehicle must be out of service for a total of thirty days due to repairs.
If a car owner or lessee experiences any of the above-mentioned scenarios, their vehicle is legally presumed to be a lemon and they will be eligible to receive compensation. It's important to remember that the vehicle must have been under warranty during the first repair visit for an issue. Additionally, consumers are required to file a complaint within four years of discovering the defect as noted by the State's statute of limitations for this type of claim.
If you believe that your vehicle qualifies as a lemon under the law, you should contact an attorney who specializes in automotive litigation to discuss your options for filing a claim. Even if you are unsure on whether your vehicle qualifies, it's best to ask an experienced California lemon law attorney about your situation, as not all lemon law cases fit neatly into the lemon law presumption. While many consumers may not be eligible to receive a full refund for their vehicle, they could still qualify for some type of financial compensation under the law.
The California Lemon Law is very complex; thus, it is crucial to find legal counsel who can help you navigate the legal process and understand your rights. Most manufacturers hire attorneys who solely specialize in lemon law, which means you should do the same to maximize the outcome of your case. The best way to find a reputable lemon law attorney in your area is do your own research. Make sure that the attorney has a proven history of success against large auto manufacturers, and that they have good reviews from their clients. Once you've found the right attorney for you, you'll be well on your way to receiving the justice that you deserve.
industry
About the author
The Lemon Law Experts are California's premier lemon law firm. Our goal is to provide you with personalized service, quality work product, and the best individualized results possible.
Reader insights
Be the first to share your insights about this piece.
Add your insights