Senna & Me
As perceived by my five year old self.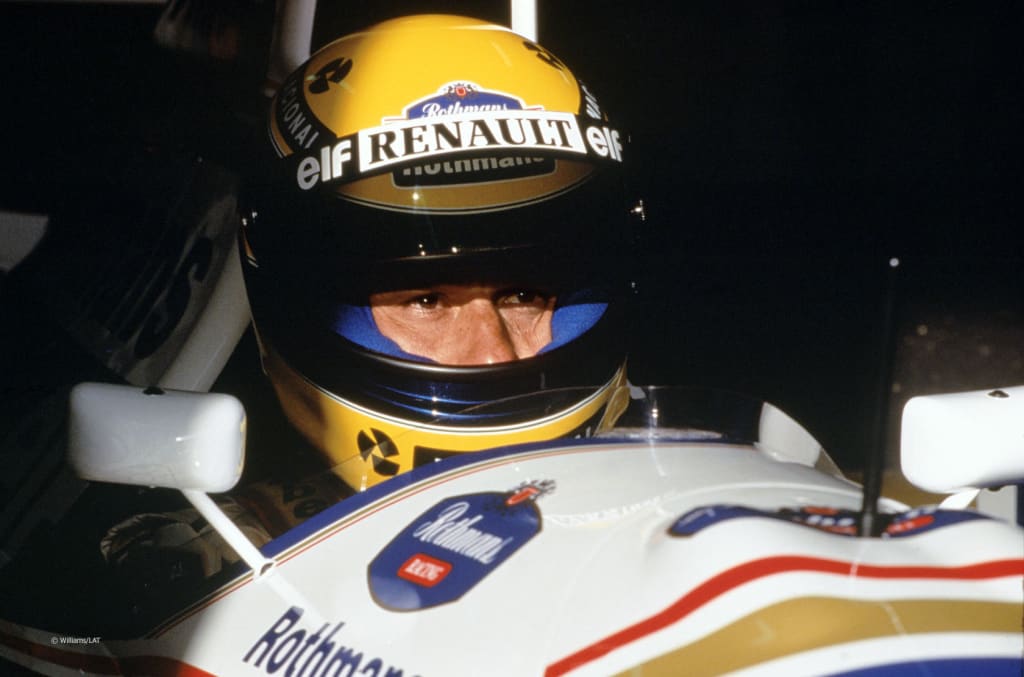 May 1st 1994. I know the date for its significance but that will become clear later on. This is one of my first lasting childhood memories. I was 5. And yes, that is pretty late for a person to claim one of his first lasting impressions. But my memory has never been that strong and I never did remember much about my earliest childhood years. But this day I remember clearly.
May 1st 1994. A Sunday afternoon in the middle of spring. I would normally be out, playing with my gang of mischiefs, but it was a rainy day so I stayed in. I had setup my playground in the middle of the living room, emptying the contents of a big cardboard box, where I kept my various cars, truck and building blocks and other toys that would help me build cities or racing circuits. My grandfather was sitting on the sofa, watching the commentary studio before the Formula 1 Grand Prix race of San Marino.
At least it's sunny over there. Should be a good race. - he said as much to me as he did to himself.
Who do you think will win? - I asked
Tough call. Senna is the best there is, but young Schumacher has the fastest car right now.
I like Schumacher's car. It's got nice colors. - a typical base of affinity for a 5 year old.
Well little one, there is more to a racer than colors. Senna is the best to ever race - said my grandad with absolute conviction.
In the world?
In the whole wide world!
But how can you know if you are the best of the whole world? It's big, you know. - I said with utter conviction.
Hush now, it's starting.
At this point I had already watched half a dozen races and my interest in them was well formed. The drivers were now lined up on the grid so I left my half built racing track in temporary suspension and fixed a sharp gaze on the TV screen. My grandad was equally enchanted by what was going on, else he would have told me not to watch the TV from less than a meter away.
Senna had won his third straight pole and was hoping to finally get his first win of the season. Right behind him, again, was young Michael Schumacher, looking for a third straight win. Senna had a rough start to the season with two retirements so this was make or break time for him. The camera glanced at his eyes through the helmet and I remember that shot very vividly for there was a superhuman level of concentration in them.
They did their usual formation lap and were ready to go. The deafening sound of 28 naturally aspirated beast engines took over and there was no other sound. The red light went off and the cars darted. I was eagerly anticipating the first corner but the camera switched to a very nasty crash between Pedro Lamy and J.J. Lehto. Lehto's Benetton refused to go and Lamy, having his view of the stationary car blocked until the very last moment, hit him full force from the back, became airborne and flew into the sidewall. The yellow car was out for the next 4-5 laps until debris were cleared.
And then they were off again! Released from the crippling pace of the safety car, Senna went full force, leading the field without contest. But unbeknownst to us, there were other forces at play. Something very important happened during the time in which the safety car led the field. Something few people even realised. The slow pace dictated by the safety car led to tyre temperatures dropping way below their optimal state, resulting in lesser grip. Inside Senna's car, something else was out of place. On the second lap after the restart (Lap 7), right before the first corner, Senna's car left the racing line at about 200 mph and hit an unprotected concrete barrier. The race was immediately stopped.
Crashes were not at all uncommon in these days and I had already seen my fair share so this was not a shock. But I did realise it was severe. My grandfather put his right arm on his forehead and simply said "This looks bad". I remember that the car was destroyed but it was mostly in one piece. I also remember senna being completely motionless in the cockpit. The medical crew was quick to the scene, got him out of the car and onto the carrier. He was not motionless now. His helmet was tilting left and right but evidently not at Senna's own effort. This was bad. They removed the helmet and put a sheet to block the cameras from getting a glimpse. This was really bad. The crew got him into the chopper, his head fully covered and out of sight. That was the last we ever saw of Senna.
Reader insights
Be the first to share your insights about this piece.
Add your insights