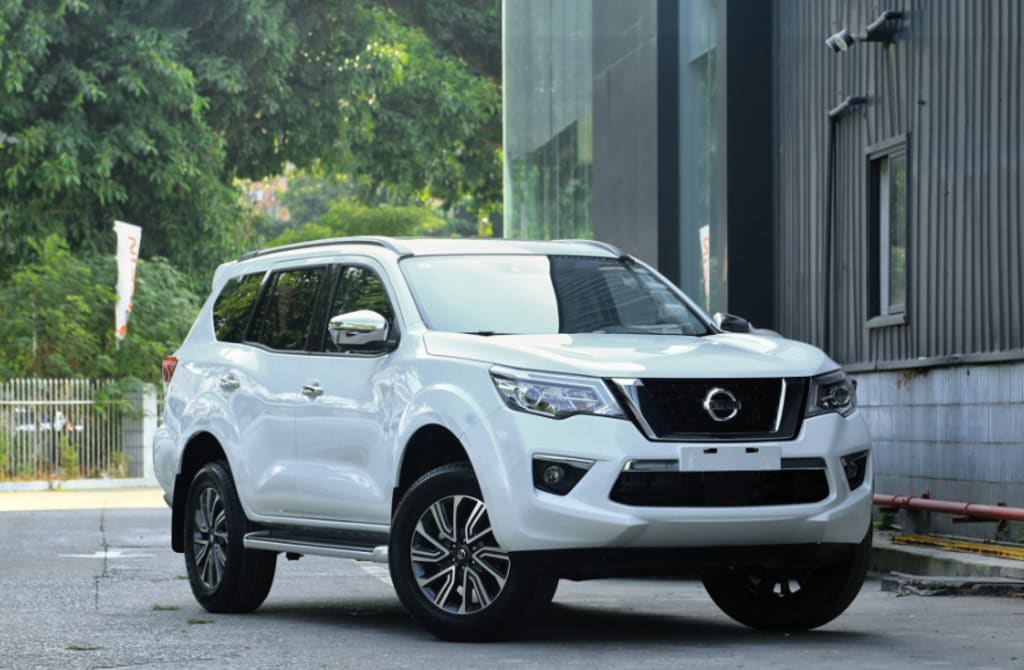 Nissan's new SUV TERRA Tuda is officially launched. Chen Hao, Vice General Manager of Dongfeng Passenger Vehicle Company, announced at the press conference that the TERRA Tundra is officially launched for the first time in the world from now on, with a total of 6 models. Tuda is positioned as a hardcore SUV with a non-load bearing body and a QR25 2.5 L naturally aspirated engine, which is matched with a 6-speed manual and a 7-speed manual transmission. The new vehicle comes with a time-share four-wheel drive system with a rear axle differential lock.
As the inheritor of Nissan's off-road genes for more than 60 years, the TERRA Tundra, which adheres to the mission of "though the road is far, I will reach it", combines style, off-road power and technology power, and is a large SUV designed for the soft-hearted tough guys who are firm at heart, guard their families and enjoy conquest.
Craftsmanship inheritance, write a new off-road vitality weather
More than 60 years ago, a wave of "All in off-road" was emerging in the automobile industry. Nissan became one of the most important and active forces in this revolution. The Patrol was the first generation of Nissan's off-road vehicle, the 4W60, with a non-load bearing body, which marked a new chapter for Nissan as a pioneer in the field of off-road vehicles.
Times are changing, and off-road is also evolving. Driven by Nissan's strong off-road manufacturing strength and the concept of keeping up with the times, TERRA Tundra was born as a global strategic model.
Based on rich off-road manufacturing strength, TERRA Tundra integrates Nissan's leading intelligent technology, giving off-road a new look and new vitality.
The three forces drive to create of a new benchmark for product differentiation
In the era of consumer upgrading, product power has become the focus of users' attention, and TERRA Tuda adheres to Nissan's innovative spirit and deep off-road genes to open up a new segment in the off-road SUV market.
The unforgettable tough shape shows the hard-core style force.
TERRA Tundra adopts Nissan's latest V-Motion family front face, LED headlights, and LED daytime running lights, which are stylish and highly recognizable. Among them, LED headlights, with a 90 m long illumination distance and 10 m illumination width, whether at night or in complicated weather conditions such as rain, a wider field of vision will greatly improve the visibility of the driver and passenger to ensure travel safety.
The tall dimensions of 4882*1850*1835 mm and the class-leading 2850 mm long wheelbase will not only bring a comfortable driving experience but also bring more surprises in terms of cargo carrying.
In addition, TERRA Tundra has class-leading high passability. 225mm minimum ground clearance, 32° approach angle and 27° departure angle help make it more convenient to cross obstacles uphill and safer to cross ditches downhill.
The professional spirit of the same lineage highlights the strong off-road power
Unlike domestic 200,000-grade joint venture city SUV s with the banner of "off-road", TERRA Tundra takes consumers' core value of "real off-road" as the starting point and brings pure off-road technology and fun to the majority of consumers.
TERRA Tuda is equipped with a professional off-road non-load-bearing body, using a fully enclosed "O" structure of a strong frame, high strength, good rigidity, and torque resistance, and can withstand the strong impact of external forces. When you meet your friends and family and drive TERRA Tundra for an extreme trip, even in the face of bumpy and bad road conditions, TERRA Tundra can handle it with ease and escort you.
In addition, TERRA Tundra is equipped with a professional off-road suspension system that surpasses its class - double wishbone (with stabilizer bar) front suspension and five-link integral axle rear suspension (with stabilizer bar), with large lateral stiffness and excellent anti-roll performance, providing consumers with safe and worry-free driving stability.
TERRA Tundra adopts the class-leading all-terrain electronically controlled time-division four-wheel drive, which allows consumers to choose from three different power drive modes: two-wheel drive, high-speed four-wheel drive, and low-speed four-wheel drive, depending on the terrain. The low-speed 4WD mode, in particular, can achieve a torque distribution of about 50:50 between the front and rear wheels, amplifying the torque by 2.7 times, which is suitable for slopes, rocks, mud, and other harsh road conditions, with the strong driving force and passing performance.
It is worth mentioning that TERRA Tundra is equipped with the class-leading mechanical tooth-embedded rear differential lock. At speeds below 7km/h, when one or more wheels lose contact with the ground or slip, torque can be distributed to the two rear wheels to ensure that the vehicle can safely get out of trouble at low speeds and easily get out of mud, snow, mud and another terrain.
When driving on low traction roads, the B-LSD electronic brake differential lock automatically detects the wheel that is slipping and brakes to control the idling wheel, transferring power to the wheel that is not slipping, helping TERRA Tundra to start comfortably and pass through complex road conditions quickly.
In addition, TERRA Tundra is equipped with a Nissan QR25 engine and imported 7AT transmission of the same model of Tulum, which is tuned by off-road SUV parameters to create an efficient powertrain. It can ensure the smoothness and stability of power output in off-road driving, and also take into account the fuel economy in urban driving.
Human-oriented safety support, highlighting the power of human technology
TERRA Tundra not only helps more people to fulfill their off-road dreams but also integrates many Nissan intelligent technologies to make driving more convenient and safe.
TERRA Tundra is equipped with a MOD moving object/pedestrian detection early warning system and IEB pre-crash intelligent braking. Among them, the class-leading AVM panoramic intelligent monitoring system can synthesize a bird's-eye view through four wide-angle cameras when the vehicle is stationary, in reverse gear, or moving forward from 0-10km/h, and transmit it to the interior rearview mirror to help the driver see six roads and drive or park with ease.
In addition, TERRA Tundra is equipped with multi-functional off-road instrumentation with a 5-inch high-resolution color display, which can dynamically display driving information, fuel consumption information, tire pressure monitoring system, four-wheel drive system, and other driving information, so that the off-road road is under control.
With innovation leading the market trend, the introduction of Nissan Intelligent Technology gives more new vitality to the off-road spirit of TERRA Tundra.
New empowerment, creating a new era of off-road for all
Under the consumption upgrade, how let more and more consumers, not only can pursue better product quality but also can buy a real off-road model?
For the "soft-hearted tough guys" who are determined and enjoy conquering, they like to explore and grow together with their families and friends, and TERRA Tuda will be a good solution to their dual needs for off-road and daily travel.
In addition, to make it more convenient for consumers to purchase the product nationwide, TERRA Tuda will be sold by Dongfeng Nissan and Zhengzhou Nissan after its launch. Within the authorized dealer system of Dongfeng Nissan, the dealers of Dongfeng Nissan and Zhengzhou Nissan will maintain the same pre-sales policy, after-sales service standard, and warranty policy, and both will follow the management model of Dongfeng Nissan to carry out relevant services.
The launch of TERRA Tuda will not only open up a new pattern in the industry, set a new benchmark in the 200,000-class professional off-road SUV market, and open up a new era of off-road for all people, but will also form a more complete and powerful Dongfeng Nissan SUV matrix with Tulle, Loulan, Qijun, Prowler and Jinko, and enhance the SUV group combat capability of Dongfeng Nissan.
Reader insights
Be the first to share your insights about this piece.
Add your insights