My First Car, Patricia
A Story of Ups and Downs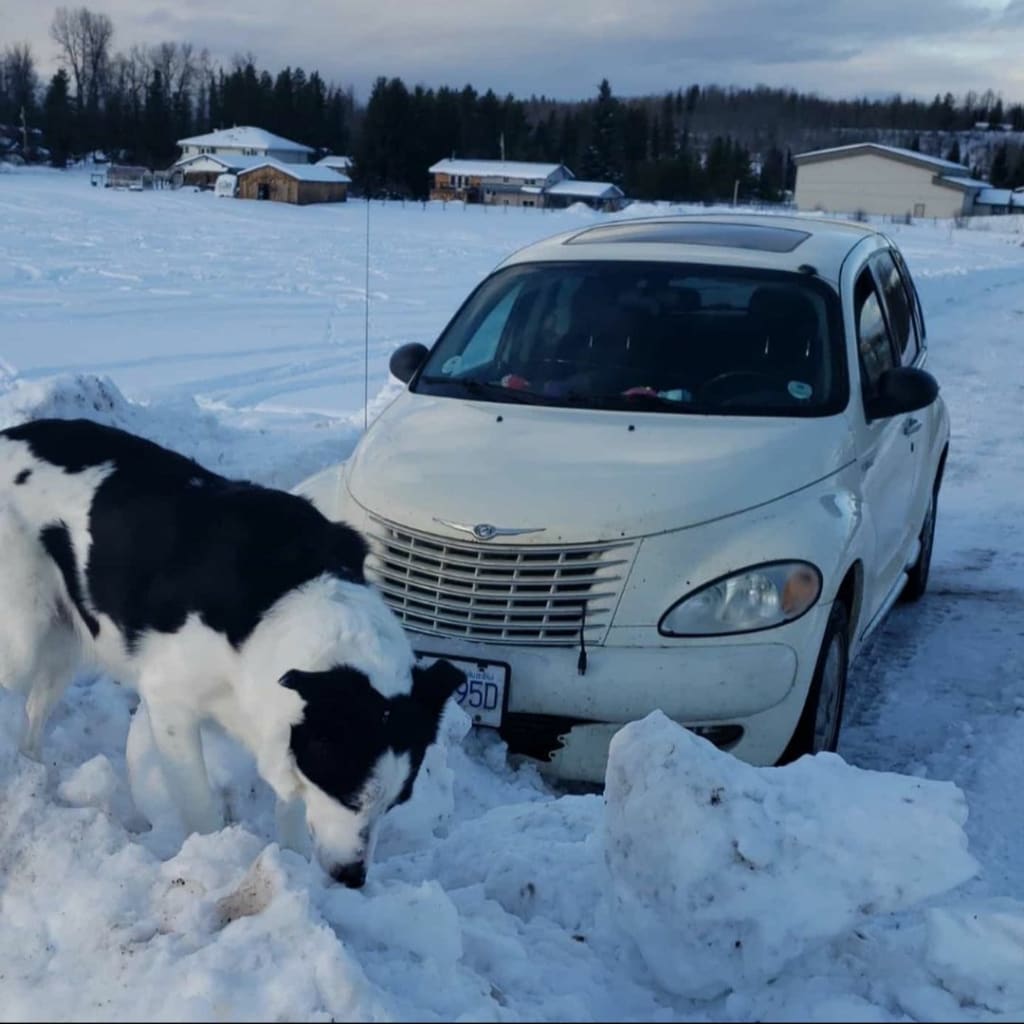 Yes, my first car was and is a 2004 PT Cruiser. Touring Edition, I'm pretty sure. I bought it for $500 in a small town just outside of my already small hometown. For $500 there's got to be a catch, right? Yep! It had rust on the lower sides, a large crack in the windshield, dog hair stuck to the roof of the interior (for good), shitty speakers, no aux, no working AC, missing a few semi-cosmetic parts and it barely ran. Let's not for get, it's a cream-colored PT Cruiser... It was ugly and dysfunctional, and I loved it!
It was a 15 minute drive from the seller's house to ours, but here's the thing: if we stopped, we stalled, and the car would shut down. Luckily, I was with my parents, and my dad is all too good with running stop signs (a joke; for legal reasons). We only ended up stalling in the driveway, and all we had to do was push the car into its parking place.
It took me a few weeks to come up with a name. I knew he was a boy, and I needed something that suited him. Patricia seemed to be it.
Within the month, after many quotes from a few different places, we got Patty to a mechanic. The initial fix was a little over $2,500, plus $600 for new all season tires. Almost a bargain! In total, not including insurance, which nearly doubled the price, he was a $3,600 car that ran perfectly. Or so we thought...
What came first, I don't even remember, but it was close to a $300 bill. Not bad. Not even a day later though, he started squealing. So, we had to take him back. That time, we had a scare that something was wrong with the turbo. We were getting ready to either pay over $2,000 (that I did not have), or to trash the car and move on to the next. Mind you, I'd only had him for about 2 months. Fortunately, it wasn't the turbo, and I believe we only paid $600. Only... Well, compared to that other number, we were pretty relieved.
There were a few more small bumps along the road that I don't entirely remember, but on mine and Patty's one year anniversary is when COVID-19 hit Canada. March of 2020. I was on lockdown, just like everyone else. I had been laid off, my boyfriend and friends were all quarantined; I had nowhere to go. And so, I decided to take Patricia off his insurance and let him sit in my yard for a while. Apparently, that's a bad idea. I saved a little in gas and by being off my insurance for three months, but I ended up having to pay $850 to replace my radiator and to get a mouse that had made a nest in my car cleaned out. Patricia ate that mouse up like a cheeseburger and the mechanic thought it would be nice to show me.
The reason I had brought Patricia to the mechanic was because I heard bubbling in the front right corner of my car. After the radiator was replaced, the bubbling had stopped. Problem fixed! We were cruising for the next six month; an oil change and a check up, and no big payments. I had gone to the Okanagan (12hrs) without AC, a few trips to Prince George and Terrace, and he was "fit as a fiddle". I bought some winter tires for my second winter with Patricia, and that came in at $450 as I got them second-hand. Life was good.
Then November came around, and at the end of the month, I took a trip to Edmonton with my boyfriend for four weeks. Edmonton is a 12 hour drive in GOOD conditions. Then, once we got there, I was also driving in and out of town for my barber schooling every weekday. Patricia was a trooper, until the last few days... He started bubbling again!
We checked the coolant levels, made sure we weren't leaking, kept an eye on the engine temperature; did all we could while stranded in Edmonton with limited funds. Believe it or not, we made it back with Patricia in one piece.
One day, back in my hometown, as I was driving to work, the engine temperature spiked. I pulled over immediately and called my mom. We got Patty into the shop that day, but it wouldn't be until three weeks later that I'd get him back.
First they gave me an oil change and refilled my coolant, which was now empty. Then they started digging. I got a call a few days later, and they said it was the water pump that needed to be replaced, and it would be $900: $450 for labor and $450 for the pump. I said to go ahead. Also, It wasn't until later that I realized a water pump shouldn't cost that much. But that's a different story.
We had to wait a week for the pump to even arrive after being ordered, and then I got another call. They were finding more and more things wrong with him, and wanted to let me know that they didn't think it was worth the money to continue.
The mechanic put Patricia back together, and after some misunderstanding and slight back and forth with the price, we ended up only paying $190. Not the $878 they proposed, after taking it apart and not fixing anything. The owner knew us and knew all the work that had gone into the car already, and also knew that I would be taking home a car that was bound to die at any moment.
After almost 2 years, over $6,000 in maintenance and repairs, and around $4,000 in the most basic car insurance, I now have a car that is probably only running and not overheating, because it's -10 C most days. It was worth it, and in hindsight, $6,000 in total for a car for 2 years isn't too shabby. I won't need one when I go off to University in September, so the timing wasn't too bad either.
Though it is sad to think that, come summer, I'll have a dead car. Anyone want some PT Cruiser parts?