MG Gloster 2020 – a Big 7 Seater SUV Review
I'm telling you all this because they're all class best figures. Or rather they are a little bit more than what you get in the current crop of a big seven-seat body on frame premium SUVs in India.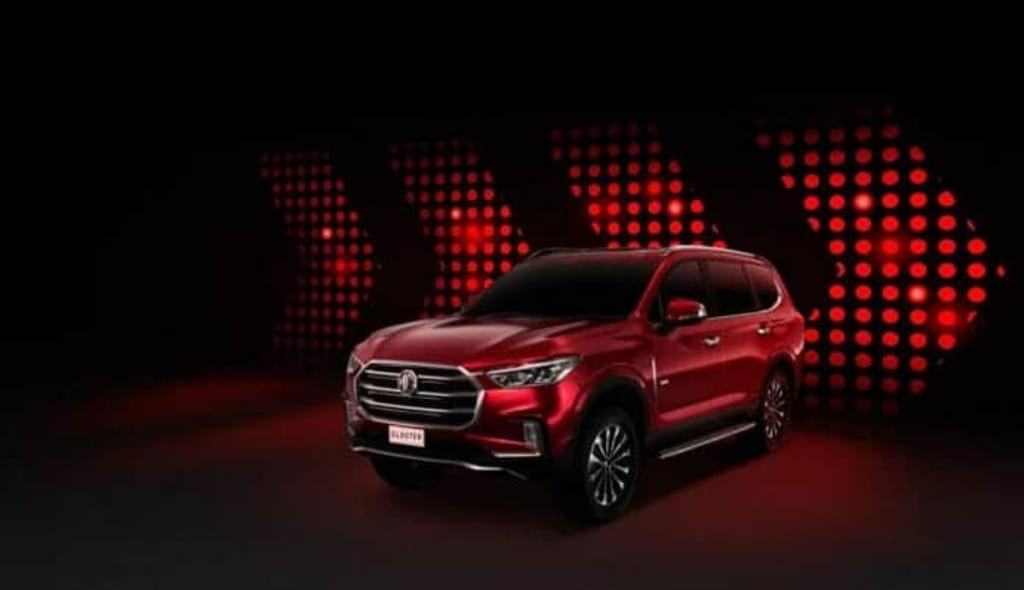 The new MG Gloster so here goes length 4985 mm, height 1867 mm, wheelbase 2950mm. Power 218 horsepower, torque 480 newton-meters. I'm telling you all this because they're all class best figures. Or rather they are a little bit more than what you get in the current crop of a big seven-seat body on frame premium SUVs in India.
And that's just what MG hopes to do with the new Gloster. Give you that a little bit more but those are the numbers on a paper. How does it all translate into the real world that's what I'm gonna tell you today?
MG Gloster Colour Options
Table of Contents
MG Gloster Exterior
MG Gloster Interior
Advanced Driver Assistance Systems (ADAS) Feature
MG Gloster Second Row of Seats
MG Gloster Third Row of Seats
MG Gloster Boot Space
MG Gloster ENTERTAINMENT System ON-THE-GO
ALL-TERRAIN SYSTEM (7 Driving MODES)
ELECTRO-MECHANICAL DIFFERENTIAL LOCK (EDL)
MG Gloster SAFETY Features
MG Gloster Exterior
This is truly a massive SUV with loads of all-important – road presence even its 19-inch alloy wheels. Which are also a size larger than the competition almost look a little dwarfed in the cavernous wheel arches. Still, details like the slim led projector headlamps, the large brushed metal grille, and the sculpted bonnet are quite attractive.
I like the way the chrome window garnish extends upwards at the c-pillar to join the roof rails. The dummy quad exhaust lent a sporty look. And although there is a lot of chrome all over the car including the alloy wheels.
STAND OUT. STAND TALL.
Octagonal Chrome MG Grille LED Headlamps With Auto Leveling
Turn Indicators On ORVM LED Tail Lights
Outside Mirror With Logo Projection Steering Assist Cornering Lamps
Rear GLOSTER Emblem Diamond Cut Alloy Wheels
Dual Barrel Twin Chrome Exhaust
It's pretty tastefully done the Gloster has badges all over it to let you know its features and its name. Plus a pair of union jack badges on the front flanks that say Brit dynamic. But what do you think about the new MG Gloster? Do you like it? Would you pick it over the established crop of big seven-seat SUVs? Let us know down in the comments. And if you like our article, in general, be sure to subscribe to the Our Motosutra Newsletter.
MG Gloster Interior
Now let's move inside, quite a treat now if the Gloster engine specs and exterior dimensions were meant to be that little bit more than the rest of the interior appears to be a lot more than the rest the touchscreen itself is a massive 12.3-inch unit and well it's got every feature they could throw at it.
It's a connected car it's got a partner app it's got a gaana app in it with subscription built into it, Apple Carplay, Android Auto, live traffic updates, even live weather, and of course, you can talk to it, and ask it any number of questions or commands.
That said the touchscreen does need a firm prod for it to work more interesting is the hi-res 8-inch central Console screen that shows you the general trip and fuel computer data, but also a whole lot more info as well. it's so prominent you might even miss the small analog speedo and taco on either side of it.
The front seats are very comfortable, they're big, they're powered, they're well-contoured, they even give you a massage function, and are heated and cool on the driver's side. but if there's one thing that's a bit off is that the seat cushion is a little bit firm and there is an excess of lumbar support even at its lowest setting now as far as quality goes they've made an effort to make you feel that you're in a premium space,
In this car, there's leather on the dashboard with stitching on it, quilted seats, quilted armrests, and lots of colors and textures but the only thing is that some of the switchgear particularly on this rather crowded steering wheel doesn't feel like it belongs in a car this expensive apart from that though there is a lot of wow factor in this cabin and that is sure to draw in buyers and now on to the equipment list and it's a long one here It goes:-
COMFORT LIKE YOU DESERVE
Panoramic Sunroof Wireless Charging
12 Way Power Adjust Driver Seat ORVM Memory
8 Way Power Adjust Co-Driver Seat Rain Sensing Wiper
Power Adjust And Foldable ORVM Intelligent Start-Stop
Driver Seat Massage Hands Free Tailgate With Kick Gesture
Driver Seat Ventilation and Memory Driver & Co-Driver Seat Heating
Tyre Pressure Monitoring System Electronic Gear Shift With Auto Park
Outside Mirror Auto Tilt In Reverse PM 2.5 Filter
Advanced Driver Assistance Systems (ADAS) Feature
There's the feed for the 360-degree cameras which can even do a 3D external augmented reality view but the resolution is not that great moreover in parking mode the parking sensors tend to be a bit over sensitive there's also loads of safety kit as well as ADAS or Advanced Driver Assistance Systems features which are a first in the segment.
ASSISTED AND INTUITIVE DRIVING
ADAS is a group of safety and convenience functions intended to improve comfort for drivers and road safety and, preventing or reducing the severity of potential accidents. ADAS can do all this by alerting the driver, implementing possible safeguards in the vehicle & automating driving controls (based on the driving automation level of the vehicle). While Autonomous Level-5 denotes the global future dream of completely driverless cars, Level-1 acts as a driver assistant and the vehicle are dependent on the driver to monitor the driving environment and conditions.
ADAPTIVE CRUISE CONTROL (ACC)
Adaptive Cruise Control, also known as ACC is an advanced version of cruise control, particularly helpful for long drives as it senses the road ahead and enables the vehicle to control its acceleration and braking to achieve the desired speed but also maintain a safe distance from cars ahead. It can also come in handy while waiting at the red light
and rush hour commuting. It is a full range cruise control that simply put, can just automatically follow the car in front of you as it can speed up to 150kmph and can slow down even to zero to achieve the pace set by the driver while keeping a safe distance from the car in front of you as per the safe interval set by the driver.
AUTOMATIC PARKING ASSIST (APA)
This system is a parking assist system for assisting in typical parallel and vertical parking. Once turned on, the ultrasonic sensor searches and judges the parking space. Once sufficient parking space is detected, the vehicle will assist you in parking by controlling the steering movement automatically and telling the driver when to apply reverse and drive gear and apply the brake. This technology helps to solve common parking problems in densely populated urban areas. Automatic parking technology can park the car in smaller spaces. This makes it easier for car owners to find parking spaces while taking up less space.
FORWARD COLLISION WARNING (FCW )
For the odd time or two when your gaze may falter from the road, it can have grave repercussions. However, the Forward Collision Warning, alerts the driver with both visual and acoustic signals when a potential collision is detected with a four-wheeler, two-wheeler, or a pedestrian. The system is designed to alert and bring back the driver's attention and reduce the probability of a collision.
AUTOMATIC EMERGENCY BRAKING (AEB )
In case, the driver takes no or insufficient action on the FCW alert and warning for potential collision with a four-wheeler, the Automatic Emergency Braking will get activated and apply brakes on your behalf to further prevent or reduce the severity of the possible collision.
BLIND SPOT DETECTION (BSD)
Sometimes, even after adhering to all rules of the road and maintaining road decorum, mishaps happen on the account of things out of your control. Blindspot detection systems use sensors to provide drivers with important information that is otherwise difficult or impossible to obtain. This feature detects and alerts the driver of any sudden movements in his/her blind spot – be it over-taking vehicles or side-lane strafing by motorcyclists.
LANE DEPARTURE WARNING (LDW)
Lane Departure Warning uses a camera to detect lane markings ahead and monitors the vehicle's position in its lane. When the function detects that the vehicle is unintentional, without signaling about to move out of its designated lane, it warns the driver by means of visual and acoustic signals.
MG Gloster Second Row of Seats
Now let's go check out what it's like if you're a passenger in the Gloster as you'd expect for a big rugged ladder frame SUV like this it's a bit of a climb up into the cabin but once you're in place it is a very comfortable place to be true. the seats are captain chairs of course much like the ones in the front not quite as plush but pretty close, they give you quite a bit of comfort and support, they recline if you want, and there's a bit of storage too, and even a pair of cup holders.
This driver seat is set to my driving position I'm just under 5'10" tall and I've got enough room right now but if you want to maximize things you can slide it quite a way behind and get a lot more room that of course has an effect on the space in the back but we'll get to that in a moment other creature comforts back here include a third separate climate zone and charging facilities in the form of USB and a 12-volt socket. well, who can forget the big draw with MG's panoramic sunroof?
MG Gloster Third Row of Seats
the third row is to just hop in between these two seats and walk straight through there is have enough place but you can come the traditional proper way to get into the third row from the outside so it's a two-step process pull up the lever down-slide it forward drop the backrest and well you've got enough room to climb in through there, it's not a tight squeeze. Back into place and well there is a good amount of space Best in the segment.
I think you'll find there is a tremendous amount of room, even headroom. I'm sure even taller passengers won't mind being in the third row. while at least I'm going so far as saying that this is one of the most spacious third rows of seats I've ever encountered in an SUV for sure.
There's not a lot of place for your feet and yes you do sit a little bit knees up but I think those are things you can forgive just for the amount of room back here and of course, you get plenty of creature comforts on AC vents USB and 12-volt sockets for charging and even cup holders and if you plan to use the Gloster as a family car for long-distance road trips.
MG Gloster Boot Space
You've got to have good luggage space too the boot space with all rows up is decent and once again more than what you get in rivals, capable of taking a few small bags however fold the third row down and you get a truly cavernous space, and there's even a handy rollout luggage cover you can use this to configure the space.
let's get the big Gloster out on the road but before you even get to the power what you notice right away is the refinement at low revs especially this is one of the quietest engines of its kind. This engine produces 218 horsepower and 480 newton-meters but if you look at the performance figures you'll see that it's very quick for a car this big against our vbox testing equipment 0-100 kph came up in a seriously quick 11.2 seconds for this massive SUV and even in-gear acceleration with a kick down to simulate overtaking was impressive especially given its mammoth 2.5-ton curb weight.
It's quicker than all other SUVs of this kind but what really puts the damper on things and what is perhaps one of the biggest flaws of this car is the way this engine is calibrated the engine is dead below 2000 rpm and when it wakes up at 2000 rpm it rocks you back with a lot of force and pushes you and your passengers back in their seats.
MG Gloster ENTERTAINMENT System ON-THE-GO
With MG GLOSTER there is never a dull moment. With an entertainment system just as smart as the rest of the SUV. Your driving experience is set to be effortlessly enjoyable.
31.2 cm Touch Screen Gaana Song Search Via Voice Commands
High Quality Audio System With 12 Speakers Shortpedia News App
Android Auto & Apple Carplay
MG Gloster Driving Feel
And this is only compounded by the 8-speed automatic gearbox. Which is very slow to respond and not very quick to shift either. Like right now we are climbing up a mild gradient but it just will not downshift. You have to kick it, it's gone down one gear but honestly, it should have gone down two. And what that means is it drops you into that dead zone below 2000 rpm all too often. And that just doesn't make for smooth driving. An advantage is the gear shift paddles, that can let you take matters into your own hands.
However, where this powertrain excels its big reserves of torque and long-legged gearing. Mean it can cruise effortlessly in 7th or 8th gear. Which makes it the ideal SUV for those long outstation trips with the family.
The MG Gloster comes with several drive modes. Most of which are for different off-road situations, there are three road-based modes eco, auto, and sport. But we couldn't feel a discernible difference between them. In practice what is quite a revelation is how easy it is to drive this massive SUV. The heavy ladder-frame SUVs like these are usually quite handful to drive. Not only because of their large size and weight. But also they tend to have rather heavy and ponderous steering but not this one.
ALL-TERRAIN SYSTEM (7 Driving MODES)
Equipped with BorgWarner transfer case the MG GLOSTER's on-demand or real-time intelligent 4WD drive train adeptly provides top-class torque control and distribution.
AUTO
ECO SPORTS
SNOW SAND
MUD ROCK
ELECTRO-MECHANICAL DIFFERENTIAL LOCK (EDL)
The electro-mechanical differential lock ensures that even when the vehicle is stuck in a tough, slippery situation – it can still obtain a large driving force by transferring 100% torque to the wheel with traction. This feature grants you the confidence and control required to take on whatever challenge that comes your way.
Intelligent 4 Wheel Drive System
CAPABLE BEYOND CONVENTION With the great power and capability that the MG GLOSTER comes with, it stands true to the values it reflects and delivers on what its made for – the outdoors and the adventures. Built on the next-generation intelligent 4 wheel drive system, the MG GLOSTER takes on and tackles all kinds of terrains that comes it's way.
The MG Gloster steering is beautifully judged. And it's light enough that it takes all the effort out of steering for such a big car.
But it's also got enough feel and feedback to make you feel just a little bit connected to the road. And as a result, you get to acclimate to this car's size very very quickly. What also helps in that regard is the fact that visibility is very good. Yes, you get these massive mirrors but there's enough of a gap between them. And the tall upright a-pillar that lets you see right through and right around very very easily. The only thing I'd say is that rear visibility through this mirror is a bit compromised. Thanks to the tall seats and the high headrests.
Handling this is a big and tall SUV riding on soft suspension. So of course, it's not going to be very good but again by the standards of cars of this type it is very good. There are loads and loads of body roll. There's no getting away from that but there is a certain composure to this car at a speed that other ladder-frame SUVs don't seem to have.
MG Gloster SAFETY Features
6 Airbags Electro-mechanical Differential Lock (EDL)
Electronic Stability Program (ESP) Hill Hold Control (HHC)
Traction Control System (TCS) Hill Descent Control (HDC)
ABS + EBD + Brake Assist Roll Movement Intervention (RMI)
Automatic Vehicle Hold (AVH) 360 Degree Around View Camera
Electric Parking Brake with Autohold Heated ORVM
Driver Fatigue Reminder System
Conclusion
So it's incredibly easy to drive for such a big SUV and it also gives you more than enough confidence at speed or when changing direction the ride smoothes out admittedly as you pick up the pace and the best part is despite being comfortable it doesn't feel too soft or overly bouncy at high speeds either which means it's superbly judged.
It's safe to say the Gloster has the best ride and handling mix. Amongst all the large ladder-frame SUVs on the market right now. And that's despite it being the largest and tallest of the lot.
Well that was certainly a pleasant surprise wasn't it the MG Gloster could very well have just been a collection of numbers with no real substance but it's proven to be so much more than that it is a genuinely good product and under there is a very desirable premium seven-seat SUV okay the sluggish engine and gearbox do let it down a little bit but that aside it has a lot going for it what we don't know is the price which wasn't yet revealed at the time of this review but what we hear is that this top-spec savvy version will be priced just above the established competition at around 35 lakh rupees Ex-showroom.
Now that's a pretty bold move but MG is hoping buyers will see value in the size, space, performance, comfort, and oh yes the equipment. We'll have to wait and see if that's true but if it is the Gloster could make another big impact just like the MG Hector did.
Reference - https://www.motosutra.in/mg-gloster-2020-review/