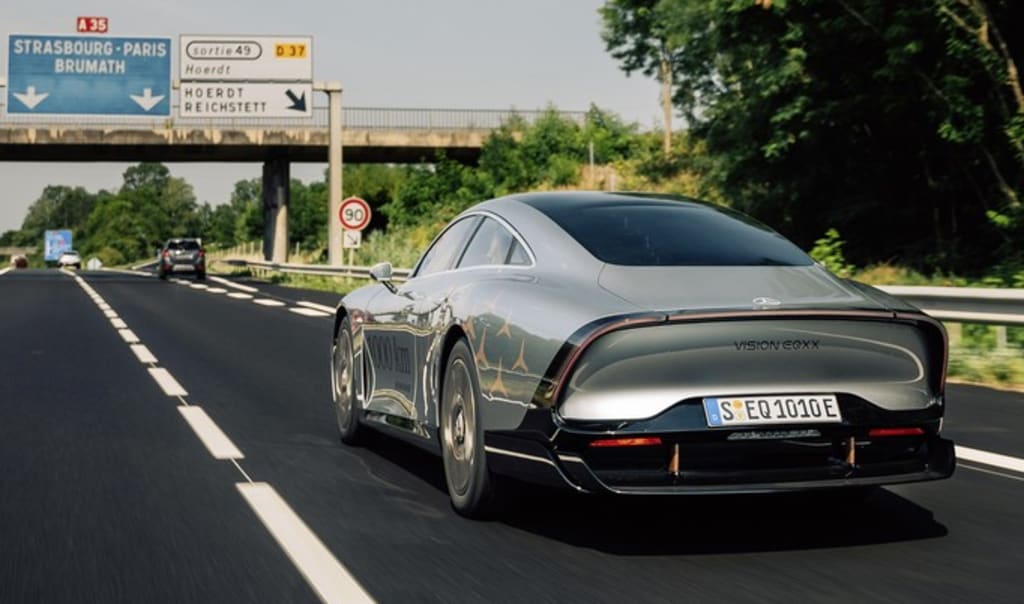 Recently, Mercedes-Benz's pure electric concept car VISION EQXX was officially unveiled in China. As the latest interpretation of Mercedes-Benz's vision for the future of tram cars, the EQXX concept was first unveiled worldwide at CES 2022. The new car has an amazingly low wind resistance coefficient of Cd0.17, which is groundbreaking in terms of lightweight, low energy consumption, manufacturing materials, and intelligence.
From start to finish, the VISION EQXX Concept took only 18 months to build the brand's most energy-efficient vehicle ever, with energy consumption of fewer than 10 kilowatt hours per 100 kilometers, a range of more than 1,000 kilometers on a single charge, and breathtakingly futuristic styling. From any perspective, the VISION EQXX Concept is an advanced electric vehicle from any angle.
The development team's design and R&D team used advanced digital modeling technology for interdisciplinary development to give the VISION EQXX Concept an ultra-smooth exterior design, which, together with tires with ultra-low rolling resistance and aerodynamic optimization, gives it an amazing wind resistance coefficient as low as 0.17. Thanks to a new electric drive system developed in-house, the VISION EQXX Concept achieves efficient use of energy, with a lightweight and efficient electric drivetrain that ultimately transfers up to 95 percent of the battery's energy directly to the wheels.
The VISION EQXX Concept continues the prestigious Alubeam silver paint job, with a glossy black closed grille decorated with eye-catching rose gold trim and a light strip above it that blends naturally with the energy-saving headlights, each of which contains two star-shaped elements that echo the 2D star pattern on the front bumper, together highlighting the front end of future Mercedes-Benz models. The design details of the future Mercedes-Benz models.
Overlooking the roof, the car resembles a smooth greenhouse dome, flowing gracefully like a water drop towards the rear of the car. The retractable rear diffuser retracts and blends seamlessly into the body, ensuring balance, proportion, and a lightweight aesthetic at the rear.
For lighter weight and lower drag, the concept uses Bridgestone's Turanza Eco tires, combined with lightweight and environmentally friendly ENLIGHTEN and Ologic technologies, to achieve ultra-low rolling resistance. The tires are equipped with aerodynamically optimized sidewalls and paired with 20-inch lightweight magnesium forged-type wheels.
The Mercedes-Benz Vision EQXX (Ask for Base Price|Check for Availability) Concept maintains low energy consumption and high range with an unladen weight of 1,755 kg. From material selection to innovative bionic structures, the VISION EQXX Concept achieves a comprehensive lightweight design concept. The battery top cover is made of sustainable carbon fiber-cane composite material derived from Formula 1 racing process; the BIONEQXXTM rear floor casting uses an aluminum one-piece casting process. The lightweight monocoque casting replaces heavy components made up of multiple parts stitched together, eliminates material at non-load structures and reduces weight by up to 20% compared to components made by traditional processes.
The VISION EQXX Concept is equipped with the brand's first fully seamless 47.5-inch ultra-thin unibody screen and introduces a gaming engine and fully optimized user interface. The R&D team even collaborated across borders to co-develop the first 3D real-time navigation system compatible with this size screen, which can zoom in on satellite images up to 10 meters in 3D city view. The concept car also features a number of digital technologies for the user interface and experience, with Mercedes-Benz engineers using an innovative information processing method known as neuromorphic computing, which effectively reduces energy consumption by several orders of magnitude and increases the "Hello Mercedes" wake up speed to five to ten times that of traditional voice control functions.
The door handles are made of biodegradable pure plant silk, the seats are made of two outstanding leather alternatives - one made from cactus and the other from mycelium - and the carpet is made of 100% bamboo fiber.
The VISION EQXX concept car has been developed by a multidisciplinary, software-driven team of Formula One professionals, and even startups, partners, and institutions from around the world, to create a software-driven, advanced and efficient solution with future commercial potential. The development process for the VISION EQXX Concept also made extensive use of cutting-edge digital tools such as virtual reality and augmented reality, and took just 18 months from zero to full vehicle implementation.
The new car's electric drive system is based on the powerplant found in the Mercedes-AMG Project ONE supercar and can deliver up to 150 kW (204 PS). the VISION EQXX Concept's battery pack has nearly 100 kWh of energy, but is 50 percent smaller and 30 percent lighter than the new EQS's battery pack (total weight of approximately 495 kg), consumes less than 10 kWh of energy per 100 km, has a range of more than 1,000 km on a single charge, and can achieve an energy efficiency level of 95%. Notably, the ultra-thin solar panels on the roof provide the battery system with an additional 25 km of range.
It is worth mentioning that since its world premiere earlier this year, the EQXX concept has completed energy efficiency tests on real roads in several European locations. In April this year, VISION EQXX set off from Sindelfingen, Germany, to Cassis, France, and completed a 1,008-km road trip in 11 hours and 32 minutes, with approximately 140 km of range remaining and an average electric consumption of 8.7 kWh/100 km. the average speed was 87.4 km/h, and the cruising speed was 140 km/h on the highway, which included highway, mountain tunnel, and other road conditions.
It is reported that in the future Mercedes-Benz production vehicles, this concept car will be equipped with several advanced technologies, compared to the Mercedes-Benz production tram, the EQXX concept car is more subversive, but also more exciting. Unlike those common prancing, remote concept cars, Mercedes-Benz has already shown the upcoming production technology to come out, reflecting the profound power of a hundred years of car manufacturing, which Mercedes-Benz cars will inherit the mantle of the EQXX concept car in the future? It is quite expected.
Reader insights
Be the first to share your insights about this piece.
Add your insights