Living with a 10th generation Honda Civic hatchback. 7 annoying things I've discovered
The Civic is reliable, relatively cheap to service and is hugely fun to drive. But it can be improved...  
Honda had a reputation for producing reliable, but dare I say it, boring cars. Thankfully, things changed in 2015 when it launched its 10th generation Civic. With its rally car appearance that takes inspiration from the Type R hot hatch, this is a car that likes to turn heads. We can debate whether those onlookers are laughing at the Civic's crazy back-end or are giving it admiring glances.   
I bought my 1.0 VTEC Turbo 126 SR Honda Civic back in 2019. Having run this 10th generation hatchback for three years, it feels like an excellent time to review it.  
In the UK the SR is in the middle of the Civic range, with the EX packing more features and the SE coming with less. Buyers in the USA have far more choice, with sedan versions also available, alongside the five-door hatchback. 
One thing that hasn't changed is Honda's rock-solid reliability. Simply put, these cars hardly ever go wrong and I've owned three Civics over the last ten years. 
So it's surprising that almost nobody buys Honda cars in the UK. The brand has a tiny 1.73 percent of market share in 2020. Most rival Japanese car manufacturers, including Nissan, sell more in the UK. 
So what cars do Brits buy?
The Ford Fiesta is the most popular car in 2020. In fact, Brits love their Ford cars so much that the Focus, a rival to the Civic, and the Ford Puma also make it into the top ten. 
However, the fact I don't see many Civics on my local streets makes it even more special to drive. Its sporty looks, some may say "silly" appearance, may just be too much for Brits with conservative tastes in cars.  
The Civic is so unloved, yet until recently we made them. If you drive 80 miles west of London, you will find a town called Swindon. This is home of Honda's sprawling car factory where they've been manufacturing Civics since 1994. 
They even export Civics from the UK back to the company's native Tokyo and to Canada where it is loved far more.In fact, the Civic is the seventh best-selling car in Canada. It does even better in the USA, where it ranks fourth.
Sadly, Honda is closing down its Swindon factory later this year. The mix of relatively poor UK sales, Brexit and a move to making more electric cars has seen its demise.
So if you are thinking of purchasing a Civic - either new or used - pause and press the 'break hold' button on your car. Here is is a quick review of some annoying things about the 10th generation Civic that I've discovered after three years of ownership.  
Please adjust your seats  
If getting in an SUV is like mounting a horse, getting into a Civic is like falling down a hole. The driver sits very low to the ground and for this reason you feel super connected to the road. But you soon realise that anyone aged 60 years or older will struggle to get in and out of your vehicle. Please help them. Don't just sit and laugh at their lack of mobility. 
Sluggish infotainment system?  
Honda Connect is the name of its infotainment system and What Car? magazine doesn't hold back when it states: "Honda's software is sluggish and the menu layout is woeful and needlessly complicated. In fact, it's one of the worst systems to use in the class.."
Ouch!
Is it really that bad? It isn't particularly sluggish; my wife's Hyundai is slower to change DAB radio channels. But there are way too many buttons which makes even changing the A/C fan speed a chore.
Buttons everywhere 
Was the Civic designed by a small child with a need to press things? There are loads of buttons in Honda Connect and things don't improve with the cheap plastic buttons on the steering wheel. How do you cancel Lane Keeping Assistant? One would presume you press the large 'cancel' button, right? No. You actually press the 'main' button. Nothing makes sense.
What does the button marked LIM do? Have I ever needed to press it? No.
Fake stuff
Those 'air vents' are indeed fake plastic - well spotted! This has nothing to do with being aerodynamic or controlling wind speed, if only. It's just plastic and it looks awful. So you won't be shocked to learn that much of the back-end plastic is being removed for the 11th generation model due later this year.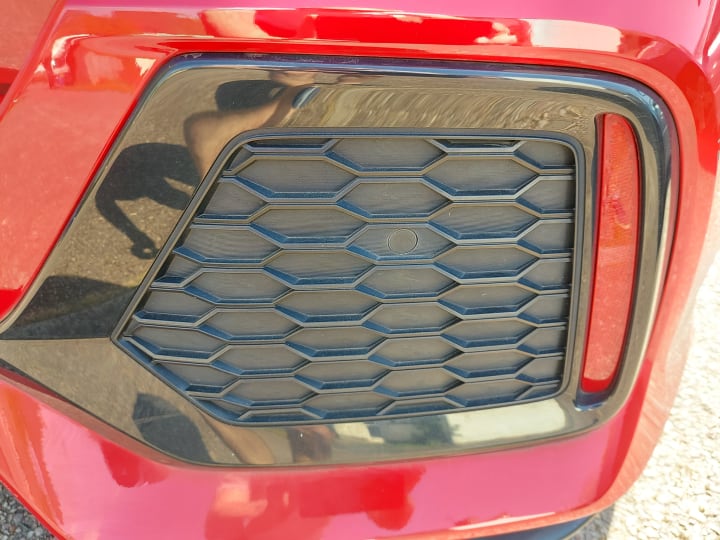 Manual transmission is better  
The poor infotainment and fake stuff aside, Honda is rightly best known for its skills in engine making whether that is in its cars, boat engines or motorbikes. In a nod to its Type R roots, the engine is noisy. Honda also manufacture good CVT automatic gearboxes, but even better manual ones. In a country where most people buy manual cars, I had to be different by buying my Civic with a CVT automatic gearbox. I wish I had bought a manual as they are very smooth. 
No flip-up seats 
Fans of previous models will remember the ultra-practical flip-up seats that allow you to transport home all the tall plants and bar stools you've just bought from Ikea. While the 10th generation has lost its flip-up seats, thankfully legroom is much better for your backseat passengers and the boot is still one of the largest in its class.  
Knowing me, knowing you Honda–Aha!    
Honda Connect includes a system known as Aha which should allow you to access the Internet. Honda state: "Aha turns your favourite Internet content into personalised, on-demand radio stations. Listen to just about anything you want, including Internet radio of virtually every music genre, podcasts and audio books—and new sports and talk-radio programs. Facebook and Twitter can also be used in an audio format." 
Sounds great, but Honda really isn't a software maker. I've never made Aha work and there are plenty of people complaining about it on various websites. But why would you bother with Aha when Honda gives you access to the infinitely superior Android Auto and Apple CarPlay for free?  
But these are minor complaints. The Civic 10th generation is a very reliable car, relatively cheap to service, hugely fun to drive, and makes a great first car for any new driver.