Jeff Gordon - A Winner's Story!
It was 2012 and it was one of Jeff Gordon's Greatest Victories on the Hot Asphalt...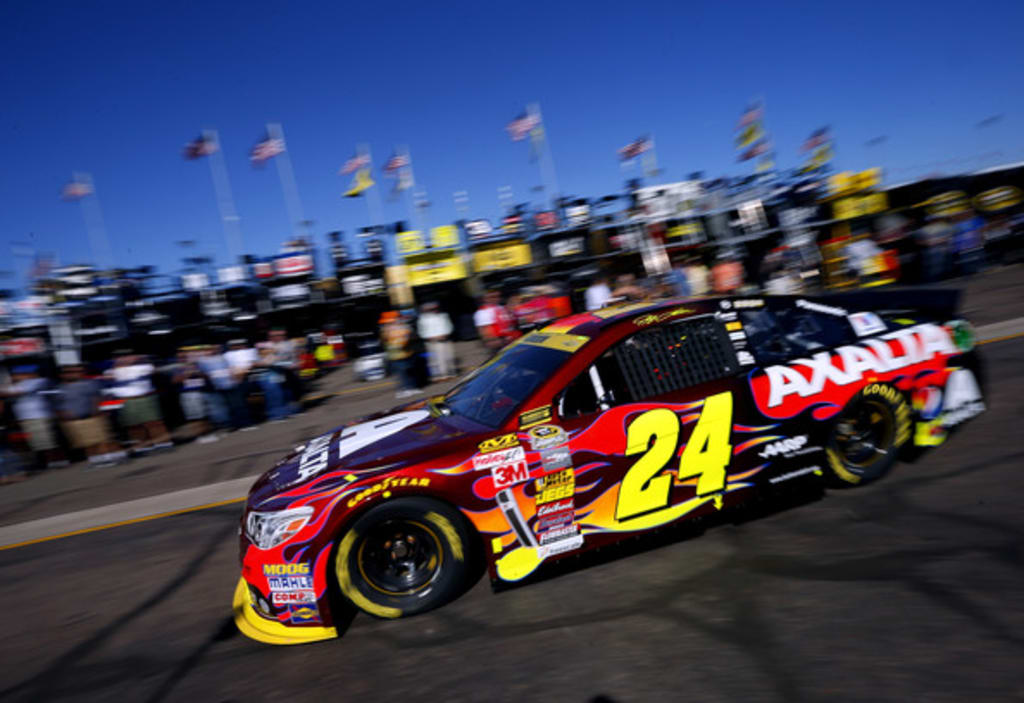 Jeff Gordon at Phoenix International Raceway at a Past Event
It was a Fast Track in Phoenix that day.
Jeff Gordon has raced so many, but sometimes a race weekend becomes personally triumphant. The harder you work, the more it pays off.
I wanted to re-vsit one of Gordon's greatest days on the track, nestled in the Valley of the Sun.
Just a week after winning the Daytona 500 - eyes were on the Young Driver, Trevor Bayne, for another week of NASCAR racing action on a 'Perfect' Sunday at Phoenix International Raceway for the Subway Fresh Fit 500.
But this week was different, instead of a two and a half mile, newly paved speedway, Phoenix Raceway offers a fast, one mile, aging track that conditions will change throughout the day.
There have been four different winners in the last four races in Phoenix and today was going to offer another grinding outing in the Valley of the Sun.
Carl Edwards, trying for his 2nd straight victory in Phoenix, qualifies again in Pole Position.
Here was the top 10 starting grid at Phoenix Raceway:
1.) Carl Edwards #99
2.) Kurt Busch #22
3.) Kasey Kahne #4
4.) Kyle Busch #18
5.) Regan Smith #78
6. Joey Lagono #20
7.) Martin Truey Jr. #56
8.) Jamie McMurray #1
9.) Brad Kesselowski #2
10.) Greg Biffle #16
--> 20.) Jeff Gordon #24
33.) Trevor Bayne #21
After a series of pre race activities, it was time for the big event.
Firing up the the racers was the Most decorated Olympian in America history, Apolo Anton Ono - "Gentleman, Start your engines!"
Get ready to drive 500 km or 312 miles.
It's the emotion of short track racing. Last week at Daytona, it was a 'keep it cool' attitude on the race track. Bumper to bumper was the strategy to win the race, but here in Phoenix, any bumper contact meant business. This week is about pushing and shoving, taking care of the car, and maintaining your temper. Rubbin' WAS racing at Phoenix International this Sunday.
This will be the last time these NASCAR racers will get to race on the surface at Phoenix. New plans for a resurface and new configuration in Phoenix will offer a new racing style for the future. For now, the battered asphalt took it's toll on the cars, and the racers.
A new Ethanol blend of racing fuel was used for the first time for a NASCAR fuel test delivered from a 'closed loop' fueling system.
The weather also played a factor in today's race, with cooler temperatures, the cars can race faster, but with more wear on the brakes. The sun beamed in the eyes of the drivers down the front straightaway was another factor to overcome, and the common knowledge of understanding to win this race, you had to take chances.
"Reach My Potential." - Kyle Busch's phrase of the day, expressing his major concern of the day was Carl Edwards.
Trevor Bayne, having difficulties on the days prior attempts found himself satrting in the middle of the field, qualifying 33rd in his team's backup car after earlier mistakes, but after the green flag waved and started today's race, Bayne made early moves in the first three laps, showing his troubles may be over.
PHOENIX INTERNATIONAL RACEWAY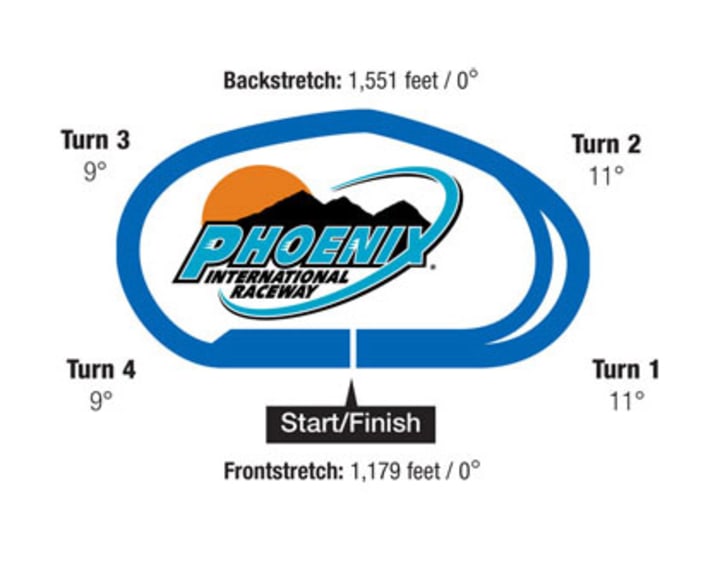 NASCAR Race Results - PHOENIX INTERNATIONAL:
An early average speed was established at 132 mph as Kyle Busch was the first to take over Edwards for an early lead.
LAP 20 - First caution due to debris, but racers couldn't fuel until lap 40 because of NASCAR rules in the Sprint series. Trevor Bayne took advantage of the slow down and pulled up 25 positions in the first 25 laps, nestling into the eighth spot early.
Robby Gordon skillfully avoided catastrophe on LAP 34, sliding into the infield after a spinout with Joey Lagano. Meanwhile all the cars started to feel the effects of the evolving race track.
"It feels like I'm on banana peels" a driver shouts to the crew, with many more coming into see team members to drop tire pressure in hopes to feel the grip on the road a little better.
Down the straightaway on LAP 50, Trevor Bayne's #21 car felt slight contact with another, enough to create a long slide with a heavy punch into the outer wall, damaging most of the young driver's back end. Last week's Daytona 500 winner drops early.
More reports pour in from the cars, at first simply 'being loose', now, being loose 'Everywhere'.
The driver's maintained their course until: Carl Edwards pit crew cheif pounded his hands in furry on LAP 59, Edwards rubbed against the barrier after contact with Kyle Busch.
Here is where we saw Carl Edwards demonstrate his veteran driving skills, maintaining the vehicle to receive the minimum amount of damage as possible and regaining control nose forward. A yellow flag was dropped, and the damage proved severe enough for Edwards to drive down Pit row and into the Subway team garage for repair. Kevin Harvick and Mark Martin received damage too. NASCAR rules allowing Carl Edwards to re-enter the race and gain points for the Sprint Cup Series.
Fate would change for many on LAP 66.
After the ensuing restart we saw the biggest crash of the day. Brian vickers, brushed lightly, loses control into the wall and triggers a thirteen car, chain reaction pile up.
"It was kind of embarrassing to be wrecked this early," Clint Bower explains from the garage. "I am pretty much disgusted with this whole thing. We're all professionals and we should be driving like it!"
Brian Vicker, also out of the race, saw things different, "Matt (Kenseth) wrecked us! Door slammed us in the corner! It'll come back to him!"
Kenseth's car, sitting on the track awaiting the restart, "I gave him enough room, didn't I?"
Perhaps a little too much hard racing, a little too early?
Meeting up with Trevor Bayne after his earler incident, "I hate that today came to an end so fast. I knew these days we're coming, I just didn't know it would be this soon."
A quick experience for the young driver of the Highs and Lows of NASCAR, in just seven days.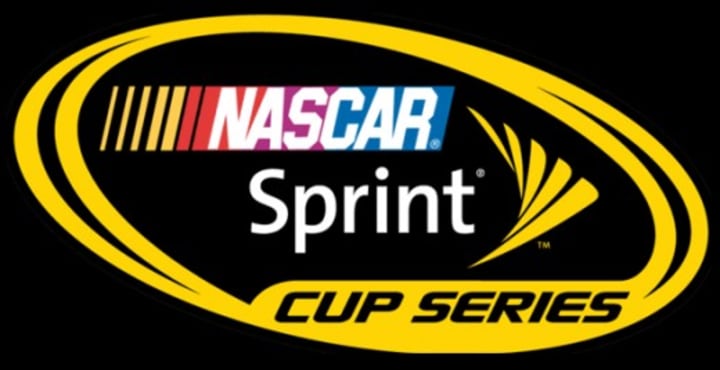 After the restart, Jeff Gordon settled into the lead, "If I ever get up there in front, we're gone...!" he assured.
Gordon started the race in 20th position, now shared lead changes with Tony Stewart and Ryan Newman. All this, after racing much of the next series of laps with paper debris blocking his front grill of the #24 car.
On LAP 116, Carl Edwards strapped himself back into his Subway race car after some major repairs entered back in the race in in 38th spot, 57 laps down, still racing for the points.
Next, we saw flames engulfing David Regan's UPS car, after a heavy hit into the concrete wall on LAP 127, thanks to a left front tire blowout.
To this point, 24 cars (over half the field) have been involved in an incident, leaving the race to look a little like an open modified series with racers wearing no front end, engines exposed racing around the track, but as long as they maintain NASCAR's minimum speed limit rule, they can complete the race and get their points.
On LAP 133 all cars received a fresh set of tires and a tank of Ethanol blended fuel.
Jeff Gordon and Tony Stewart increased their leads on the field while Jimmie Johnson rolls on into third place and kept pace.
After 192 times around the track and a populated pit stop, five time Phoenix Raceway champion, Stewart, regained the lead after a clean 60 laps of racing.
Next, with under 100 laps to go, Joey Lagano's engine blows up creating the seventh yellow flag of the event and another chance for racers to pit for a fresh set of rubber. To this point, it seems that experience has been the key, with all the veteran racers leading the pack.
Losing time during his pit stop, Jimmie Johnson restarts in 9th. It was now that the track's temperatures really started to take effect on the performance of the vehicles with 75 laps left. Racers reported tire chatter and difficulties holding their line. Others reporting over-heating brake issues.
"My car's getting so loose," Matt Kenseth tells crew, "I can't control it!", and with more cars loosening up leading into the final run, incidental contact became the racing norm in Phoenix.
"He ain't gonna invite you to his next birthday, but we got by him," replies one pit chief.
And still, Jeff Gordon remained in the lead. With 24 laps left, the pit row got busy again. Tires, fuel, windshield tear-offs, and tweaks offered an even setup for the racer's last tear in the desert!
The excitement may have been too much for some, like Andy Lally, who pushed his limits and careened into the retaining wall providing yet another fresh start for the racing field with 22 laps to go.
The next series of racing was All-Out! Kyle Busch and Jeff Gordon, now in second place, were on each other the whole way until, with 8 laps to go, Busch was overtaken by Gordon who took the lead going into the final moments of the grinding race.
With only 5 laps remaining, Jeff Gordon found himself with 'Clear Sailing' - each moment separating himself away from the entire field, alone up front, cruising in for the checkered flag and his 83rd victory.
"You Guys are Awesome..!" commending his team who helped carry Gordon to win the Subway Fresh Fit 500 at Phoenix International Raceway.
Gordon continues, "Thank you for the opportunity, I'm loving those guys..!"
CONGRATS JEFF!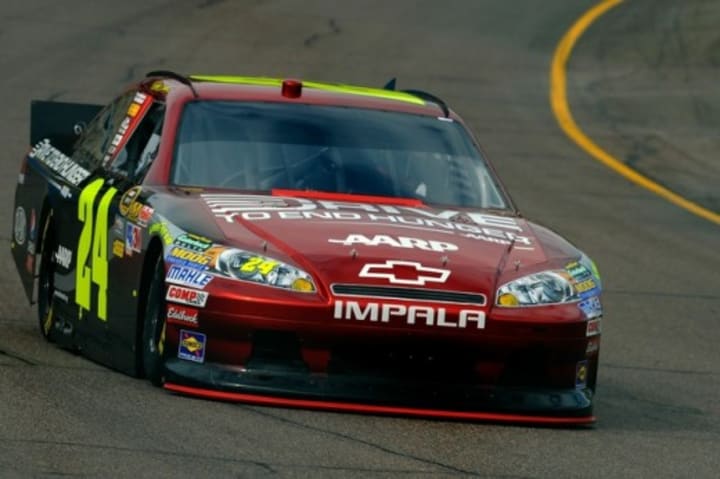 Chance James
Chance travels the world around, bringing out the light in life. With a Positive Influence in the journey ahead, the people around feel the influence only Chance can give..!
See all posts by Chance James →
Your car is a statement about yourself. It says who you are, how you will likely drive, and what kind of life you live. Have you ever wondered what your car says about you, or what people think about your car?

Driving is easy. But how do you maintain your vehicle? Most will consider you as a responsible car owner when you have your car serviced at least a couple of times in a year. Auto repair shops and service departments will do the usual services – change oil and oil filter, check the brakes, replace spark plugs, examine the belts and the hoses, etc. With all the things your mechanic needs to see and touch, it is a wonder if your steering wheel remains unscathed from dirt and grime. They most likely used Disposable Plastic Steering Wheel Covers before they did any work on your car.

The top items every off-roader should have are not only necessary for your safety, but will make your off-roading experience easier and more fun. From a recovery kit to mud tires and a light bar, each of these products will improve your weekend trip filled with adventure and fun.

Will Electric cars save the world? We are living through a period of change. The ancient Chinese philosopher Lao Tzu said the only constant thing in the universe is change. What we have learned in the last 3,000 years is that all change has a price. Who pays the price and who gains the benefits, are questions that should be considered when evaluating any and all changes.

Car accidents can happen to anyone, at any time. You do not need to be speeding, nor do you need to be near another driver for them to happen to you. Even the most attentive drivers can end up having a serious accident that may not have even been in their control.

I'm a huge fan of looking at cars that are heavily modified — and really, who isn't? Ever since Pimp My Rideon MTV, it seems like car mods have become a part of American youth culture. Car mods are a status symbol. They're edgy. They're neato, and often push the engineering capacity of the car to its limits.