Is Motorcycling On A Downturn?
Or is the tide just out?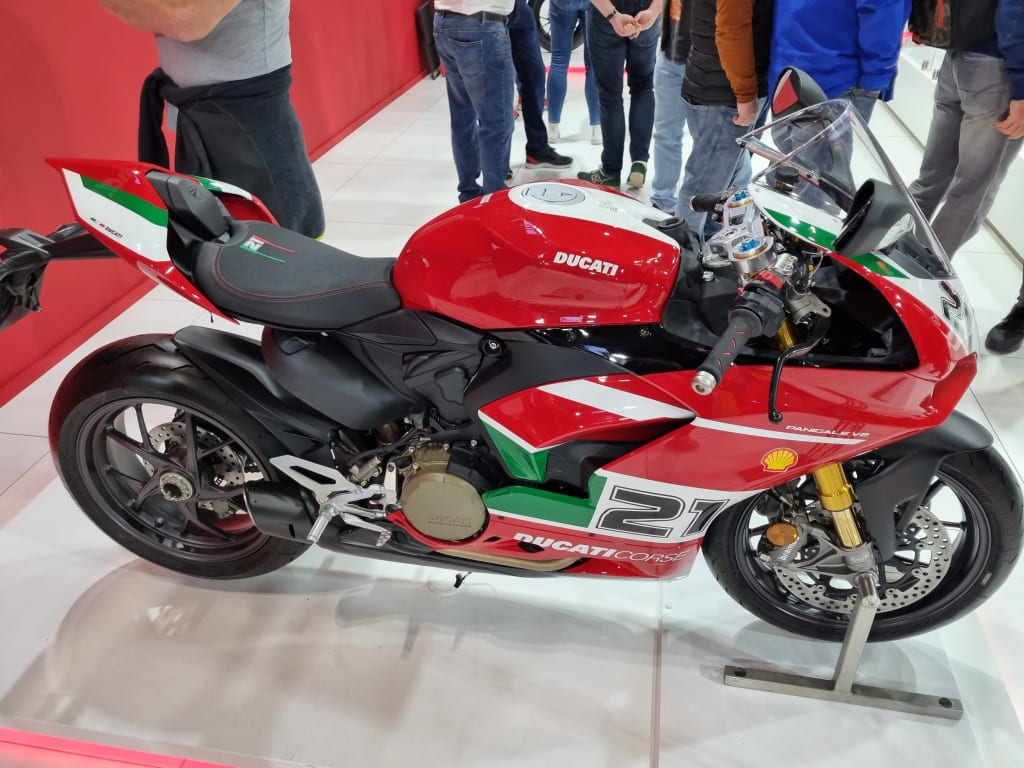 Before anyone gets the wrong idea, let me make it clear, this post isn't all about doom and gloom and the end of two-wheeled fun as we know it.
What it is going to do though is look at the facts, look at the industry of motorcycling as a whole, and address the hoard of elephants in the room that have plagued the world of motorcycles over the last few years.
It struck me as I wandered around Motorcycle Live (motorcycle show in the UK) this year that the energy, innovation and creativity seems to have seeped out of the major manufacturers.
Sure, it has been a while since I have been to the show and the Covid pandemic without a doubt has impacted the way the show is run, costs have gone up and the economy has taken a beating, so the usual impactful displays were somewhat toned down this year.
However, seeing beyond that I am struggling to find any genuine excitement on any of the stands about new models with a few limited exceptions.
Thinking that maybe I am just a miserable git, I asked my partner what he thought, and he was inclined to agree.
So, what is it all about? I have concluded the following potential issues:
Lack of young riders
Lack of accessibility
Lack of design development, innovation and creativity
Have hipsters killed the custom scene?
Lack of young riders
Is the industry ageing out? Are we failing to entice new blood into our favourite pastime?
You only have to look at the data to see that riders under the age of 21 make up the minority of riders in the UK with riders above the age of 30 making up the majority of riders.
Cambrian Tyres talks about Bridgestone's data survey where it is made clear that young riders are the minority.
Ultimate Motorcycling covered some interesting statistics for the US where the median age of motorcycle owners as of 2018 was 50.
Okay, sure we can't take data as gospel, as I am sure if I dig hard enough I can find something that supports the idea that motorcycle ownership among the youth is on the rise.
BUT as it stands it seems that the older population is still dominating. There is some evidence to suggest however, that electric bikes will see a rise amongst the youth, it is too early at the moment though to substantiate this.
With the exception of a pretty solid 125cc culture in the UK particularly and off-road bikes, maybe affordability and accessibility is part of the issue.
Everything has gone up in price and when it comes to new bikes even with tempting finance deals, are A2 friendly (middleweight, new rider) appropriate bikes outpricing themselves from a larger audience?
Lack of accessibility
Aside from just younger riders, are manufacturers simply alienating people based on the fact the prices are too high?
In 2016 Triumph released the Street Twin, a more affordable option than the T100 Bonneville, and customisable to your heart's content.
The asking price? £7,300. Today, if you are looking for a Street Twin now known as the Speed Twin you are looking to pay £8,595. On the face of it an increase of £1200 or so doesn't seem that much.
However, £7,000 is surely more attractive than nearly £9,000 when you can pay about 800 quid extra and bag yourself the bigger T100 anyway?
On the reverse of that argument, you have manufacturers like BMW producing the G310 GS for a price point of £5,630/$5,695 and the Honda CMX500 Rebel at £6,299/$6,449.
These bikes seem far more accessible and affordable for riders on smaller incomes plus they are pretty cool bikes that excel in their respective categories.
Therefore, maybe the problem isn't manufacturers pricing, but it simply comes down to the fact the world over is enduring hardships largely brought on by the pandemic and until we recover, there is limited spending available for leisure purposes.
Unless you use your bike as a commuter, then it is likely that it is a leisure vehicle and when there are cutbacks to be made, the bike suffers the chopping block.
Maybe, then it is something to do with the lack of innovation in the industry?
Lack of design development, innovation and creativity
As a pre-warning again I could just be really miserable, but I genuinely can't remember the last time I was excited by a new bike and I literally spend my days writing about them for a living.
I did get a little stirring in my spirit on the Ducati stand, after all who doesn't get lifted by seeing a Panigale?
The Lamborghini x Streetfighter V4 is also a pretty cool sight, although being picky I do think they could have done a more exclusive and flamboyantly Italian paint job on it.
After all, when Fiat did a collaboration with Gucci, the seats were made using classic Gucci leather.
I remember when the Yamaha MT series (FZ in the US) was released, there was a period after where I didn't go a day without seeing an MT on the streets. The whole range stole motorcyclists' hearts and encouraged us all to be the inner hooligans that we all are.
YouTube was taken over by a bunch of MT riders and you know what? It was kind of cool, I was all for it, even the MT-125 had a badass attitude.
Equally when Ducati released their Scrambler range in 2015 it was refreshing and something new.
Sure, Harley ditched the traditional Sportster and brought it back in a new sporty liquid-cooled package (which I still have a vendetta about) this caused a bit of a ruckus, but it hasn't changed the game.
The Pan-America was an obvious deviation from the norm to compete with the BMW GS and Triumph Tigers that seem to dominate every bike meet ever.
Indian have broadened their line with the likes of the Challenger and Chief both are great looking bikes, but both are a little HD looking and not brave enough to break the styling trends. (However, Indian if you are reading this I would have a Chief in a heartbeat.)
Maybe there is something to be said for traditional designs? Maybe I am viewing everything wrong? After all, the classics are always the best, the past always dictates the future.
Am I wrong for wishing for a bit of creativity?
When BMW released the R nineT it came with psychedelic colours of blue, gold, red etc. today they are muted with steel greys and gloss black, if you didn't note the boxer engine it would look like every other muscular street bike out.
BMW have released their cruiser the R18 so that is a contribution to being different, so credit has to go to them where it is due.
I know for a fact that I will be missing some obvious bikes that have made an impact in recent years for which I profusely apologise, I am being greedy and want more.
Maybe motorcycles are like some of the iconic cultural figures that we know will never be replaced or repeated like Elvis, Bob Marley, Marlon Brando, Aretha Franklin.
There might never be another 916, Bonneville, Fireblade and what we are left with is just the opportunity to use their blueprints.
Royal Enfield - Is It The Exception To Every Rule?
I did point out that there were a few exceptions to the point's I have made and I do think there is one manufacturer that does break all the rules.
Royal Enfield have grown exponentially in recent years with a line up that has something for every rider. From classic designs to the all new Meteor 650 cruiser.
Their bikes are priced attractively and have won numerous Best Bike awards.
We had the Interceptor 650, twin-cylinder which rivalled the Bonnie and its derivatives for a classically styled upright bike, largely marketed at new young riders.
Then we got the small adventurer in the form of the Himalayan which quite honestly seems up for anything you can throw at it.
Most recently we got the Meteor 350 an old school styled cruiser, and for this year we have a beefier 650 version which frankly had me drooling when I saw it.
It seems that Royal Enfield have their finger on the pulse of what the trends are and are catering to them with affordable, quality motorcycles, merging old school styles with modern performance and tech.
Have Hipsters Killed The Custom Scene?
Custom motorcycles at one time were very much limited to a select few who dared to break out from the factory standard and create something almost completely new.
That was until factory custom options became so extensive two of the same bikes now can look very different stylistically.
If you add to that companies like Herald and Mutt Motorcycles who have made a big impact in the world of the 125's playing on British designs from days gone by and targeting them at new riders.
Here is the issue, your Mutt Mongrel with its blacked out moody styling, tan leather seat and diamond pattern grips looks pretty cool.
If you then add Renthal bars, wrap your exhaust pipe and fit bar end mirrors, that does not make it a custom motorcycle and it should not be claimed as such.
It is a dis-service to true custom motorcycle builders. Take a look at the Steampunk Savage on Back Street Heroes for an idea of what that looks like.
I also recently saw a brand new Indian Chief being called a custom chopper. Now it looks cool, nice paint job etc. However, aside from a new seat, bars and tyres, I am fairly confident in saying not one thing on the standard bike was chopped, the frame was not altered, the fenders not chopped etc. Sure it could arguably have the custom title but a chopper? No.
Maybe this is all pure snobbery on my part, but I do think the custom title is being thrown around far too often for bikes that have just got aftermarket apes and a Halo LED light.
Custom builds used to be done from the frame up and the owners on the whole knew every part of their bike, so if things went wrong they could fix it up with some duct tape and cable ties at the side of the road until they got it home.
I have a Fenland Chopper chassis in my basket while I hunt for a 70's Ironhead engine to put together a build. Absolutely, it won't be as shiny, as reliable or well-mannered as bikes rolling off the factory floor but it will be mine and a one-off. That is a custom bike.
I want to see the artists back at the forefront of motorcycle design, I want to see insane chops and cafe racers riding around at bike meets. These are the dudes that inspire us, that in turn inspire the big designers to come up with new concepts, that inject life into motorcycling as a whole.
Not riders with retro helmets, manufacturer t-shirts, brown boots, skinny jeans, in it for the scene and Instagram photos, with no clue about the history of our two-wheeled culture.
There is nothing wrong with dressing that way for the record, but please don't tell me your Mutt Akita is a custom motorcycle, I am likely to get physical.
Lastly
I could be completely wrong about everything and there are plenty of riders out there that are excited by the lineups of the big manufacturers these days.
I like to think of motorcycling as the ocean, the tide comes in and goes out and maybe right now the tide is just out but is making its way back in.
Let's hope so because before electric bikes and hydrogen engines take over, I would love to see an upsurgence of innovation that excites the motorcycle community as a whole.
Reader insights
Be the first to share your insights about this piece.
Add your insights