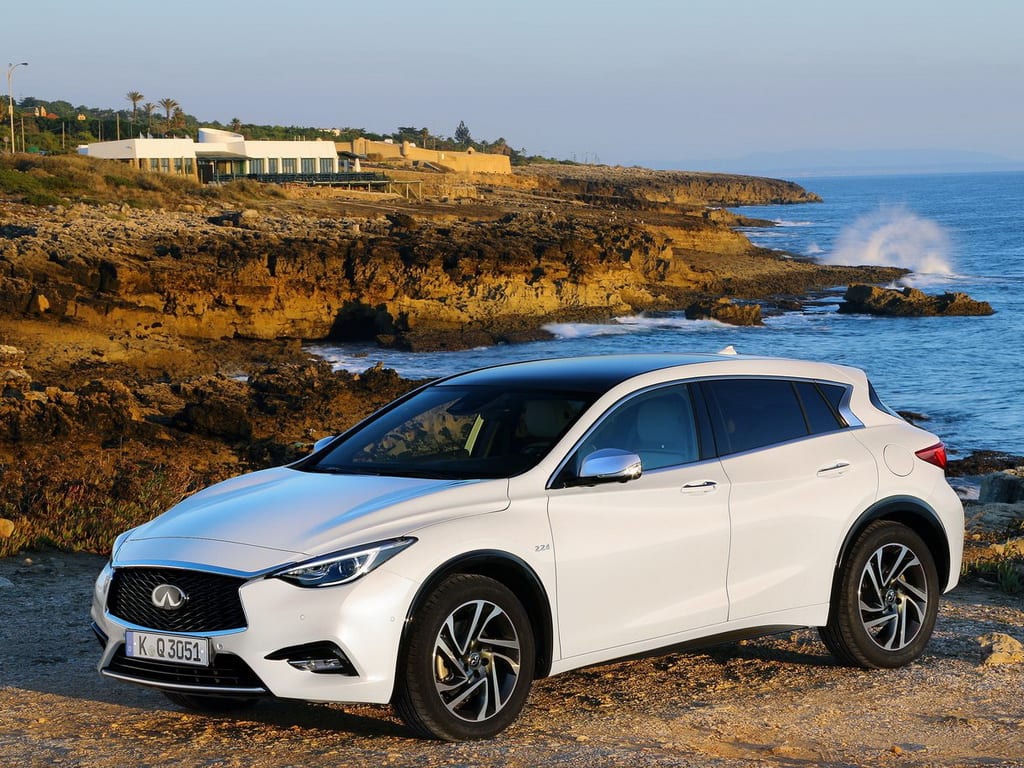 Infiniti brand's new compact SUV - QX 30 officially launched, the launch of QX 30 has a total of two displacements of five models.
The Infiniti QX30 is a compact SUV built on the same platform as the Mercedes-Benz GLA, but in terms of exterior styling, the two vehicles give off a completely different feel. The Infiniti QX30's body lines are more complex, creating a very distinctive style that is completely different from the "German stereotype" of the Mercedes-Benz GLA.
Compared to the exterior styling, the interior style of the Infiniti QX 30 is relatively similar to that of the Mercedes-Benz GLA. Among them, the overall T-zone style is more Infiniti brand characteristics, and the overall lines echo the exterior shape. And in terms of materials, the overall performance of the QX 30 is also quite satisfactory, the center console a large area of used leather for the soft package, looks very classy.
Of course, as a shared platform model, we can see the familiar Mercedes-Benz flavor in many details inside the Infiniti QX 30. Although the overall shape, layout, and feel of the buttons and knobs, there is no problem, but also saves costs to a certain extent, but after all, whether Mercedes-Benz or Infiniti are luxury brands, the brand difference also needs to be reflected in the product itself, I think this is still quite important, so if a large number of "Mercedes-Benz flavor I think it is still open to question if a lot of "Mercedes-Benz flavor" is reasonable for this car.
Infiniti QX30's space performance for a compact SUV is more moderate, and for Mercedes-Benz GLA, Audi Q3, and other rivals compared the difference is not much, but compared with the domestic lengthened BMW X1, there will be a significant gap, course, this is also in the matter of reason.
Power, Infiniti QX 30 will provide 1.6 T and 2.0T two gasoline engines, of which 1.6 T and two power versions, respectively, 122 horsepower and 156 horsepower; 2.0T provides 211 horsepower power version. The models sold in China are equipped with a 7-speed dual-clutch transmission, and the 6-speed manual transmission available in overseas markets is not available for the time being. As for the form of drive, the car offers two types of front-wheel drive and four-wheel drive, with the four-wheel drive system coming from Mercedes-Benz's 4MATIC.
Competitors.
From the model positioning of Infiniti QX 30, it belongs to the luxury brand compact SUV, and its main rivals include Mercedes-Benz GLA, Audi Q3, BMW X1, and Acura CDX. Among them, Mercedes-Benz GLA and Acura CDX should be their most direct challenger.
Of course, Infiniti QX 30 compared to these rivals mentioned earlier, has an advantage in that it is the only original imported model among these models, in addition to its unique exterior shape and very high face value. However, it is not produced in Japan, but in the UK. The Japanese high-end models have a good reputation for after-sales service, and they will provide free maintenance for 4 years or 100,000 km, which is unmatched by its sibling Mercedes-Benz GLA.
Full summary.
The launch of the Infiniti QX 30 adds another dimension to the increasingly competitive luxury brand compact SUV market. Especially for consumers pursuing individuality, the unique shape of Infiniti QX30 may be able to capture the hearts of this group of consumers. At the same time for Infiniti, it may also be able to add a more competitive entry-level model. Of course, the Infiniti Q 50 L and QX 50 have already achieved domestic production, the future Infiniti QX 30 will also be domestic, which also leaves us more imagination space.
Reader insights
Be the first to share your insights about this piece.
Add your insights