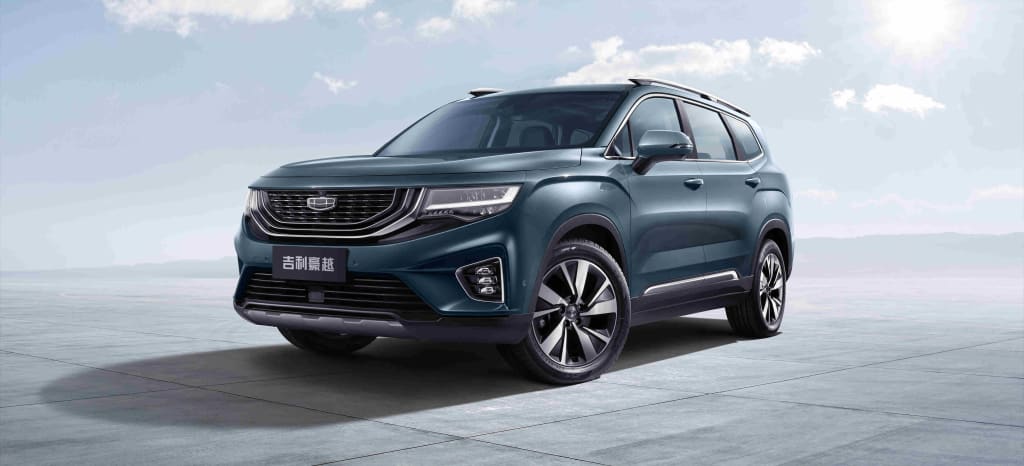 After waiting for a long time, Proton and Geely finally formally signed a contract. In many people's eyes, with Geely's blessing, Proton will have a bright future. At the signing site, Geely also showed the Geely Boyue, which will be mass-produced with Proton.
Proton will take over this SUV model from Geely, replace it with Proton's trademark for mass production and sell it in Malaysia.
This demonstration vehicle is equipped with a 1.8-liter four-cylinder turbocharged engine (TGDI), which can generate 163 horsepower and 250 Nm of torque, and is paired with a six-speed dual-clutch automatic transmission. But whether Proton will use the same configuration is still unknown.
Of course, you can't lose face when you make your debut. Geely showed the top version of Boyue for appreciation. In addition to keyless start, it is also equipped with a full LCD dashboard, full brown leather seats, smart constant speed system, 8-inch multimedia player that supports Apple CarPlay, dual-zone constant temperature air conditioning, downhill assist system, electronic handbrake, panoramic view Sunroof and driving mode selection.
In China, Geely sold 109,000 Boyue units in 2016, but it has sold 103,000 units from January to May this year. This shows the popularity of the product. Since this show car was shipped from China to Malaysia, it is still a left-hand drive, but of course it will be a right-frame version when it is sold in Malaysia. Not much to say, let's appreciate the heroic appearance of Boyue!
Proton Malaysia, which was acquired by the parent company of Geely Auto (Geely Auto), Zhejiang Geely Holding Group, in May 2017, in addition to the adjustment of the personnel structure of Proton in the past year after the acquisition, there is also a new look in the product line . In March 2018, through a press release from the original factory, it stated that it is co-developing the first SUV under the Proton brand with Geely and will be launched in the fourth quarter of 2018. At that time, many Malaysian media speculated that it would be a replica of the Boyue SUV model owned by Geely Automobile.
At the beginning of April, Proton even used the official Facebook fan page to release the first preview video, allowing netizens to get a first look. It can be seen that its appearance is as expected, and it is the brother of Geely Boyue. At the same time, Proton also launched the activity of guessing the car name simultaneously. Various actions can be seen that Proton's first SUV is indeed on the market soon.
So far, the Proton brand has never had an SUV model. Under the strategy of sharing the resources of the group, Geely Automobile puts its Boyue brand under the Proton brand and manufactures in Malaysia, which not only injects new atmosphere into the product line, but also helps the products to be exported to the Southeast Asian Nations Association countries.
Proton still has a rich product line in Malaysia. But so far, there has never been an SUV model. Boyue is produced under the Proton brand, which not only injects new atmosphere into the product line, but also helps the products to be exported to countries in the Southeast Asian Nations Association.
The width and height of the Boyue are 4,519 mm, 1,831 mm, and 1694 mm, respectively, and the wheelbase is 2,670 mm, which is the level of a general large and medium SUV sports SUV. Competitors of the same size are Toyota Rongfang and Honda CR-V.
Your car is a statement about yourself. It says who you are, how you will likely drive, and what kind of life you live. Have you ever wondered what your car says about you, or what people think about your car?

Driving is easy. But how do you maintain your vehicle? Most will consider you as a responsible car owner when you have your car serviced at least a couple of times in a year. Auto repair shops and service departments will do the usual services – change oil and oil filter, check the brakes, replace spark plugs, examine the belts and the hoses, etc. With all the things your mechanic needs to see and touch, it is a wonder if your steering wheel remains unscathed from dirt and grime. They most likely used Disposable Plastic Steering Wheel Covers before they did any work on your car.

The top items every off-roader should have are not only necessary for your safety, but will make your off-roading experience easier and more fun. From a recovery kit to mud tires and a light bar, each of these products will improve your weekend trip filled with adventure and fun.

Will Electric cars save the world? We are living through a period of change. The ancient Chinese philosopher Lao Tzu said the only constant thing in the universe is change. What we have learned in the last 3,000 years is that all change has a price. Who pays the price and who gains the benefits, are questions that should be considered when evaluating any and all changes.

Car accidents can happen to anyone, at any time. You do not need to be speeding, nor do you need to be near another driver for them to happen to you. Even the most attentive drivers can end up having a serious accident that may not have even been in their control.

I'm a huge fan of looking at cars that are heavily modified — and really, who isn't? Ever since Pimp My Rideon MTV, it seems like car mods have become a part of American youth culture. Car mods are a status symbol. They're edgy. They're neato, and often push the engineering capacity of the car to its limits.