Flying Truck Wheels Hit My Vehicle
In My Estimation Wheels that Fly Off Vehicles are Caused By Poor Maintenance And, Is A Major Concerning Problem On Our Highways.

Wheels fell of Highway Trailer
This story is not about making a million dollars in two easy lessons and it's not about getting a thousand followers in 5 days. If that's what you're looking for, you're in the wrong place.
This is a serious article about a serious problem we have on our highways.
I've been working in the transportation industry for many years. I've seen wheels that have fallen off big trucks, cars and boat trailers alongside our highway to wheels that if not repaired would most definitely end up in the same circumstances, and have come to a final conclusion!
My story starts here;
Before work, I'm doing the morning drive-around in our yard. I happened to spot a long-hauler truck combo unit parked at the far end of the yard, flat-bed B-trains fully loaded with round bales of hay.
Seeing a truck in our yard is not unusual; we encourage truckers to park their rigs in our two-acre yard if they're tired or need a rest. Most truckers driving up and down past our yard knew this was a haven for all truck drivers.
What made this day different was that, as I was driving around this parked unit I noticed he was missing a set of wheels on the back axel of his trailer. After seeing that, I immediately woke the driver up and excitedly asked him where he had lost his wheels.
The Driver Didn't Even Know They Were Missing.
I told the now concerned driver we had better find them and we fired ourselves in my service vehicle. "Which way were you coming from, so we can backtrack your route and find these missing wheels."
We discovered his lost wheels twenty miles down a major highway, and luckily not on the normally busy highway. He caused no accident or fatalities which was the biggest concern, but it very well could have been!
It was a quiet after-hours time of night.
When the wheels came loose and left his trailer, as luck would have it, he was going through a rock-cut with no highway traffic on either side of the road. The wheels must have hit the side of the rock face and bounced in the air and ended 50 feet on top of the rock-cut.
It's sitting there greeting drivers like the (30ft) replica of the Big Nickel at the Science Museum in Sudbury, Ontario, Canada.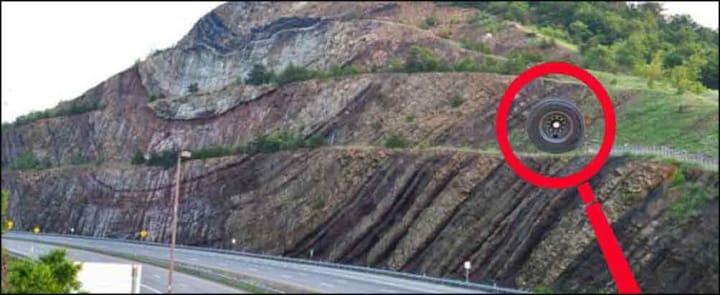 It was one ugly set of wheels perched on top of a granite mountain, welcoming all the visitors to the area! After 20 years there're most likely sitting in the same spot today. But the runaway wheels never caused accidents or injuries, which was the concern factor.
The bone head driver who was now relieved that he never hurt anybody asked, "Can We Get Those Wheels Down?" "Not Really."
This particular story is old, but these runaway tires and wheels on the highway are still only too real today. Big trucks, small trucks, cars and yes, even small utility boat trailers.
This is an ongoing problem on our highways. Even though "defective parts" come into play in some of these accidents, in my estimation, most are caused by poor maintenance or no maintenance at all by real people.
Poor Maintenance Is The number one Cause Of Wheels Falling Off.
Not many weeks go by that you don't hear somewhere, someplace a wheel has disconnected from a vehicle, causing a bad accident. And that starts a chain reaction of unpredictable catastrophic events. Sometimes with deadly results!
So as many of these accidents are blamed on truck wheels, falling off like at the start of my story, it is only because that industry gets more publicity. In all fairness, they are a targeted business of choice for any fatality of our highways. And that is not necessarily true!
But Could Part Of The Blame Be Put On Car Drivers And Their Bad Habits?
Take, for example, summer wheels are being removed and replaced on your car every two seasons with your winter tire. Sometimes the wheels missed being tightened correctly or, in some cases, forgotten altogether, and only finger tightened, and ii would like to say by driveway mechanics.
"Honey," she says, "supper is ready" As you are changing your tires in the driveway and saying to yourself; "I'll re-tighten these wheels after supper," And You Never DO!"
Every year there seems to be an influx of wheels disconnecting from a vehicle, meaning cars, because of neglect or inexperience when installing wheels.
You Say, How Hard Can It Be Changing Tires And Rims On Your Car?
The light truck or car driver should have been aware of a problem. When driving after the wheel swap, you hear excess noise that was not there before, and the vehicle wanders where it didn't before.
It is just not correct compared to the way it was. We all should be aware of these conditions.
I remember a customer giving me this comment, "WERE NOT ALL MECHANICS!" And you're not expected to be, but some road safety items on your vehicle are your responsibility.
Why Do Truck Drivers Get Picked On The Most?
Truck drivers get picked on the most, but it is the law they have to check their vehicle over daily for any infractions.
Can a car driver say the same about their vehicle??

And as we're talking about highway trucks, their wheels can theoretically fall into the exact circumstances short of, not hearing or feeling the difference in a loose wheel. Again, the drivers by law have to check their heavy trucks over daily. Most conscientious drivers check their equipment over at every rest stop, pee break if you will.
Did you know;
When a wheel breaks loose from its vehicle, it will pick up speed and pass the automobile it just came off of. The new self-driving cars that advertise you could catch up on your siesta time and let the car do the driving; those vehicles will not react fast enough to save your sorry ass from falling asleep while driving.
They have to fix the human error problems long before you will see me catching zzzz in my self-driving car.
As a once fleet manager, I double-check my work, do not talk to me, do not interrupt me when I do these necessary checks and balances on wheels. Even after all these years in the trade, I double-check my work.
The driver in question as luck would have it or not. A dealer around the area scheduled him for repairs, and he was safely on his way shortly after.
A few weeks after that episode ended without any accident or fatalities, I can't say the same about the next story.
Wheels hit two lady drivers.
"Flying Wheels Coming Right At Me" Is the effect it had on me after watching this safety film.
Two ladies were driving their car on a four-lane highway with a divider in the center, and wheels fell off a light truck that was coming towards them in the other lane. The wheels hit the divider wall flew into the air about 50 feet and into the oncoming traffic, which happened to be the two ladies.
After that disastrous accident that killed these two people, the Ministry of Highways made it mandatory for all fleet managers (me) to discuss the ongoing problem. They had a reenactment (animation) video of that same accident in question and showed it to all the present mechanics.
Graphic designers do a remarkable job with photo editing, and what I saw ran shivers down my spine. The video showed (on purpose) the wheels coming off the vehicle going north, the wheel passing that same truck, hitting the divider and going air bound right into the windshield in the center of the car. The duel wheels were installed and not adequately tightened' was the official cause of the wheels falling off and the fatalities.
Department of Transport was not holding back on the graphics.
I researched to find that original training film, but the office must have destroyed it because of the graphic content in the film and most likely respect to the families. To my knowledge, it was never shown to the public.
I guess the story is in part, that poor maintenance plays a significant role in accidents on our highways, and it's not always truck wheels that fall off. Driveway, backyard mechanics sometimes get sidetracked and ignore how critical it is to tighten the wheel properly. But I can't blame them.
We all have a part in driving a safe vehicle.
As for the truck driver, he was lucky. Everybody was fortunate that it was late at night with low tourist traffic, and as for why the wheels come off the trailer. By the looks of his truck and trailer unit, poor maintenance was the cause.
As I'm Writing This Another Wheel Was Reported Falling Off On A Major Highway.
The video showed these poor ladies did not have any chance, and the worst part was…" the graphic video showed that the ladies, saw them coming and could avoid the inevitable."
Boats, CARS, trucks and trailers are all culprits, not just one industry.
Summary Cause
Any number of issues could loosen a wheel, causing it to fall off while driving. Most of these incidents occur because of some fastening failure. This could be because the lug nuts worked their way loose, your wheel has broken lugs, or because the wheel studs themselves broke, "Or just poor or no maintenance!"
Who Is Liable for a Lost Wheel Crash? "CLICK HERE" for link
Who Is Liable for a Lost Wheel Crash?
Newsomelaw.com explains that In some cases, an automaker, dealership, mechanic, or tire shop may be responsible for the damages you suffered if a tire fell off a vehicle while driving. These cases are challenging to prove, but we work closely with survey teams, crash reconstruction specialists, and other professionals to build a solid case against the cause.
There are several ways negligence can lead to this type of incident. In some cases, defective parts can cause an issue. In others, a technician who worked on your car might have acted negligently while performing repairs.
My Professional Conclusion Is;
Most answers on the web have sugarcoated the problem and I believe poor maintenance in most cases is the cause of wheel departing from a vehicle. But that's only my professional opinion. The photo's in this article shows bearing/mechanical failure.

Little known fact;
In and around cottage country it's not uncommon to see wheels falling off from the boat trailer, why? Because, when launching a boat the wheels of the trailer are submerged in water! The operator should do regular maintenance on these trailer wheels and bearings and in most cases--- do not. "Poor to no maintenance"
Former Mechanic witnessed.
The wheels spun around several times and went back and forth across several lanes, somehow miraculously not hitting any cars. It finally came to rest upright on the freeway. It was amazing that no one was hit or injured in that mishap.
Comment from a driver @ quora.com/
The frame I'd used to build the camper was an old pop-up rig, with a strange old axle under it: instead of lug nuts, the wheels were held on to the hubs with bolts that screwed in from the outside:
My father warned me before I left, "these aren't like typical wheels; you need to stop and check the lugs every fifty miles or so." Ok, dad... whatever this is what it looks like. (Photo Below)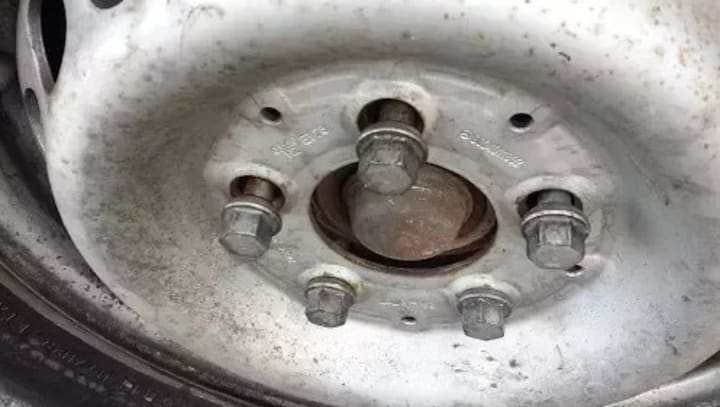 If you find my article interesting or informative please CLICK HERE for more.CLICK HERE for more options.
design
About the author
I'm a retired Truck and Coach Mechanic, owner-operator and now turned blogger story-teller. I've done and seen many things would be of interest to readers. I look at all things from a mechanical point of view.
Reader insights
Be the first to share your insights about this piece.
Add your insights