Compatible Dash & Windshield Car Mount with Wireless Charging & CyroFlow Cooling System
Car Accessory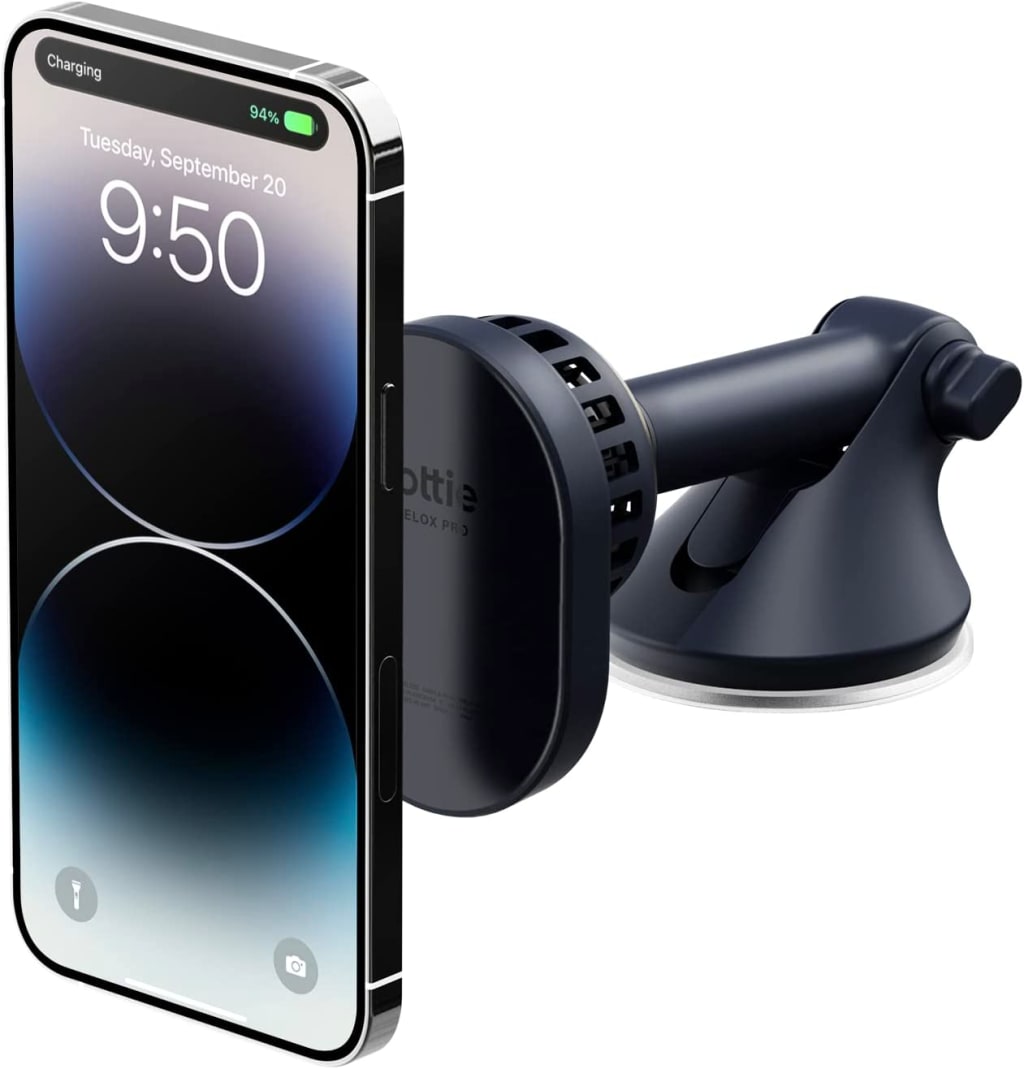 Introducing the "Windshield Car Mount with Wireless Charging & CryoFlow Cooling System":
For iPhone users seeking a seamless and technologically advanced car charging experience, look no further than our innovative "Windshield Car Mount with Wireless Charging & CryoFlow Cooling System." Specifically designed for MagSafe series iPhones, including iPhone 12, iPhone 13, and future iPhone 14 models, this accessory takes charging to the next level.
At the core of this car mount is our state-of-the-art CryoFlow cooling technology. As soon as your iPhone is connected, the cooling system automatically activates, efficiently drawing heat away from your device. This not only ensures a faster charging process but also helps maintain optimal performance during long drives. The cooling system comprises a semiconductor CryoChip, an aluminum heat sink, and a polycarbonate fan, working in harmony to keep your iPhone at an ideal temperature.
Wireless charging is a breeze with our car mount. Delivering up to 7.5W of power, you can keep your device charged on the road without the hassle of cables. And to make your charging experience even more convenient, a USB-C car charger is included, allowing you to power up other devices simultaneously.
When it comes to holding your iPhone securely, our Velox Pro Dashboard Mount leaves nothing to chance. Featuring a ring of powerful magnets, this mount provides a robust hold for your MagSafe iPhone, ensuring stability even on rough roads. An additional vertical magnet offers increased grip and effortless alignment, making charging efficient and reliable.
Versatility is at the heart of our design. The telescopic arm of the mount extends from 4" to 6" along a 260° arc, allowing you to position your iPhone exactly where you need it while maintaining stability. The mounting head features a versatile ball joint, enabling 360° rotation, tilting, and pivoting, so you can find your ideal viewing position in both portrait and landscape modes. Plus, the detachable USB-C cable can be neatly stowed away when not in use, keeping your car interior clutter-free.
Whether you're a daily commuter, a ride-share driver, a road tripper, or simply a tech enthusiast who appreciates advanced technology, our "Windshield Car Mount with Wireless Charging & CryoFlow Cooling System" is the perfect companion for your iPhone. Experience the convenience of wireless charging, the reliability of powerful magnetic hold, and the flexibility of fully adjustable viewing angles, all wrapped in an accessory designed for the future of iPhone technology.
User
Car Top Carrier: Our convenient roof cargo carrier allows you to keep your gear up top, so you can transport belongings and passengers without compromising on safety, comfort, or convenience
Intuitive Features: Specially designed to keep your gear dry, our waterproof car roof cargo carrier features welded seams, an urethane-coated zipper, and a hook-and-loop-close zipper flap
Quality Construction: Constructed of UV-protected PVC semi-coated mesh, our durable vehicle cargo carriers are designed to keep your belongings dry and won't fly off your roof
Simple Setup: Simply attach the straps of the roof bag to your vehicle's roof rack or use the included car clips to attach the straps to your vehicle's door frame weather molding
Seamless Storage: Our rooftop cargo bag folds down for storage in the included stuff sack; Car roof bag, 4 attachment straps, 4 car clips, and stuff sack with sewn-in setup guide included
Reader insights
Be the first to share your insights about this piece.
Add your insights