Collision and Comprehensive Motorcycle Insurance Coverages
Emphasizing on the two most essential coverages of motorcycle insurance policy: Collision and Comprehensive Motorcycle Insurance Coverages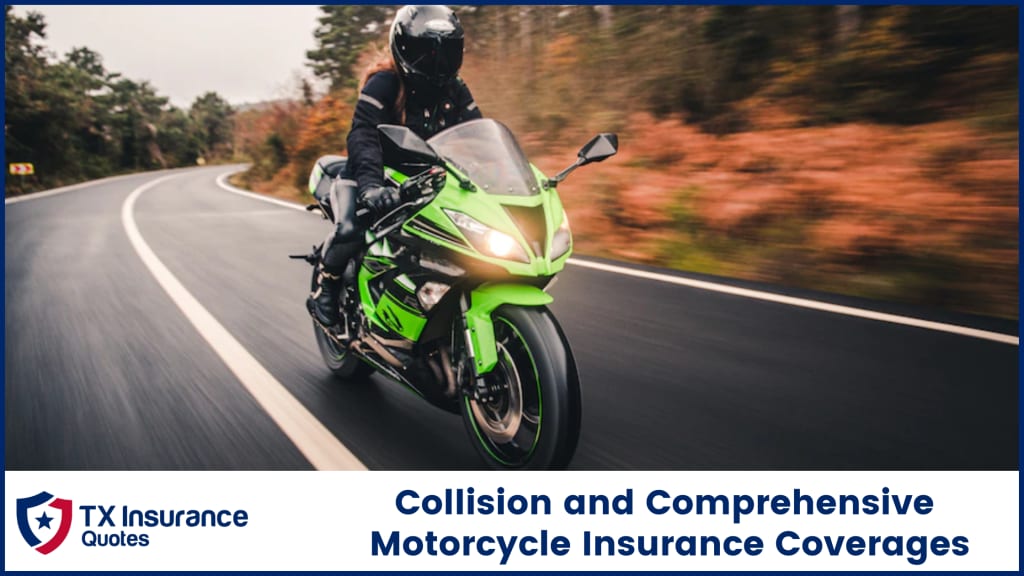 Insurance is a shield against the losses that may arise from an accident or an unfortunate event. There are various types of insurance, one of them is motorcycle insurance. This type of insurance is designed to provide coverage for damages to your motorcycle if it is involved in a collision with another vehicle or object and offer protection against theft, vandalism, and other damages.
There are two types of motorcycle insurance coverage: collision and comprehensive. Collision coverage provides reimbursement for damage to your motorcycle resulting from another vehicle or object collision. Comprehensive coverage provides reimbursement for damages to your bike that are not the result of a collision, such as theft, vandalism, fire, or hail damage.
It is essential to understand the difference between collision and comprehensive coverage and the amount of coverage right for you. It is also important to note that not all insurance companies offer both types of coverage, so ask your insurance provider about your options. Let us understand them in detail!
What is Motorcycle Collision Coverage?
Motorcycle collision insurance covers your motorcycle when it is involved in a collision with a vehicle or an object such as a huge tree or fence. It helps manage the financial risks associated with owning and operating your motorcycle. This type of insurance will help pay for the damages caused to your bike due to a collision, up to the limits of the current cash value of the motorcycle.
What is Covered under Collision Coverage?
It does not cover any medical expenses of yours or another driver with whom you collide. Also, the damages you cause to the other vehicle are to be borne by you only; motorcycle collision insurance will not cover it. Ultimately, it only covers your motorcycle's repair and replacement cost if it has been totaled.
What is Motorcycle Comprehensive Coverage?
Motorcycle comprehensive coverage is an optional insurance policy that helps protect your motorcycle if it is damaged by something other than a collision, such as fire, theft, vandalism, or a natural disaster. For instance, this type of coverage can help pay for repairs to your bike if it gets damaged in a hailstorm.
What is Covered under Comprehensive Coverage?
Motorcycle insurance in Texas offers comprehensive coverage, which is a monetary reward for the insured as they get covered against all types of damages caused to their vehicle and another party's vehicle.
What are the Coverage Limits, and How does Deductible work?
Coverage Limits are those maximum limits that will get covered under insurance policies for both types of coverage. Limit is the maximum amount that the insurance companies are responsible for paying. Whatever expense above the limit will occur that the insured will pay out of his pocket.
For collision coverage and comprehensive coverage, the limit is upto the actual cash value of the vehicle, less depreciation.
However, deductibles are different amounts for both types of coverage. You have to choose your deductible amount at the time of buying coverage. The insurer is liable to cover the damage that has occurred less the deductible amount. For instance, if you had paid the deductible amount of $500 at the time of buying coverage and now when you met with an accident, there is a damage of $4000, the insurer will serve you with $3500 as your coverage.
Do Custom Bike Parts are covered under these coverages?
Only the standard parts of your vehicle and the ones installed by the original manufacturing company are covered under collision and comprehensive coverage. Apart from this, those parts mentioned under the vehicle's sales order will get covered. Any other custom part other than the ones mentioned above requires an optional coverage policy that you need to buy spending some extra dollars.
Is there any such thing as "Full Coverage" under a motorcycle insurance policy?
When it comes to insuring your motorcycle, you may be wondering if there is such a thing as 'full coverage.' The answer, unfortunately, is NO. There is no such thing as full coverage under the motorcycle insurance policy. However, various ranges are available, amongst which some are mandatory, and others are optional. Therefore, before buying any insurance cover, you need to thoroughly read the terms and conditions of the motorcycle insurance policy that you are buying.
For example, most states have the mandate to have motorcycle liability coverage. But, at the same time, collision and comprehensive coverage are optional. On the contrary, when you are taking any vehicle on lease or by finance, in such a situation, your lender of El Paso, Laredo, and many such cities makes it mandatory for you to have collision and comprehensive coverage till the amount of vehicles is paid off.
That's a Wrap!
It is important to note that not all policies offer these types of coverage. Therefore, it is essential to read the policy and understand what is covered and what is not covered before you purchase motorcycle insurance.
When shopping for motorcycle insurance in McAllen, Corpus Christi, and any other city in Texas, it is crucial to compare rates between different insurance companies. Ample free online services allow you to compare rates from the top insurance companies. You can avail homeowners insurance quote to make a wise decision. You can save hundreds of dollars on your insurance policy by comparing rates.
how to
About the author
Get an insurance quote from the most trusted homeowners insurance company - TX Insurance Quotes.
Reader insights
Be the first to share your insights about this piece.
Add your insights