Checklist for your next Overlanding adventure.
Relish yourself in nature and never miss any essentials during your Overlanding adventure.
You have done extensive research and finally decided that you want to accept your true self. You know that you belong in the wild where nature is at its best. You are tired and need a break from this concrete jungle. Spend time in nature to reenergize and obtain the much-needed peace of mind.
Awesome you are on right track!!
However, your willpower is not enough to survive in nature. You need a game plan. No, it is not difficult, time-consuming, or expensive. If you don't want to get lost forever in the jungle, you need to prepare yourself for an incredible Overlanding adventure ahead.
Here is a list of essentials you will need to survive an Overland adventure -
Vehicle
Not every vehicle is created equally. Ground clearance plays a major part in the location you can reach. Though low clearance cars are amazing for speed and twisties, they are horrible on trails. For Overlanding, you need a vehicle with good clearance. You will be happy with either an SUV or a Truck. You get a good amount of storage space, a ton of clearance, and the torque to pull you out from sticky situations.
You can either opt for a trailer or rooftop tent, depending on budget and preference. If you like modifications, spending more time working on your vehicle by yourself opt for a rooftop tent and modify your vehicle to your taste. If you love nature and Overlanding, however, do not wish or have time to modify your vehicle, purchasing a trailer is your best bet. Any route you choose will bring you happiness and closer to nature.
First Aid Kit -
Is one of the most important gears which one hopes to never have to use. It's better to have and not use it rather, need and not have.
Kindly refer to the link for a comprehensive list of first aid kits suggested by Redcross.
It is extremely important to keep a first aid kit in your vehicle at all times.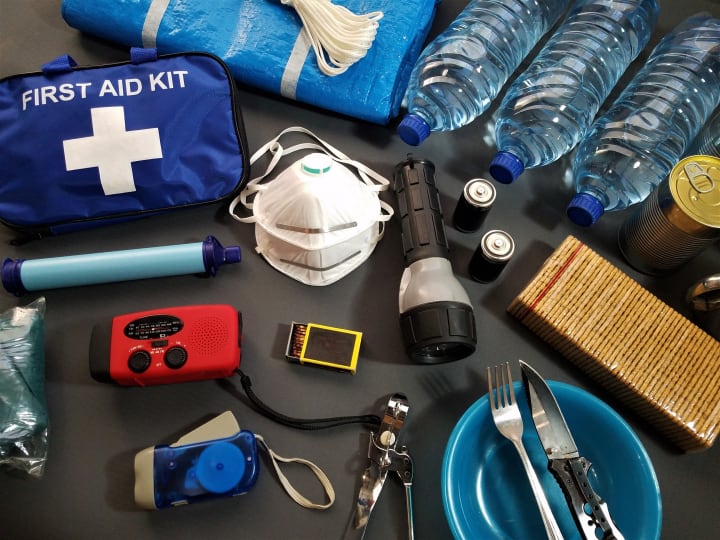 Safety -
When in wild, safety is of utmost importance. Keep a fire extinguisher and a fire blanket in your vehicle. A small fire mishap can bring down the entire forest. Take extra precautions when cooking and running a fire pit.
During an emergency, a fire extinguisher will save your life.
Whenever possible it's best to avoid bear territory. You may not always know if the area has bears or not, so it is better to carry a bear spray with you.
Fuel and Water -
When Overlanding you depend on your vehicle for everything. For your vehicle to run, you need fuel. For heat, for powering your equipment, for light, and many other services, your vehicle needs fuel. If you run out of fuel, you will be stranded in the forest without any support. Always carry an extra can of Fuel.
You cannot survive without water. From drinking to cleaning, everything is done with water. Your life depends largely on water. Having additional water can be a matter of life or death. Also, it is a very good idea to carry a water filter, in case you run out of water and have to consume from a natural stream.
Repair Kit and Tools -
You never want to be stranded in the wild. Packing basic tools and repair kit is essential. Socket wrenches, hydraulic jack, crowbar, spanners, and duct tape will help you recover from most of the situations. Also, in case of a flat tire, you will require a tire repair kit and tire inflator. You can buy these once and store them in the vehicle for a very long time.
Stove -
Just because you are Overlanding, you do not have to eat cold packaged food. Carry a propane or butane stove with you and cook some amazing eggs, sausage, toast, coffee, etc and enjoy your food hot and tasty. With a cooking pan, you can pretty much cook any of your favorite camping foods.
Table and Chairs -
Carrying a portable table and chairs will make your life comfortable and enjoyable. Everyone can sit together and enjoy having food, watching the sunrise, and sunset comfortably from their chairs.
Portable shovel and Garbage bags -
Being in wild is not an excuse to litter. Use garbage bags to dispose of plastic and other waste. Carry a portable shovel, dig a hole, and get your business done. Keep your camping site clean and hygienic.
This Checklist will help you enjoy your Overlanding trip without many compromises. You are better equipped to handle worst-case scenarios, you may face in the wild. I want to wish you a very happy Overlanding.
list
About the author
Copywriter | Content Writer | Vintage car Lover | Coffee Lover | Health and Fitness Aficionado |
Reader insights
Be the first to share your insights about this piece.
Add your insights