Best Ski and Snowboard Racks For Your Car
With these roof-mount ski and snowboard racks, you can hit the slopes with backseat space to spare.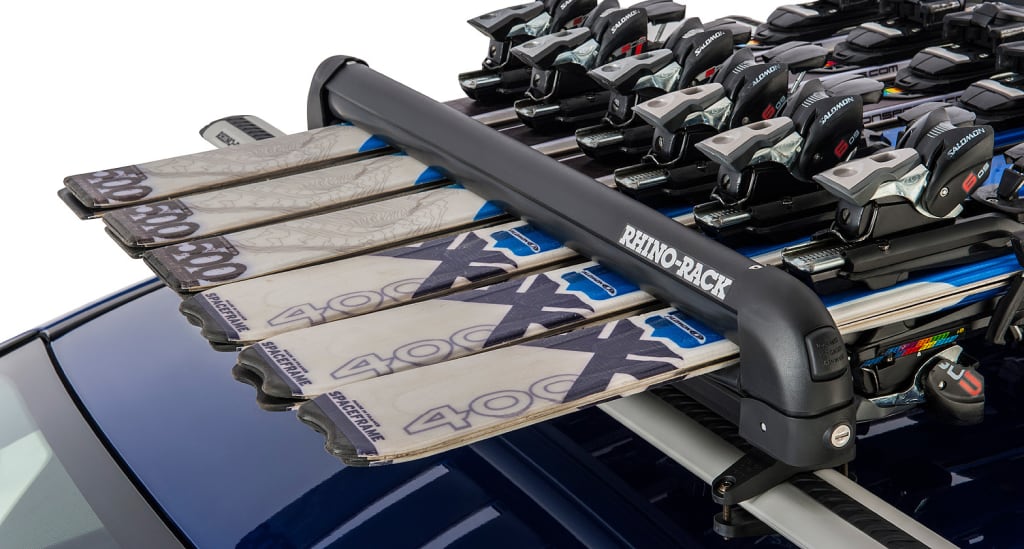 Image by Rhino Rack
We spend so much time in our cars now a days, it's important that your car meet all of your needs. We're not just talking about the MPG or how long your rechargeable car can last on a single charge. We're talking about essentials for your emergency car kit or car coolers for your next trip. Aside from being reliable, your car should have the necessary equipment and tools that cater to your hobbies, whether it be surfing, snowboarding, or anything else.
Want to hit the mountains for some winter fun, but your skis don't fit in your ride? Quit worrying about cramming expensive gear into your car! Save yourself a headache and save your car interior some wear and tear by investing in a high-quality roof rack.
Read on to learn about the best ski and snowboard racks for your car.
Rhino Rack's tagline is "The World's Most Useful Roof Racks" and we can't disagree. With a full line of ski and snowboard racks, they have you covered whether you're riding solo or taking all your friends with you.
The Rhino Rack 574 is designed to hold four sets of skis or two snowboards at one time. Featuring rubber grips that hold and protect your skis and a locking mechanism to keep them secure, you'll never have to worry. An easy release mechanism lets you open and close the carrier even with gloves on. The included universal mount kit fits most existing crossbars. Waterproof, rustproof, UV protected and mold resistant—you shouldn't need the included 5 year warranty but it's nice to have that extra peace of mind. And at less than $150, you can afford to spend more money on beers at the lodge.
Are four pairs of skis too many? Not enough? Rhino Rack also makes two-pair, three-pair and six-pair models with the same great features.
Yakima's been in the ski and snowboard rack game for a while now, but the quality of their offerings is still powder fresh. The FreshTrack series is the successor to the wildly popular Powderhound ski racks. Known for excellent reliability, Yakima offers their Love-It-Till-You-Leave-It limited lifetime warranty on all purchases.
The FreshTrack is a quality rack at an entry-level price for the six-pair model. Designed to hold 6 pairs of skis or 4 snowboards at a time, you'll have plenty of space to accommodate your whole crew. Single-Button access lets you load and unload gear with gloves on, and the included Yakima SKS Locks keep it safe when you're not around. The tool-free clamps allow easy installation on most crossbars.
Thule is a force to be reckoned with when it comes to ski and snowboard racks. The Snowpack series exhibits quality engineering and a level of attention to detail not found in other racks. Available in two sizes, a four-pair model and a six-pair model (or two snowboards or four snowboards, respectively), the Snowpack is sturdy and guaranteed to satisfy.
Let's start with what distinguishes the Snowpack from other models. Adjustable clearance means large bindings are no longer a problem. Intrinsic compatibility with the T-Track system on Thule Aeroblade crossbars makes mounting these to your vehicle a breeze. If you have another brand of crossbars, no worries, these are universally compatible with most systems. Oversized buttons make it easy to load and unload while wearing gloves and the included locking system secures your gear onto ultra-soft rubber arms that won't scratch. Vertical springs let you carry different thicknesses of skis or snowboards with ease.
SeaSucker is a relatively new contender in the world of ski and snowboard racks, but their innovative mounting system has already garnered a loyal fan base. Doing away with the hassle and headache of other mounting systems, the SeaSucker Ski Rack doesn't even need a roof rack. It uses powerful suction to mount right on top of your car!
With the same features as most of our other contenders - easy loading/unloading, a locking mechanism, sturdy rubber arms to protect your stuff - the distinguishing feature of the SeaSucker is the "vacuum mount" system it uses to attach to your vehicle. Essentially a set of four heavy duty suction cups, this rack is meant for people without an existing roof rack and crossbars. It's a perfect system if you don't want to install bulky hardware onto your vehicle roof, and it works even on small cars. Installation is a breeze and truly does a great job of securing your gear to your vehicle.
Inno is typically regarded as a more affordable version of Thule or Yakima, but don't let that fool you, Inno ski and snowboard racks perform just as well as their oft-mentioned contemporaries. The Dual Angle is a great roof rack which features a versatile mounting system that works great with factory roof rails.
The main draw of the Inno Dual Angle is that you can mount it directly onto your factory rails without the need for crossbars. The dual angle system gives you extra versatility for ease of use. Each side holds three pairs of skis or two snowboards, allowing multiple people to access their gear from each side of the vehicle at the same time. They include locks and are easy to open even when covered in ice from sub-zero weather conditions.
Thule's Snowpack Extender is the more versatile sibling in the Snowpack family. In addition to all the great features of the regular Snowpack, the Extender slides out to give you easy access without stretching across the roof of your vehicle.
Holding up to six skis or four boards, the Snowpack Extender mounts easily to Tule Rack Systems, round bars, and most factory racks. It locks your skis to the rack and the rack to the vehicle with Thule's handy one-key system. The same ultra-soft rubber grips hold your gear without scratching it and the oversized buttons give easy access to gloved hands. By rotating a simple latch, the entire rack arm slides out, letting you load or unload it without even leaning over. The raised design easily accommodates tall bindings.
The FatCat is Yakima's top-of-the-line ski and snowboard rack and it shows. Its sleek looks and aerodynamic shape set it apart from its contemporaries without sacrificing any of the handy features you'd expect from a brand like Yakima.
Let's start with the facts: This is a premium rack. It has every feature one could hope for and some you probably didn't think of. The proprietary HangOver™ clamp-mount shifts to the side of your roof rack to give you easier access. DoubleJoint™ hinges accommodate thick skis and snowboards. Adjustable clearance for tall bindings, integrated locks, universal mounting and a big fat release button for easy loading and unloading while wearing gloves. To top it all off, the aerodynamic design and mirror black finish look super slick.
Available in two models, the FatCat 6 Evo is designed to hold six pairs of skis while the FatCat 4 Evo holds four.
If you need a way to carry more than just skis and snowboards without taking up precious cargo space in your vehicle, then the SportRack Horizon Cargo Box has got you covered. A fully enclosed hard-shell lets you haul boots, poles, extra layers and more!
SportRack's Horizon Cargo Box is constructed of impact resistant ABS material, designed to completely protect its contents from the harsh elements. A secure lock keeps the contents protected from prying hands. Easy installation and a quick-release attachment make putting it on or taking it off your vehicle a simple task. And just in case you need to pull over and access it while driving, the passenger-side opening will keep you on the safe side of the vehicle, away from traffic.
The Alpine model can carry 110 lbs and accommodate five to six pairs of skis or three snowboards up to 210 cm in length
The Thule Universal Snowboard Carrier is a unique take on roof-mounted carriers designed specifically with snowboarders in mind. Its angled design makes it easy to get your snowboard while minimizing the chance that you'll scratch your vehicle. It mounts easily and is compatible with most crossbar systems. Locking arms grip your board securely but won't scratch it while the locking cable secures them in place.
The Thule Tram is one of the most versatile ski and snowboard racks in this entire lineup because it gives you the option of converting your summer bike rack into a winter snowsports rack. Instead of mounting to the roof of your vehicle, the Tram works in conjunction with compatible Thule bike racks (sold separately) to carry your skis and snowboards on the hitch your vehicle. The benefit here is that if you already have a Thule bike rack and you want to avoid installing an entire roof-rack system, the Tram gives you that option.
There are other benefits to this system, including the fact that you don't have to climb on top of your vehicle every time you want to use it. The Tram holds up to six pairs of skis or four snowboards on a 2" class two receiver rack, or four pairs of skis or two snowboards on a 1 1/4" receiver with a Thule Spare Tire carrier. Two separate one-key locks are included, and an oversized button lets you open and close it while wearing gloves.