5 Tips & Tricks for Driving in the Winter
What Should I Carry When Driving in Snow Conditions?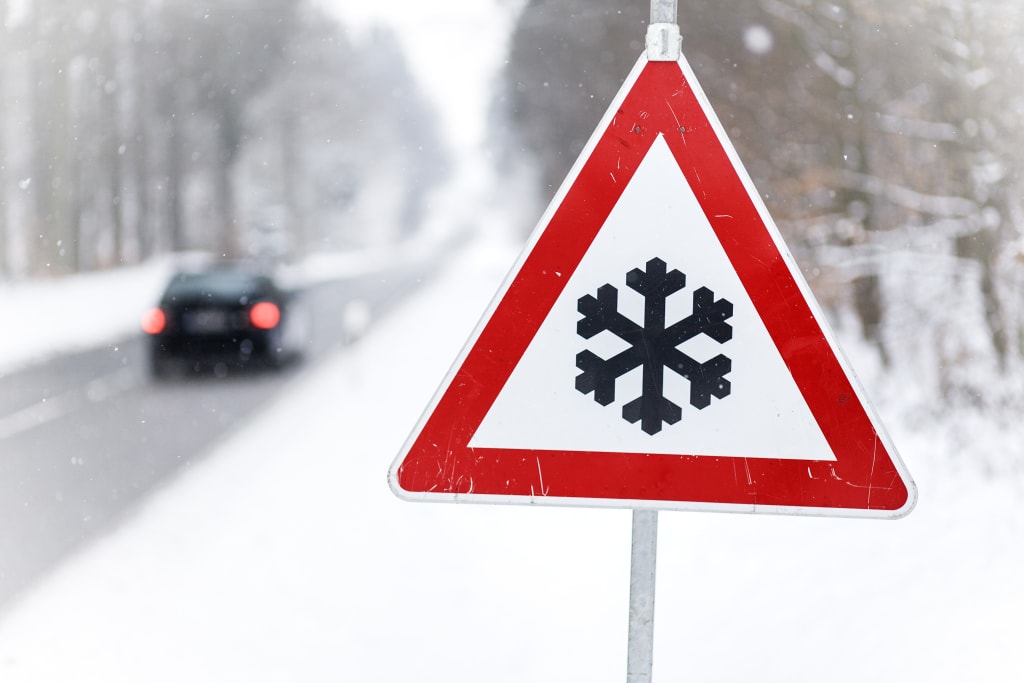 Driving in winter has its fair share of problems. From icy roads, low visibility and added road hazards permeating from the weather conditions. These hazards are compounded when the vehicle is in higher elevation and a higher latitude.
While many individuals that are familiar with their surroundings and live in areas with seasonal weather are comfortable in driving in the elements, some visitors and newcomers to the area can be unfamiliar with the hazards that winter driving poses.
Below are five tips on safe driving in wintry conditions.
Tire Chains
Rule #1 when driving in the winter. Always carry chains. Chains are essential to adding traction to vehicles and provides the added friction necessary to grip the snow and ice covered road. Vehicles without chains can spin out on a road and get stuck in snowy conditions. To propel the vehicle in the desired direction, chains help add the traction necessary and increase traction and decrease stop times (compared to all weather tires).
Driving in wintry conditions in a front wheel drive vehicle (FWD) or rear wheel drive (RWD) can provide its fair share of issues. Without the necessary traction from chains or cables, the vehicle can fail to maintain the proper traction to the axel with power (front wheels for FWD vehicles and rear wheels for RWD vehicles).
Always remember to always carry traction in your vehicle. Even if you have power to all four wheels via four wheel drive (4WD) or all wheel drive (AWD), it is important to carry traction tools.
If your vehicle is in wintry conditions and traction and power is lost or compromised, follow the directions on the cable/chain/ AutoSock and apply them in a safe rest spot or shoulder.
Remember to never exceed 25mph when using traction devices and provide ample space to vehicles surrounding you to help reduce car accidents. Once the road conditions are free of snow and ice, remove the chains from your vehicle. Failing to do so can cause damage to the wheel well and cause unnecessary wear and tear to the road.
Sand, Kitty Litter & Salt
Sand, kitty litter and salt can help provide added traction in heavy snow conditions. In extreme cases, these substances can add valuable traction to help vehicles stuck in snowy conditions.
Sand may be the most advantageous substance to provide the added traction needed to remove a vehicle from snow. Pour the substance in front the of tires with power.
Kitty litter has a similar effect to sand but can get soft and fall apart in wet conditions.
Salt is the least ideal substance as it is a corrosive material to metals. However, it is valuable resource in melting snow. If you so choose to utilize salt as a substance ensure that you clean the car thoroughly as soon as possible. Salt can eat away and cause permanent damage to areas exposed to the substance. Bring your vehicle to a car wash and tell them about the exposure to salt.
Tire Safety
Whenever a driver is heading out in cold conditions, one must ensure that they are equipped with proper tires. Generally speaking all season tires are adequate for mild snow conditions. However, in areas where high snow accumulation is common, the residents of the region may choose to utilize winter tires.
Winter tires have added traction and can help minimize traction issues when driving in snowy conditions. They may have studs and ribs on the tire that provide the added traction necessary in seasonal extremes. Remember to only use winter tires in the winter months, and change the tires out for all seasonal, or other, tires when the seasons permit. Failure to remove winter tires can be a violation of laws and can result in road damage in non-snowy seasons.
Check Your Car's Battery
Before you depart on a journey that involves wintry roads, remember to check the anti-freeze and battery life of your vehicle. Insufficient anti-freeze can cause liquids within the vehicle to freeze. This is never a good sign and a great way to get stuck in freezing conditions.
In cold conditions batteries operate at a less than optimal level. According to Interstate Batteries, car batteries struggle in the cold. The colder the weather gets, the harder the battery needs to work to provide the necessary charge to the vehicle. Cold temperatures can impact electric and traditional gas powered vehicles.
Electric Vehicles
A recent article published by the AP stated that batteries in electric vehicles can decrease by up to 40% of their normal functionality in cold conditions. This decrease in battery functionality will in turn decrease the range of an electric vehicle in cold weather.
If you are driving an electric vehicle in cold climates, remember to regularly monitor the battery's health and the reporting analytics provided on the dashboard. The range of an eclectic battery in non-freezing conditions can differ greatly from cold conditions.
Traditional Vehicles
Ever spent time in a cold climate? Ever witness your cell phone's battery unexpectedly shut down? If you have, you've seen first hand how batteries can be impacted by extreme weather conditions.
When the weather is cold, under 32 °F, the auto battery can experience issues resulting in a failure to the car to "fire up" and start after being turned off. Although a fully charged battery will not freeze until -76°F
Visibility
While driving in any condition, but especially low visibility situations, ensure that the windshield and windows are clear of snow, ice or other debris. If there is snow or ice buildup on any glass surface do not pour hot liquids on the surface, this can cause the surface to crack resulting in expensive repairs and potentially even more visibility problems.
Instead of pouring liquids use a snow scraper to remove frozen debris from the glass surfaces.