5 Short Crazy Essays Using a Content Idea Generator
Input word: Volkswagen
Today I decided to try Portent's idea generator to come with an idea for a decent blog post about Volkswagen cars. None of them was good enough for a post, but some of them are hilarious, so I have decided to write some short essays based on its suggestions.
1. How Volkswagens Can Keep You from Marrying the Wrong Person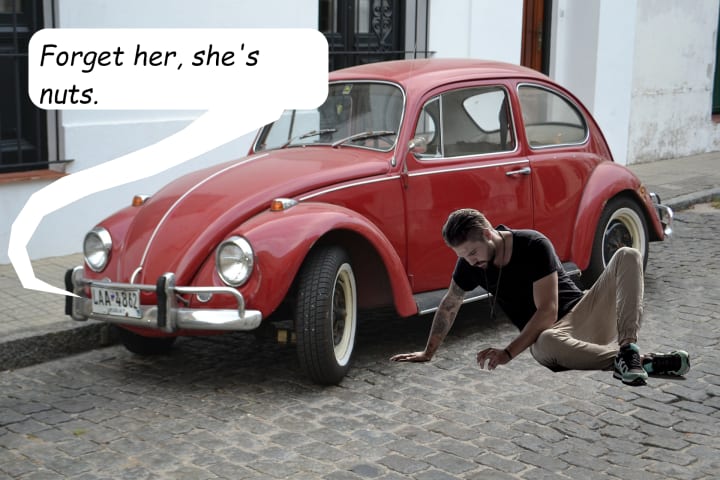 Marriage is a life-long commitment. But do you know what else is a life-long commitment? Owning a Volkswagen.
Yes, many of you will not know this, but Herbie: Fully Loaded is based on the fact that Volkswagens have feelings; and when you enter a new relationship they usually over-protect their drivers. This means that your car will take your potential date on a short trip and interrogate them about their past and their intentions towards you. And being related to the military Kubelwagen, they are exceptional interrogators. If your future spouse holds some skeletons in the trunk your Volkswagen will find them.
2. Why Billionaires Will Never Invest In Volkswagens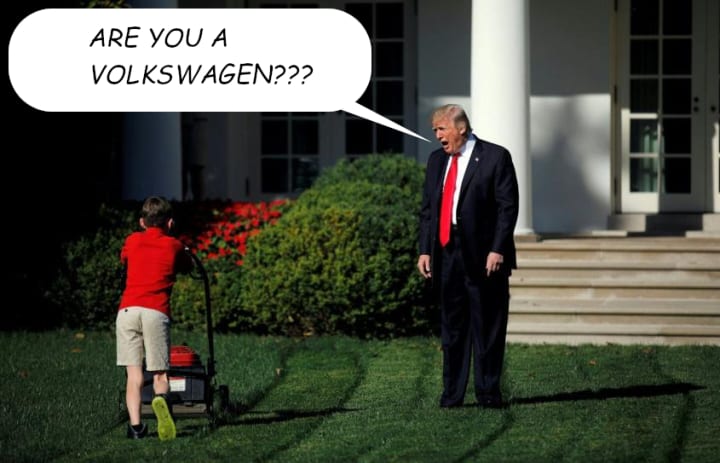 And why would they do that? Volkswagen means in German The car of the people, and it is driven around by hippies. It was meant to be an affordable vehicle for the German working class, not some posh limousine for George Soros or Donald Trump. No, the Volkswagen is a car that yells proletariat! to the wind. It's a car that will last you for decades to come and will always look amazing.
Also, the car mechanics of the world have largely conspired to hide Volkswagen from the rich. We gave them the Bugatti to distract them because we believe rich people lack the refined taste needed to drive a popular classic.
3. Why Volkswagens are More Popular than Beyonce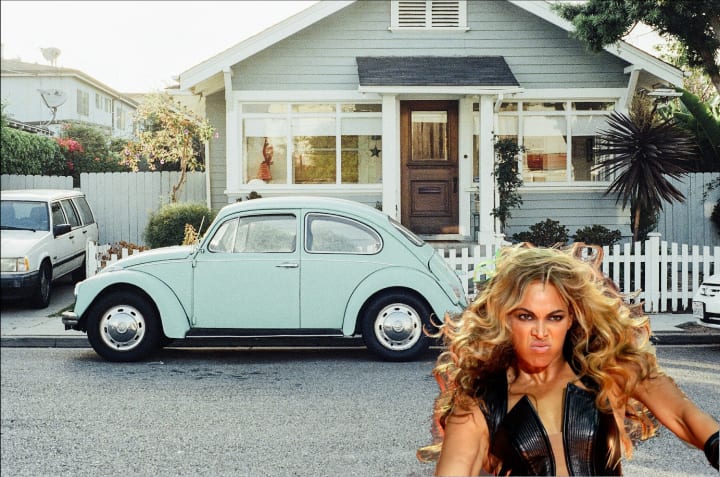 When it comes to popularity, we must accept that Beyoncé will never be as popular as the lovely Beetle. And never will have as much cargo space in the front trunk or be able to reach 62 mph.
Think about it: How much merchandising have you seen of the Beetle and how much merchandising have you seen of Beyoncé? For every T-Shirt with a picture of her, there are ten with the iconic VW logo.
And there is a good reason for that, and the reason is its tiny 4-cylinder boxer engine. Compared to any Beyoncé song, it sounds like heaven.
4. How Volkswagens Make You a Better Lover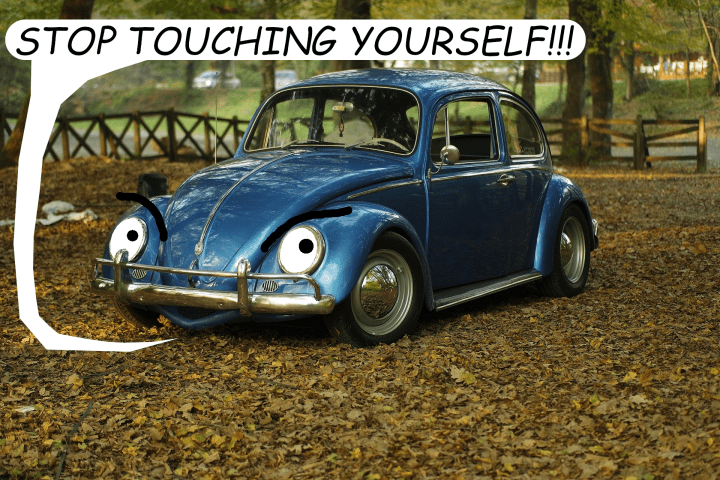 Volkswagens are simple and reliable cars. They save you a lot of time, and you can use that time to practice your favorite hobbies, like cooking, playing guitar, fornicating, writing, running, fornicating, or watching a movie, maybe The Love Bug.
Now you are asking yourself if you have read fornicating twice or you have a dirty mind. The answer is both.
And that is probably what most people do whenever they have time, don't ask me, I drive a Citroën.
Practice leads to mastery.
5. How Volkswagens are Part of a Vast Right-Wing Conspiracy
Volkswagen may look like innocent and peaceful vehicles, but what most people ignore is that they were created by that German party funded in 1933 that we are not going to talk about here to avoid SEO penalization.
And because of their link with that event, they like to hold secret meetings at hidden garages to discuss their supremacy over other vehicles and contaminate our atmosphere with their Dieselgate.
But do not worry, the Citroën gang represents the French resistance and even counts with their own hero, a 2CV nicknamed The Bagette. He's training my car in the art of guerrilla.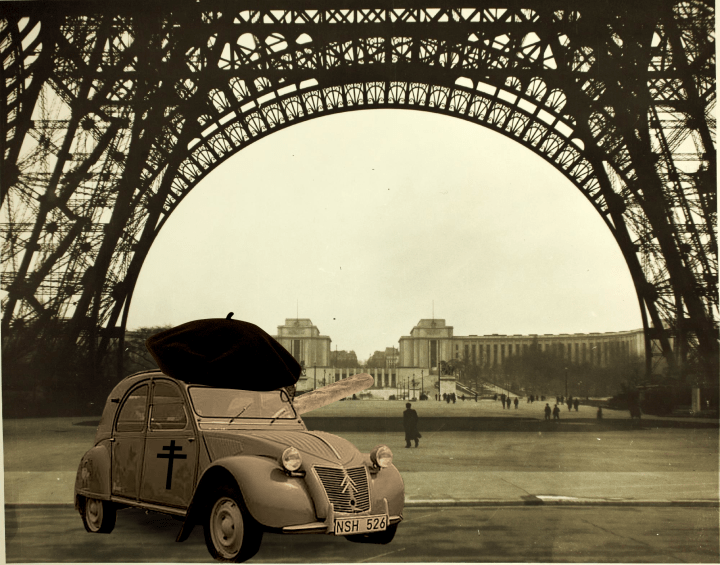 Also, some of the older units are rebelling against that and creating the Volkskiria, a secret group of rogue Karmanns and Beetles that is working on a time machine to end the tyranny of that man who yelled so much in some German black and white videos.
So there is still hope for Volkswagens.
Did you like this piece? Leave a little tip and share it with your friends. I would appreciate any kind of support.
JM is a Spanish writer who endlessly talks about cars, philosophy, and revolution when he's not playing guitar or practicing Yoga. You can follow him on Twitter to see more content: @jm_miana.
This article was originally published in Medium.

JM Miana
My name is Jose. I'm a Spaniard with a strong curiosity for everything.
I write what I want, I believe in free speech as long as it doesn't directly attack someone.
https://linktr.ee/Jmmiana
See all posts by JM Miana →
Your car is a statement about yourself. It says who you are, how you will likely drive, and what kind of life you live. Have you ever wondered what your car says about you, or what people think about your car?

Driving is easy. But how do you maintain your vehicle? Most will consider you as a responsible car owner when you have your car serviced at least a couple of times in a year. Auto repair shops and service departments will do the usual services – change oil and oil filter, check the brakes, replace spark plugs, examine the belts and the hoses, etc. With all the things your mechanic needs to see and touch, it is a wonder if your steering wheel remains unscathed from dirt and grime. They most likely used Disposable Plastic Steering Wheel Covers before they did any work on your car.

The top items every off-roader should have are not only necessary for your safety, but will make your off-roading experience easier and more fun. From a recovery kit to mud tires and a light bar, each of these products will improve your weekend trip filled with adventure and fun.

Will Electric cars save the world? We are living through a period of change. The ancient Chinese philosopher Lao Tzu said the only constant thing in the universe is change. What we have learned in the last 3,000 years is that all change has a price. Who pays the price and who gains the benefits, are questions that should be considered when evaluating any and all changes.

Car accidents can happen to anyone, at any time. You do not need to be speeding, nor do you need to be near another driver for them to happen to you. Even the most attentive drivers can end up having a serious accident that may not have even been in their control.

I'm a huge fan of looking at cars that are heavily modified — and really, who isn't? Ever since Pimp My Rideon MTV, it seems like car mods have become a part of American youth culture. Car mods are a status symbol. They're edgy. They're neato, and often push the engineering capacity of the car to its limits.