2021 Ford Mustang Mach-E Review
Ford Mustang Mach E - An Unbeliveable Touch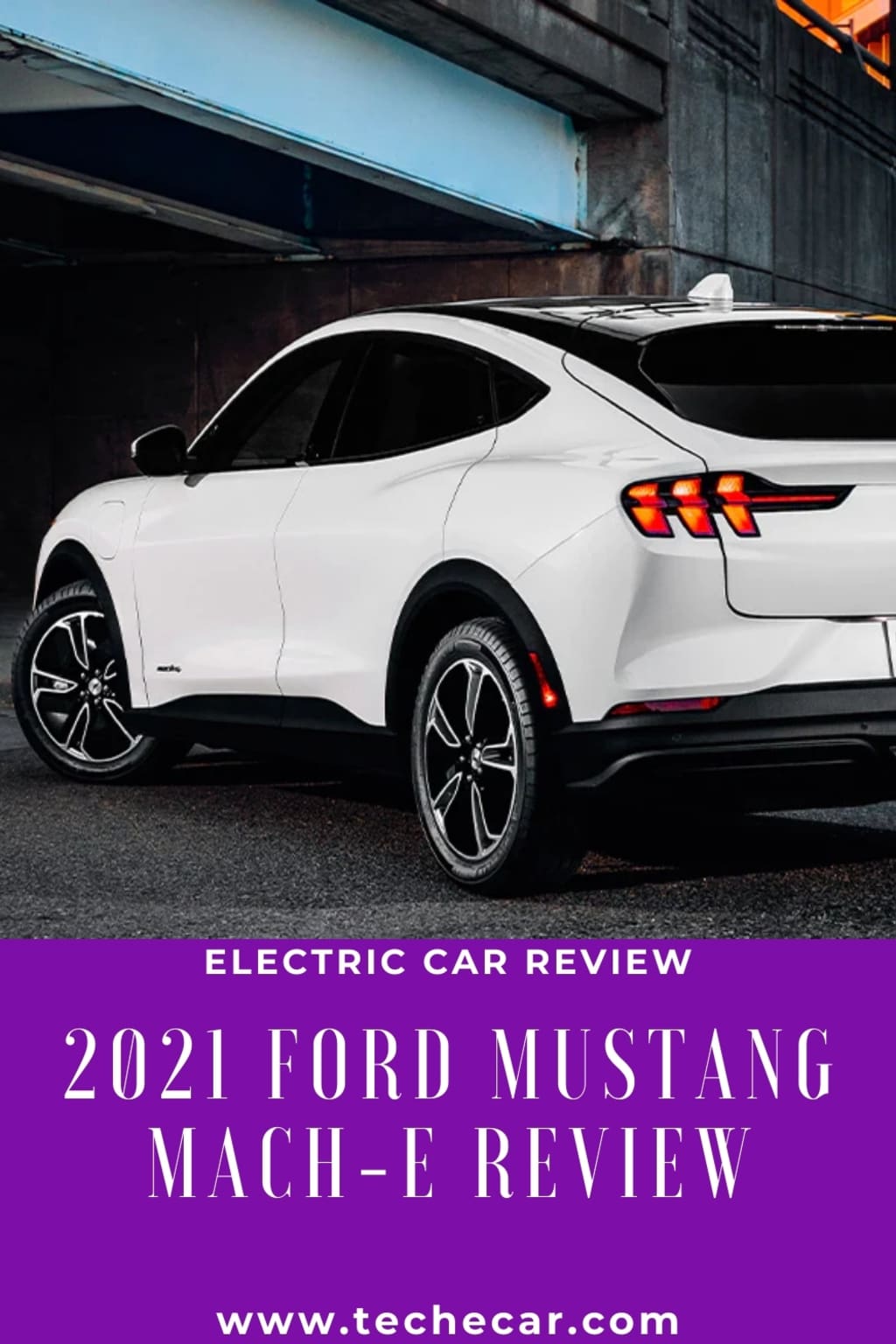 The Mustang Mach-E intends to combine the muscular sportiness of the iconic brand with the roominess of an SUV (a viral category). The result is a car with lines, admittedly a little strange, but endowed with an incredible character. Menacing and imposing, the Mach-E is aggressive in a good way.
We love this full grille, a tribute to Mustang cars, highlighted by sharp headlights - a little more tapered than on the manufacturer's other vehicles. We also find the ribs on the long hood, the signature Mustang par excellence. No doubt about it: from the front, the Mach-E is a Mustang.
It is much more the rear, and the general silhouette, which betrays the Mach-E and reminds us that it is an SUV. However, it manages to keep a racy look, as evidenced by this cut profile, this all-black roof, which allows it to blend in better, and this little shark fin. The rear, plunging, but not too much, sports a light signature cut into three small rectangles—another reference to other Mustangs. We also appreciate the wide wheel arches and sills, also painted black. On the white Mach-E that Ford lent us, the marriage of the two was ideal. Another point to keep in mind: there is no Ford logo.
Ford has not forgotten to add very modern distinctive elements to its Mach-E, which knows how to keep up with the times, despite its look, a little turned towards the past. We think of the door handles, replaced by tactile buttons, responsible for activating an opening by cylinder, and small horns (we can even put a PIN code if necessary). The SUV is also equipped with invisible sensors, essential for advanced driving aids. Good news: Ford skips virtual exterior mirrors, which can be convincing (the Honda e) or much less (the Audi e-Tron).
The cachet, undeniable of the Mach-E, will not appeal to everyone. But, in any case, it leaves no one indifferent. During our various trips in the vehicle, we have felt the intrigued gaze of passers-by because we do not have the opportunity to see a Mustang every day - let alone a Mach-E. An amateur photographer even asked us if he could take some pictures to feed his Instagram account.
Ford Mustang Mach-E Wide Screen
The interior of the Mach-E takes over the double-stage architecture of the Mustangs, with a dashboard made up of two horizontal sections. Once installed inside, you are immediately caught by the huge 15.5-inch diagonal screen, located in the center. It removes all the buttons from the central column, which is equipped with a charging pad to fill the battery of its compatible smartphone.
In addition to a vegan orientation to applaud (zero genuine leather), the interior of the Mach-E is very, very well finished. We appreciate the beautiful stitching or the (fake) carbon fiber finishes. Ford has taken care of the details, has not been too clean (unlike Tesla cars) and relies on Bang & Olufsen for the sound part. When I got behind the wheel for the first time - which is attached to a small on-board screen for essential information (example: speed) - I was immediately won over. As a bonus, the Mach-E really ensures good visibility.
Ford Mustang Mach-E review:
To materialize its 100% electric strategy, Ford preferred to start from scratch rather than take over an existing model (as some competitors did). In the eyes of some, the automaker has taken the liberty of using the Mustang brand to imagine an SUV that has little to do with the pony car - known for its loud V8 engine. It would almost be an unnatural choice, but, for Ford, it is first and foremost a way to mark its territory (and to justify a slightly higher price).
This apparent heresy should not condemn Mach-E. The vehicle is not a Mustang in the true sense of the word, but it remains a 100% electric SUV with a well-filled technical sheet and welcome technologies. After riding it for a whole weekend, it's safe to say that the Mach-E is attractive: in addition to its natural attributes, it leans on real cachet in a somewhat lazy segment.
Ford Mustang Mach E - An Unbeliveable Touch
The Mustang Mach-E will not leave you indifferent. For its first real 100% electric car (we deliberately omit a Focus with laughable autonomy at its launch), Ford has decided to take the codes of the legendary Mustang and adapt them to the SUV format. The result is an extraordinary vehicle, which will make fans of the original pony car cringe. We prefer to see it as a call to daring, with a car based on a specific character.
And since you don't see Mustangs every day in France, passers-by are sure to look back on your way. To the simplicity of the Tesla and the pragmatism of the Germans, Ford responds with an astonishing marriage. We have the right to hate or to fall in love with it.
The Mach-E is a reasonably imposing vehicle: it is 4.7 meters long, with a weight that exceeds two tons, in its configuration articulated around the most powerful battery (98.8 kWh). It also asserts itself by sharp lines, which give the SUV coupe a rather aggressive look (the ribs on the hood, the strong light signature at the front, the long muzzle, the complete but preserved grille). The Mach-E pays homage to the Mustang in a bit of its way but embodies the sportiness one would expect given the lineage chosen.
An Elegant Look Makes It Perfect
We will also be surprised to see Ford opt for some highly technological distinctions. Thus, the handles are replaced by buttons that activate an opening with jacks. The driver's door is equipped with a digital panel allowing you to enter a PIN code (if you lose your key, physical or digital). The trunk can be opened and closed without contact, simply by sweeping your foot under the car (a blow to take). In short, to elements meeting standards established for years, Ford adds a sacred dose of modernity.
The interior, all in vegan materials, plays on textures to convince. Two senses are awakened: the touch necessarily, since the synthetic leather coexists with the fabric and the plastic, but also the gaze, which delights in the quality of finish (never a strong point of classic Mustangs) and certain tape-inserts to the eye (example: fake carbon fiber gives a perfect illusion). Ford has taken care of the details and removed most of the buttons, concentrating the controls on a giant 15.5-inch screen arranged in portrait format (too bad). The American firm will not go so far as to imitate Tesla by tending towards all tactile. There are still classic commandos (wipers, indicators) and a circular driving selector located on the central console (where a control lever would take place. speed).
Ford Mustang Mach E - A Beast 
You feel powerful behind the wheel of a Mach-E. And it's a feeling that is based on a mixture of several factors: electric driving and its frank acceleration, the elevated position, this emotion linked to the brand and, a little also, the artificial sound that makes you believe that you are aboard a Mustang (don't laugh). Sometimes it's the little things that make the difference and make it possible to choose a car. Like most others, the Mach-E accelerates quickly and well (0 to 100 km / h in less than 6 seconds while waiting for a faster GT version). Like the others, the Mach-E provides both a comfortable ride (no report to pass, we remind you) and safe (the low center of gravity for the seat).
The Mach-E will bet on a few attributes of its own to seduce. The slight sporty accent is provided by a steering wheel that offers good resistance and gives that impression of better feeling the corners. Nevertheless, the steering could be a little more flexible if only to avoid the syndrome of a car dragging in the curves. We also find that the suspensions are struggling on less smooth roads: the cabin trembles while, paradoxically, speed bumps are not a problem. These jerks, if they make it possible to form a better body with the asphalt, some people think, can be tiring in the long run.
The Mach-E offers three driving modes with anglicisms and convoluted descriptions that we would have done without: active or eco ("Balanced, funny and captivating driving"), whisper or normal ("Smooth driving, calm and quiet"), and untamed or sport ("exciting driving, machine, and the road become one"). The eco mode will consume less but will not provide power as high as untamed (whose translation is none other than wild). It is also possible to manage the braking power up to a single-pedal option (to drive only with the acceleration). This is the configuration we recommend: not only is the braking, which is triggered as soon as you let go of your foot, is well dosed, but, as a bonus, it offers a quieter ride.
The Mustang Mach-E offers some driving aids that allow semi-autonomous driving. On the motorway, we can engage the adaptive cruise control (with a reading of the signs or not) and maintain the trajectory. Combined, these two technologies offer the possibility of letting the car manage, keeping in mind that you have to remain vigilant and keep your hands on the wheel (there is an audible alert after 10 seconds). These aids, in addition to ensuring a good sense of anticipation (zero sudden brakings), make journeys more relaxing. But they were already found on Tesla several years ago. Today, the Model 3, Model S, and Model X are also capable of overtaking independently and without danger.
Ford Mustang Mach E - With Diligent Software
Ford has therefore decided to focus all of its infotainment on a 15.5-inch screen. Nevertheless, the company has taken care to integrate a small screen behind the steering wheel to display information essential to driving (range, speed, visual shortcuts for navigation). We could have feared a dated interface, as is often the case in the automotive sector.
Luckily, it is modern enough to convince, as long as we do not dwell on the details. The integration of the different application panels could be better, while Ford does not escape this sense of catch-all with, sometimes, too many elements displayed simultaneously. You can get lost in it, and the ergonomics can be questionable when you have to switch from one tab to another (especially while driving). Remote updates could improve the experience.
Ford could have chosen to purify the main menu a little, even if it kept certain physical buttons for certain comfort features. We feel that the engineers have a little less control over the software part, still a little too messy in certain design choices to reach the level of the tech world.
This is a real risk for future owners who would be less comfortable with computers. Those concerned will need a small learning phase to tame the Mach-E, which offers a whole host of customization options. On this point, the dealers have real educational work to do (beyond just electric driving).
The Ford Mach-E is compatible with Android Auto and Apple CarPlay interfaces, in case you prefer to trust your smartphone for applications (music, navigation, etc.).
Ford Mustang Mach E With Huge Battery
Ford lent us the version with the larger battery and equipped it with a four-wheel drive. As always, when we try an electric car, we prefer to focus on actual consumption rather than theoretical autonomy (the figures put forward by the manufacturers). On this point, the Mach-E turned out to be rather impressive: our journey between Paris and Fressain (approximately 190 kilometers) consumed 45% of the capacity on the outward journey, against a little over 50% on the return (it was colder).
These are encouraging performances for use on expressways, where maintaining a very high speed - between 120 and 130 km / h - requires a lot of energy. We oscillated at consumption of between 19 and 25 kWh / 100 km. We have seen better (hi Tesla), but the consequent size of the battery makes it possible to compensate.
Outside the motorway (read: in small villages in the north of France), we have managed to maintain consumption around 16 kWh / 100 kilometers - which is once again very interesting for a large SUV equipped with two engines. In real life, the range is between 400 and 500 kilometers.
Conclusion Ford Mustang Mach-E
The Ford Mustang Mach-E is not a Mustang, just a 100% electric SUV with some aesthetic elements inherited from the famous pony car. This choice of the American manufacturer is strange but has the merit of giving birth to an astonishing car on many points. Because, in addition to its attractive look, the Mach-E ensures pleasant driving.
In terms of autonomy, the very large battery and honorable efficiency allow the Mach-E to aim far enough and titillate the Tesla Model Y (which is not yet available in Europe). Far from being uninteresting for a baptism of fire, the Mach-E is intended for those who dream of an unusual car and are fed up with SUVs with a lazy look. It's already a great victory for Ford and too bad for Mustang fans.
Thats it for this artilc, If you like my word then please like, comment and share with your friends and family. You can send us small gift as a tip so that we can provide you such great content.
product review
Hello Reader,
My Name is Mustafa Rangoonwala, I am an Holistic Practitioner since last 7+ Years. I am a Graphologist, NLPMP, Reiki Master Practitioner, Ganotherapist and Vastu Consultant.
I have recently joined Vocal..Support me !!!!!!
Receive stories by Mustafa Rangoonwala in

your feed