Write A New Chapter in Your Story About a Happy Life Here in Costa Rica!
Your notebook is blank! You can make up anything you want. . start creating an adventure for yourself that they'll make a movie out of & with a plot that will win a few Grammy awards. .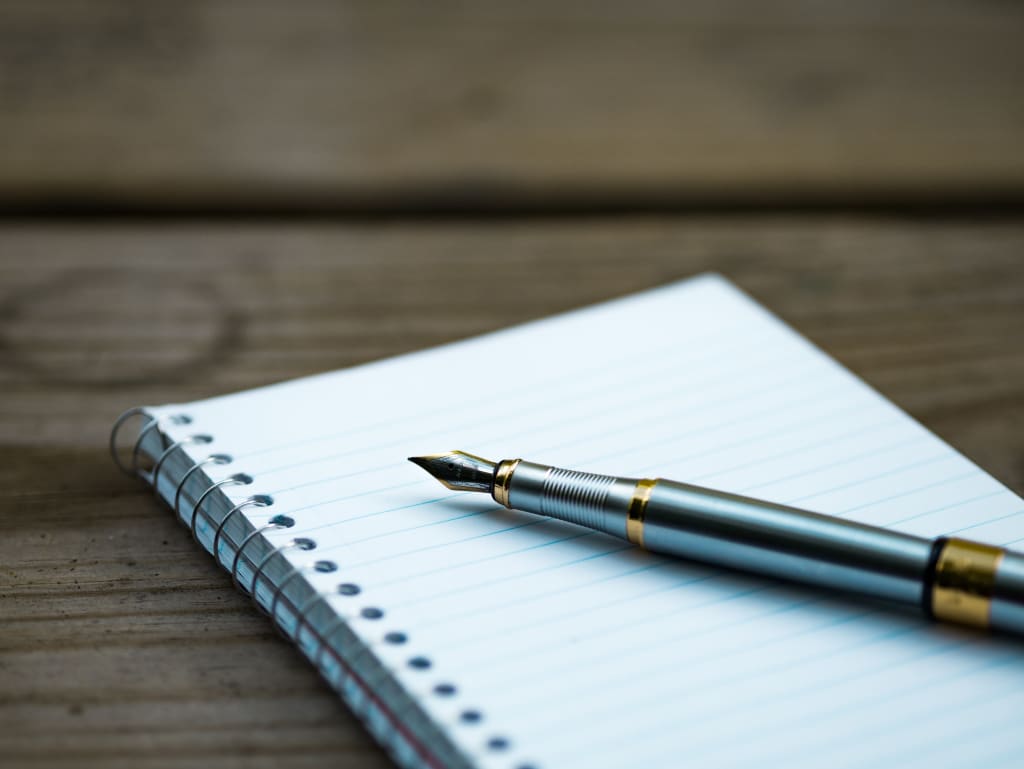 Grab your pen and start writing. . I'll help you get started!
Do you live here in Costa Rica already? Are you settled in? Is everything going well for you so far? Better than expected? Have you learned all about the "Pura Vida" lifestyle and how it is so very magical? Making some great friends? Comfortable in the situation in which you live? Do you miss your old life? Are you mad at yourself for not doing all of this sooner?
Are you in the process of moving to paradise? Have you made your final decision already? Are you working on the gathering of your papers for acquiring your legal status? Are you excited? Have to talked to others about what that "Pura Vida" lifestyle is all about? Are you starting to sell all your earthly possessions or are you going to bring everything with you? Have you picked out a place to live. . a small town, such as Atenas, Grecia or Ciudad Colon? Or are you going for the "big city" life in San Jose or San Isidro?
You've visited Costa Rica once or twice! Do you like what you have seen and experienced so far? Have you planned another trip already? Are you really excited about returning? Did you do some fun things when you were here the first time? Did you visit a volcano or two, or did you spend most of your time at a beach resort in Jaco or Tamarindo? Did you take a long hike in one of the many national parks? Did you have a chance to see a lot of wildlife? Did you experience the exhilaration of seeing a toucan munching on a mango or perhaps witness a scarlet macaw in flight? Did you catch a glimpse of a poison dart frog or a lazy sloth slowing climbing a tree? Was he smiling at you?
Are you thinking about visiting Costa Rica in the near future? Have you been reading up on all of the fun things to do here? Are you aware of the immense biodiversity? Did you read somewhere that a tiny country the size of West Virginia has over 5% of the world's flora & fauna. Did you see some enticing photos of the Whale's Tail. . the Manuel Antonio National Park. . the Irazu Volcano. . of a sea turtle or two. . of a treehouse resort deep in a jungle setting? Have you started learning a few "popular Spanish phrases for tourists"?
Wherever you are in your life's journey. . whatever chapter you are on, I hope you're having a wonderful time and are happy with what is going on with you, your immediate family and within your circle of friends and associates. If you are about to change things up in a big way and if it includes Costa Rica, then I am especially excited for you!
I would guess that hundreds, perhaps thousands of people make their big move to Costa Rica every year. They settle into a new life, filled with adventure, wonder and awe! Instead of spending a Saturday afternoon at Walmart, they plan a little day trip to the Poaz volcano. Rather than loading up on frozen pizzas and canned fruits for their meals, they visit their local farmers' market and buy freshly-picked beans, lettuce, mangos and pineapples. Instead of laying back on their couch watching movies and political news shows, they practice their Spanish and plan next week's trip to the beach, the animal rescue center or sign themselves up for a coffee plantation tour. Many of them trade their boring, same-thing-every-day, tedious, stuffy, humdrum, spiritless, well-worn life for a new reality, filled with anticipation, optimism, ambition, hope, promise & total joy. All of a sudden, the sun is out each and every day and there's music always playing in the background. Instead of chugging along, head down and feet dragging & shuffling, you all of a sudden have a twinkle in your step, your toes are tapping wildly and you're learning how to dance a mean salsa!
You already have the tools necessary within you to change your life to whatever you want it to be. You can learn how to fill your lives with excitement from dawn to dusk and to sleep soundly each and every night without stress, tension, worry or burden.
A blank notebook and a comfortable writing pen is within reach of all of us. The magic that needs to happen. . the key to making this work for you and for the one's you love is that you have to simply pick up your pen start writing. .
You're invited to visit our websites at: www.costaricagoodnewsreport.com & www.costaricaimmigrationandmovingexperts.com
Also, please enjoy our over 1,750 episodes of our "Costa Rica Minute / Costa Rica Pura Vida Lifestyle Podcast Series". We are found on all major podcast venues, including iHeartRADIO, Spotify, Apple Podcasts, Google Podcasts, Radio FM, Anchor & many more. Here's our link: www.anchor.fm/costa-rica-pura-vida
About the Creator
Costa Rica is a magical place. Since November, 2002, when I first visited this country, I have been in love with the people, the culture, its biodiversity, the food. . everything about it makes me happy! Now I share my excitement with you!
Reader insights
Be the first to share your insights about this piece.
Add your insights