World Famous Jigokudani Snow Monkey Park
Where to stay
Like everything else I've talked about on here, I was extremely excited to see the Snow Monkeys. But, who wouldn't be excited to see monkeys? They're definitely one of my favorite animals. And if you ever plan a trip to Japan this has to be on the top of list of things to do. Of course, it's not all about the monkeys, it's also important to know the best places to stay.
Where to stay:
When I was searching for a nice place with a nice price to stay at in Nagano, I noticed most places were traditional Japanese style hotels. Of course, I had no problem with that. I feel like if you're going to be in Japan for some time, you need to stay at a traditional Japanese hotel at least once. Personally, this was my favorite hotel that we stayed at.
The Maruka Ryokan Hotel is an adorable family owned hotel. The family consists of a really sweet older couple and their son. They don't speak very much English, but they do their best to communicate. Translating apps makes it a lot easier too. They also offer a free shuttle service. Just send them an email asking when you would like to be picked up from the train station, and they will go pick you up. But, honestly, the station is close enough to where you could just walk. They also offer to take you to the Monkey Park for free as well.
Now, When I say this place is traditional, I really mean it. As soon as you walk into the lobby you take your shoes off and they give you slippers to wear. I'll be honest, the slippers are a little difficult to walk in. But, I did my best to get around in them. The room was incredible. I actually believe it was the biggest hotel room we have had so far. We had our beds, which were almost like really fluffy sleeping bags. Yes, you will be sleeping on the floor in a traditional Japanese hotel. We also had a little sitting area with a table. Each morning they placed really delicious snacks for us to eat there. We also had a little sink to wash our hands and brush our teeth.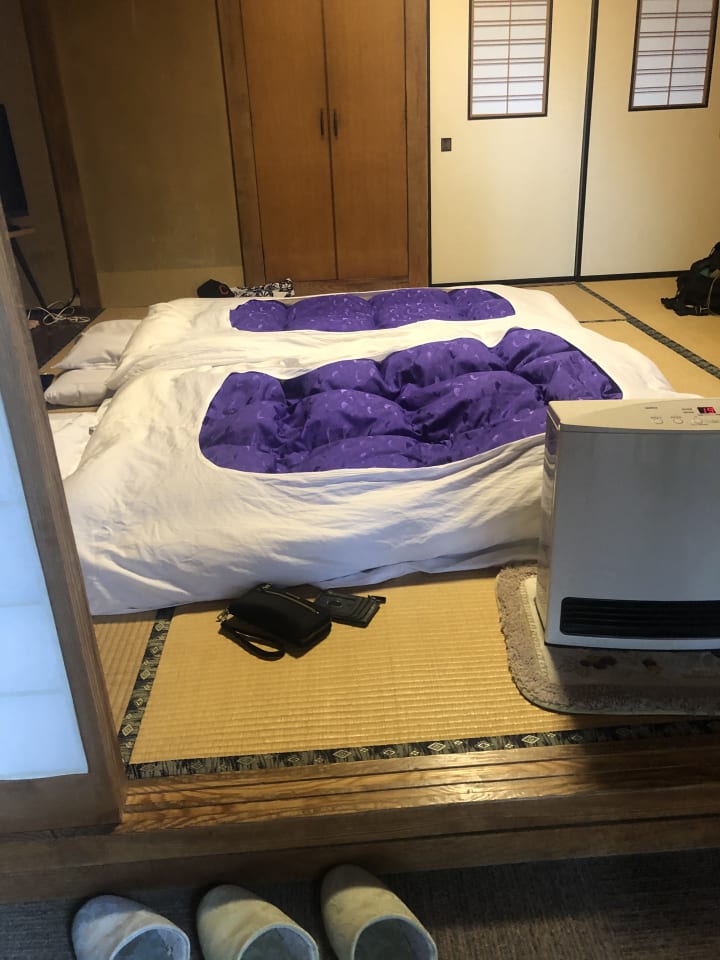 With this place, you don't get your own private bathroom, however. It is shared. Fortunately, the hotel isn't very big. I believe they only have about six rooms, so there's never a wait for the toilet. They also have a separate room for the bathhouse. They also have a private onsen! So, perfect for couples. If you don't know what an onsen is, an onsen is a Japanese hot spring. The water comes straight from a volcano. So, it was very hot. They do, however, have a cold water faucet to cool the water down before stepping in. It was so relaxing. We made a trip to the onsen quite a few times.
I'd also like to mention their breakfast. If you decide you want to get breakfast you do need to let them know a day in advanced. We opted out the first day, but decided to try it out the day of check out. Boy am I glad we did. They asked us a time we'd like to eat and then they came and got us at that time. They have a separate breakfast room. Again, it's very traditional. They sat us at a short table where we sat cross legged on the floor. There was so much delicious food. They prepared fried eggs, a salad, salmon, crab, yogurt, apples, soup, rice and dumplings. And we sure did eat every last bite. I highly recommend getting the breakfast.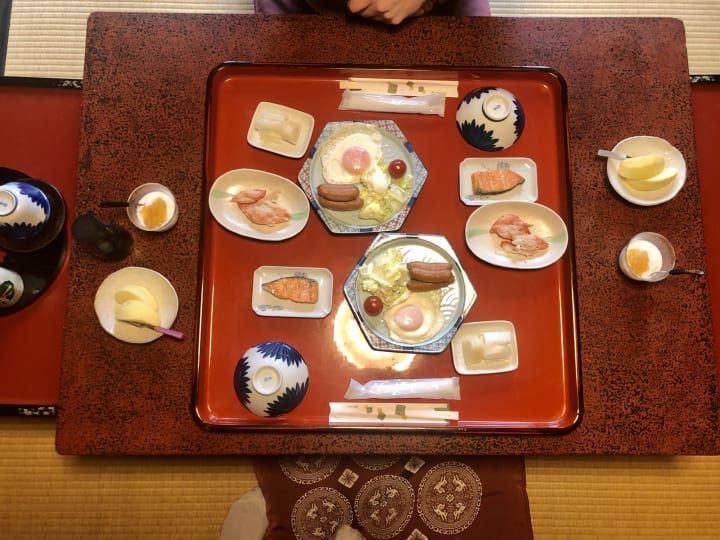 If you get the chance to come to Japan and see the Snow Monkey's I highly recommend this hotel. You can book a room here: http://maruka.her.jp/wp1/
Worl Foanous Snow Monkey's:
The Snow Monkey Park was fairly close to the hotel. They do offer a free shuttle service to the park, but it was so nice out we decided to walk. I'll be honest, I'm really out of shape, so I'd recommend taking the shuttle if you're like me (LOL). It was nothing but an uphill battle to get there. Beautiful views though. It took about an hour to walk there. Probably wouldn't have been that long if I was able to walk faster. The walk back, though, was easy, as it was all downhill.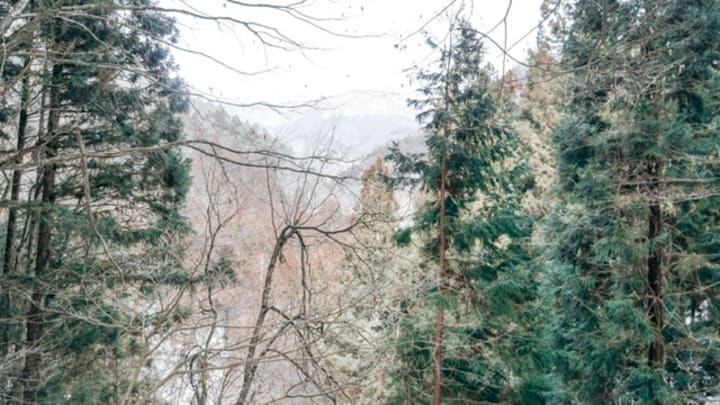 Once you reach the entrance to the park, there's about another mile walk until you actually reach the monkeys. Once you get there, there's an $8 fee to get in. I was pleasantly, surprised once we got into the park. I did not expect to actually get to stand in touching distance of the monkeys. With that being said, you are not allowed to actually touch them.
The monkeys were so playful with each other. We also got to see a few little fights, but mostly they looked very relaxed. Usually, you can find them chilling in the hot springs, however, it was a night 60 degrees when we went, so not so cold out. While we didn't see any monkeys in the hot springs, they were chilling beside the hot springs and there were plenty of them running about.
They got so close to us it was so amazing. I'm sure they are used to all of the attention by now, but it was so incredible to see how unafraid they were of everyone getting all up in their space. I honestly think they were really enjoying the attention. I swear a couple of them were actually posing for the cameras.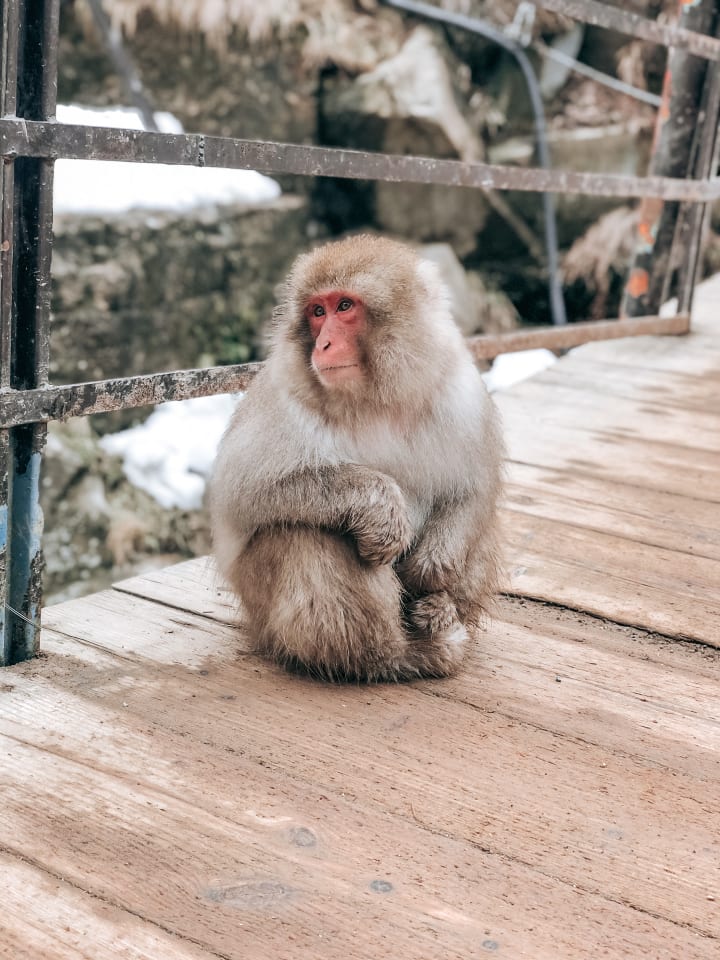 The park itself isn't very big. After a few minutes of hanging out with the monkeys and taking the pictures you want there's not much more to do. I'd say that's the only downside. But, the monkeys were too adorable to be upset over the size of the park. Definitely an incredible experience. This needs to be at the top of your list of things to do in Japan. I'd recommend going during the colder months though, so you can see them in the hot springs.