Wonderlust
travel bug with many places to go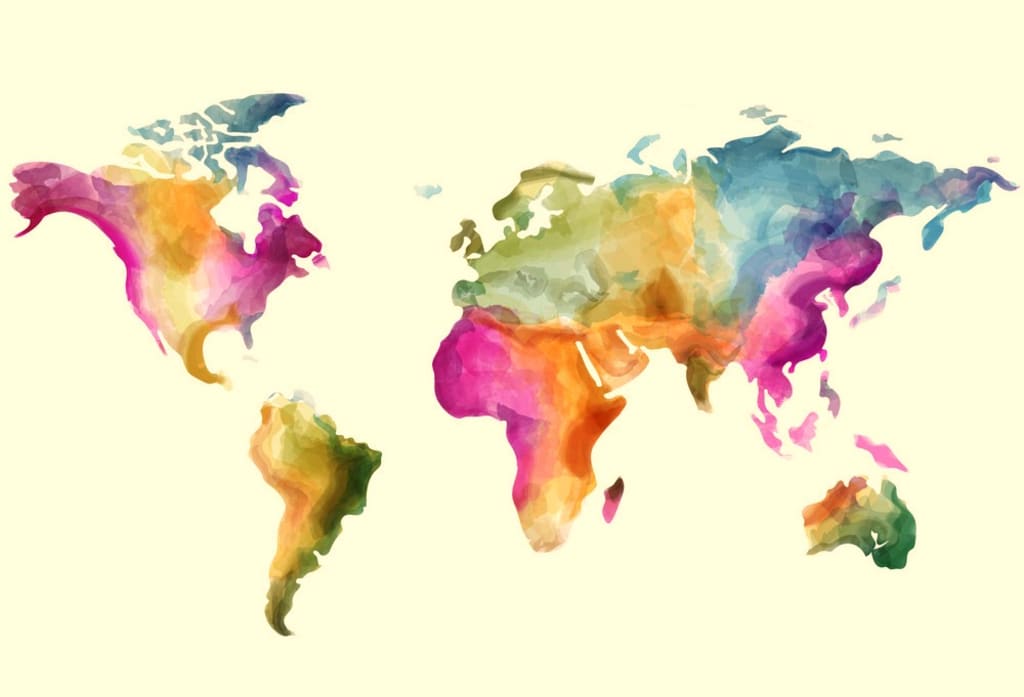 What happens when you look at the map?... you start realizing all the places you haven't been to, all the places you haven't seen, all the people you haven't met, all the pictures you haven't taken. Well that is exactly what I think anyways... Every time I take a look at a map or a globe my mind starts to wonder, it wonders what i would do in each place I set my eyes on, what kind of food they would have, what do their streets smell like??
I know the smell one is kind of random but you cannot tell me that you have never noticed that streets smell different everywhere you go. Like for example, every time I go to Mexico to visit my family I notice the fantastic smell of the grilled meat. You do not understand the smell of grilling meat until you're there. That was the first thing that my boyfriend noticed when we went to visit the first time, he kept asking what the delicious smell was and where it was coming from!...Just close your eyes for a second, imagine that you are walking down the street and you notice a smell that is all of the sudden taking you to the realization that you are hungry. No it doesn't matter if you JUST ate, no, this smell will make you hungry. The smell of a fresh cut of meat, carefully marinated and placed on the coal grill. It's the kind of smell where you can definitely picture the grill marks on the steak. It makes your mouth water and you don't even know what is going on! ...No, I am not saying all of the streets smell that way but you know what I'm saying. When I think of mexico, I immediately think of that smell.
When I realize that I do not know what other places smell like or what the wind feels like in another place my heart aches because I know that in this life time I wont be able to go everywhere I want to go to. So, like anyone else I have come up with a bucket list of the top places I want to visit first and it I am able to go to many more, that will be fabulous!
The first place I absolutely need to go is Spain, why? Because I am very curious about the history, art and architecture of many of the cities. Having my Bachelor's Degree in art history might be one of the main reasons for my curiosity but hey, it doesn't hurt to explore a little bit. I want to know what the cathedral of the Sagrada Familia looks like in person, I want to see the mosque that was built after the Middle East took over for a while... all the blended architecture and the art that was made is incredible. Traditional Spanish cuisine is definitely 100% better than anywhere else, I can't wait to try Tapas for the first time, or paella made in Spain! My mom has made it before and I have tries paella at many different restaurants (of course that was when we still lived in Mexico, here is Canada I have not found a good Spanish restaurant.) but anyway, it is not the same. There are many cities I want to visit in Spain but the top one would be Toledo and here is why... that is my last name. While I grew up I saw a little crest with our family name and it looked so official, you know what I mean? I thought it was so cool that we had a family crest! (which we do, but is not with this last name...that is for a whole different story.) Any-who...I was quite disappointed at the fact that my dad had gotten it from a souvenir shop, but that made me wonder about thins place. I know it is nothing over the top but it looks like a cute little town guarded by these massive walls... It is curious and one day I will be the one taking a picture of that city.
The second place I absolutely need to go is Italy. I know I am being very broad about the places I want to go but it is way easier to narrow it down by country than by city. There are many cities in Italy I want to visit, for the art, architecture and the food! Can you picture yourself seating outside of a small coffee shop with a cup of coffee on your right hand and a canoli on the left? I sure can... also, the things I have heard about the pizza..hmmmm. I cannot wait to go! God, the carbs... You are probably thinking man, this girl goes hungry all the time or there must be something wrong with her. But no, I just LOVE food. The other main reason why I need to go to Italy is the art, I know I already mentioned it but it is honestly the thing that makes me want to go there the most. Imagine walking down the streets that Leonardo DaVinci walked on, being in the same place where Michelangelo stood trying to figure out the right perspective to paint the ceiling on the Sistine Chapel, or standing in front of Raphael's murals...ugh! Yes, I am that person that will take you to every gallery and museum to see everything. I love traveling and learning about the history of a place by the art they display... Like looking at a painting of a man in armor is not just that, there are many different items that make that painting be something worth taking a closer look at. There are an incredible amount of things to consider when looking at a painting, the clothes, the color, the thing in their hand, what they are looking at ... oh, so many things that I could go on forever!
There are many, many other places I wish to go to but those are my top two; there is also France, Lithuania (random I know, but I had a professor that lived there and the pictures he showed in class where beautiful!), Germany, Australia, some cities in the U.S and some countries in South America. But like I said, I would love to travel for the rest of my life and visit every single country, taste all the food and take thousands of pictures!! That would be the life, but who gets paid to travel forever?
Reader insights
Be the first to share your insights about this piece.
Add your insights