Winter Travel Destinations for 2022 | Michael Barbieri PhD
Take a look at some of the best places to travel this winter season.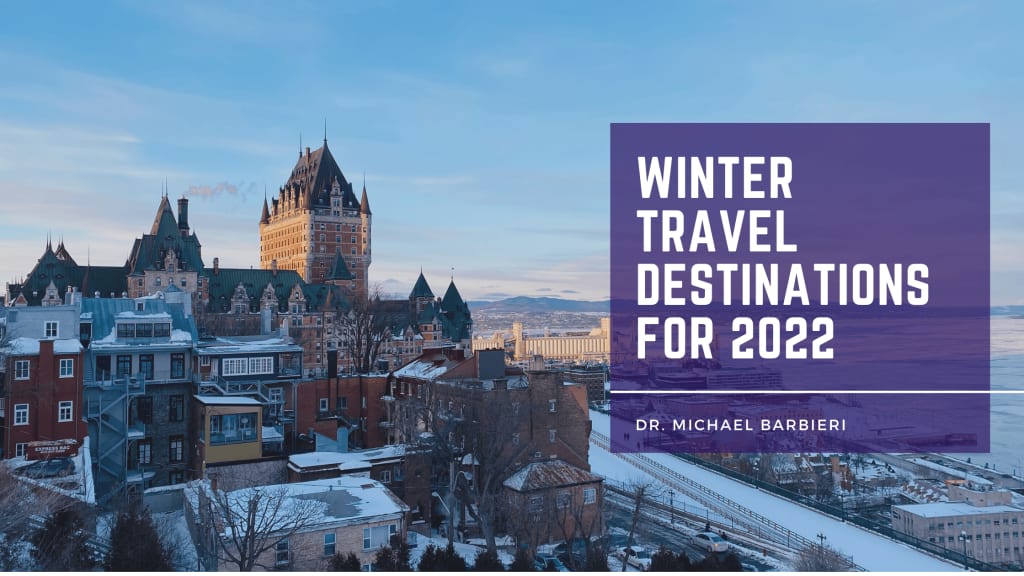 https://drmichaelbarbieri.net/winter-travel-destinations-for-2022/
Although many people think about summer vacations, winter is a great time to take a break from the hectic schedule and enjoy a solo trip or vacation with friends and family.
There are two types of winter travel: a snowy getaway or a warm-weather destination. There are many ways to enjoy a winter vacation, such as traveling to a tropical beach or a snowy mountaintop. In this article, are the best places to visit this winter.
Maui, Hawai'i
One of the most beautiful islands in the Hawaiian archipelago is the island of Maui, which is known for its year-round tropical climate. During winter, it is a great time to visit the island and enjoy its many activities. Some of the most popular activities on the island include whale watching and exploring the area's numerous beaches. December through March is also a great time to see humpback whales as they migrate to the site.
Mammoth Lakes, California
If you're looking for a place to fully enjoy all the winter has to offer, look no further than Mammoth Lakes, California. This charming town is known for its numerous ski resorts, such as Mammoth Mountain. It's also excellent for winter activities, such as sledding and cross-country skiing. The area is only 20 minutes away from a beautiful hot spring, perfect for relaxing and warming up.
The Maldives
The Maldives is a perfect place to go for any occasion. The tiny islands, known for their immaculate resorts and exquisite beaches, are perfect for anyone looking for a relaxing getaway. Those who think they'll get bored of the island will be disappointed. The country is family-friendly and, during the British winter season, it's at its best.
Cyprus
Although the eastern Mediterranean Sea can be cold in winter, the island of Cyprus gets plenty of sunshine throughout the year, making it an ideal destination for adults and children. During March, the flowers on the island start to bloom, and there are only a few people in the area. The island is only a short hop away from the UK, making it an ideal choice for families.
Abisko, Sweden
One of Sweden's northernmost train stops is the Abisko National Park, an excellent destination for serious winter lovers and those taking Europe breaks at the Icehotel in Kiruna. Located in the Arctic Circle, Abisko is known for its low light pollution levels, making it an ideal location for viewing the Northern Lights. During December and January, the sun is below the horizon.
About Michael Barbieri PhD
Alongside a skilled and fulfilling professional career, Dr. Michael Barbieri has cultivated a rich personal life where he's been able to enjoy hobbies and interests he's accrued throughout his life. A phenomenally successful international businessman, Michael has distinguished himself in every industry he's chosen to touch.
Perhaps most notably, Dr. Michael Barbieri was the youngest flight instructor and instrument and multi-engine instructor in St. Louis, Missouri, where he worked for a while as a Professional Commercial Pilot for several corporations.
Additionally, Dr. Michael Barbieri is a Professional Bodybuilder and the owner of Body Builders Inc., where he operated ten of the largest independently owned bodybuilding facilities in the Midwest. A groundbreaking figure, Michael was also the first one to introduce a co-ed workout facility in 1978, where men and women could work out together. Dr. Barbieri also served as a judge for the National and International PNC and IFBB Professional Bodybuilding Judge. Dr. Barbieri has also served as the owner of BBC Finance and the Federal Collection Agency. He is also an accomplished musician and has had multiple articles written on his success in myriad areas.
All of Dr. Michael Barbieri's hard work and success have earned his induction into the Marquis Who's Who in America in 2021 for his accomplishments throughout his lifetime in multiple industries. Through his work in law enforcement, Dr. Michael Barbieri has worked to successfully solve six Cold Case Murders, two of which happened in foreign countries. He is also trained on kidnappings – both domestic and foreign – and has worked with numerous governmental agencies around the world.
About the Creator
Michael Barbieri, PhD is an experienced private investigator who has led a significant number of successful missions, resulting in solving cold case murders, kidnappings, domestic investigations, and more.
Reader insights
Be the first to share your insights about this piece.
Add your insights