Why Montréal Is the Greatest City in North America
No Contest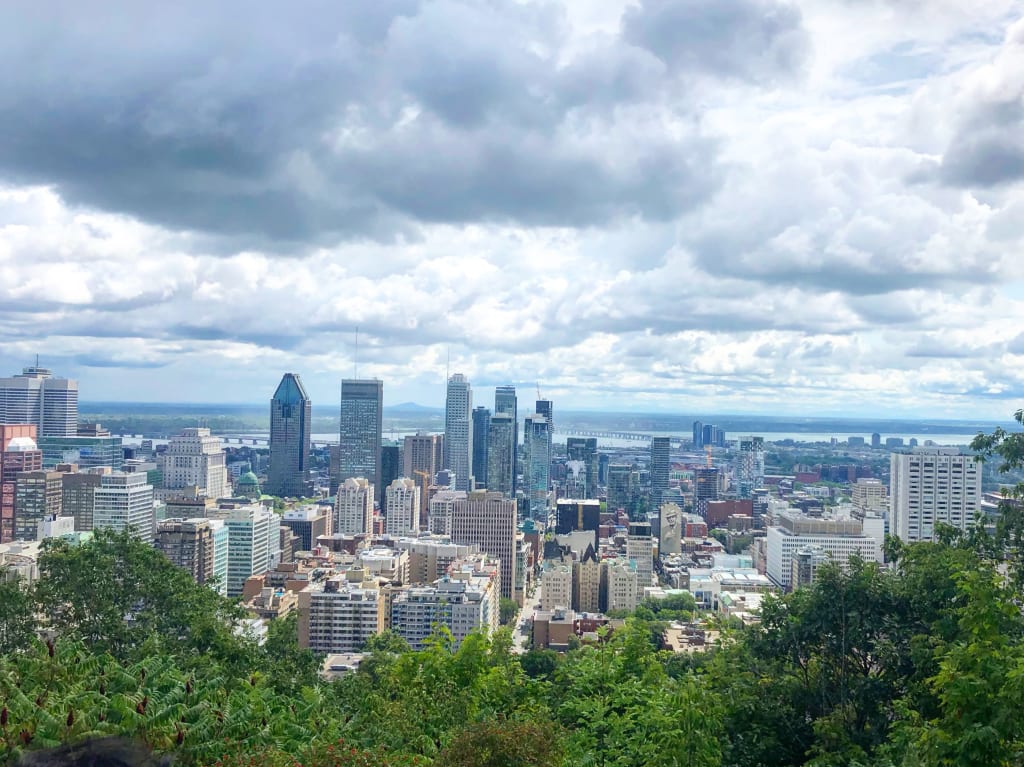 I never had much opportunity to travel outside of my home country of the US, so recently when I was able to spend four days in the city of Montréal, Quebec, I was ecstatic. From what I heard, the city is a hub for arts, culture, food, and music, all of my favorite things. I stayed in an AirBnB in the nearby suburb of Chambly (which has an amazing cafe and pub culture I might add), and made the 35 minute commute to the city every day.
With the amazing views of the St. Lawrence river greeting you as you cross the bridge, and the beautiful modern skyline of the city surrounding you, it's an experience in and of itself to simply enter the city. But that's just the beginning. I've visited Seattle, Boston, New York, and Miami, as well as some other hidden gems in America such as Burlington, Vermont and Northampton, Massachusetts. All of those were great, but here's why I think Montréal takes the cake as the greatest city in North America.
1. It's Safe
I never drove in the city during my visit. I parked my car, and either walked or took public transit. And I'll be dead honest, even in some of the sketchier areas, I felt totally fine walking the city. I attended high school in the city of Hartford, Connecticut, one of the least livable places in the Northeastern United States, so maybe I'm biased. But even if I am, I never once felt as risk or uneasy during my time out on the sidewalks.
2. The People
I loved every person I met in this city. From the people I randomly interacted with on the street, to waitstaff and clerks, to the guy I accidentally bumped into on Mount-Royal, everyone here is so kind. With the three words I'm able to speak in French, they would assure you to not feel embarrassed, and even if they didn't speak English, they would still do their best to help you. I asked one gentleman in a cafe for directions to a local record store (Beatnik Records, pay them a visit), and he didn't speak English. I apologized to him, but he held up his finger and used his phone to translate the street names, and the length of the walk. You would never find that type of effort in most US cities where the people typically avoid contact with random people on the street. These are some of the nicest, and most beautiful people in the world, and just that is enough to make me want to come back.
3. The Culture
Just walking around the city is a huge cultural scope. Chinatown, the Latin Quarter, Little Italy, you name it. It's very similar to New York City in terms of it being a melting pot, yet even more warm and welcoming. Not to mention the amazing museums, theaters, and art galleries that line the city like the cobblestone roads. It has a thriving bar and party culture.
With the legal drinking age being 18, everyone is in on it. But amazingly, drunk driving, and other alcohol-related health issues aren't widespread, meaning that people enjoy themselves without excess. I might also add that cannabis is legal, but you could walk around the whole city, and not notice, even though use is widespread.
The food culture is definitely worth diving into. I remember one specific street-side restaurant in the Latin Quarter serving me a Croque Monsieur (a french baked sandwich with ham, cheese, tomatoes, and raw onions). It wasn't only one of the best sandwiches I've ever had, but one of the best meals I've ever had in general. I went back the next day to get the same sandwich, and it was just as mesmerizing the second time.
4. The Summer Weather
Amazing what traveling 350 miles up north from your home can do to the weather. In a six-hour drive I went from 85 degrees with 99 percent humidity to a comfortable 75 degrees and totally dry. Still warm and sunny enough to take a dive in the pool or a lake, but you don't need to keep your air conditioning on in the house. I won't speak on the winter end of things however, I'm not a fan of the snow, so I think I'd be a bit biased.
There are probably hundreds of other things I could mention that make Montréal as great as it is, but maybe I'll continue this list on my returning visit. Safe travels to all of you, and visit this amazing city if you get the chance!
canada