Why Is Littering Bad For You?
The Backgarden Survivalists, Chapter 2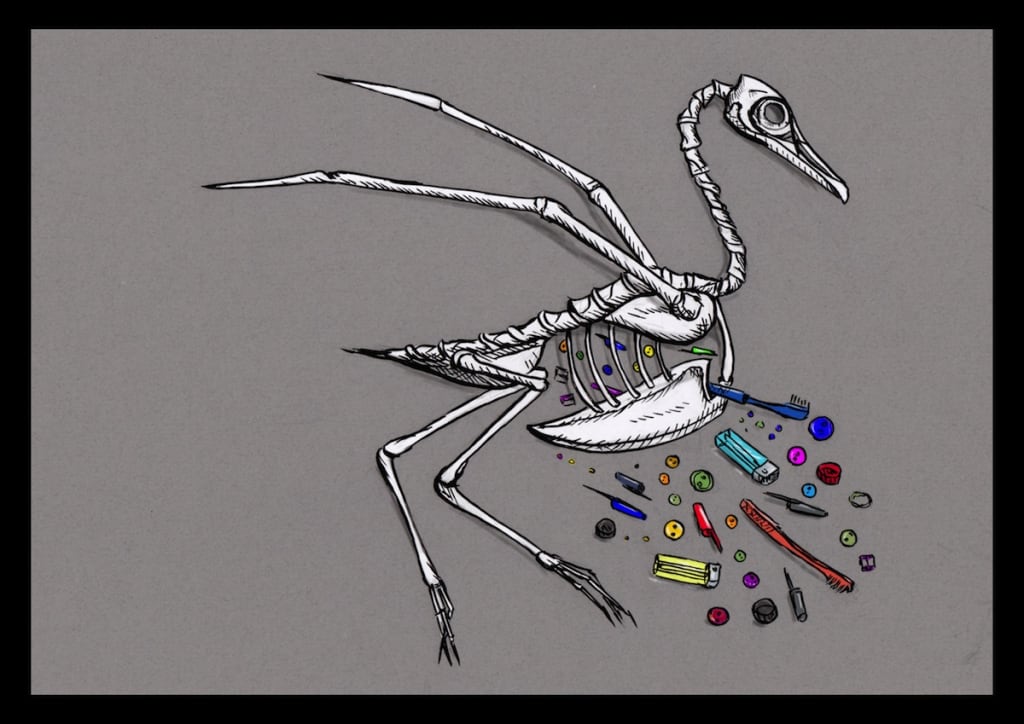 This autumn Ian and I have started a new habit. Every morning, we go out for a little walk because it's healthy and pleasant, provides us a nice wee breath of fresh air, and gives Sophie, a lovely, even if sometimes a bit sulky, husky dog an opportunity to see cows, sheep and other friends and get some exercise with the company of her small pack. Usually we don't go far, just a few kilometres from home, walking on a quiet country road. Well, actually it's not always that quiet as we happen to live quite close to a quarry, and pretty much every day, apart from weekends, dozens of lorries drive in and out, turning a quiet country road into a rather noisy, smelly and a bit dangerous highway.
Unfortunately, busy traffic is not the only thing that makes us a tad depressed during our little morning walks. To put it briefly, roadsides over here tend to be filthy. Cans, bottles, disposable cutlery, takeaway containers, plastic bags, paper cups, face masks, cigarette butts… the list containing all the types of this sad, abandoned waste material is surprisingly long.
One morning we finally got so fed up with that distressing sight that we thought we have to do SOMETHING. This something we decided to do is very easy; pretty much anyone can do it. Every morning, during our walk, we simply pick up one piece of rubbish, bring it home with us, and put it into the correct bin. I'm wearing garden gloves in order to carry out this little task in a hygienic manner but of course you can always wash your hands afterwards too. It may be that this new habit of ours mostly has symbolic value but still, it is better than nothing. (Ian told me that keeping the roadsides clean actually used to be someone's job but apparently, for some reason, there's no more communal resources to take care of this rather simple duty.)
What, then, does all this have to do with survivalism?
On the surface, rubbish lying around may seem only an aesthetic problem. Unfortunately this is not the whole truth. Littering is actually classed as a type of pollution and has devastating consequences on the environment. For example, because of the litter lying everywhere, animals are at risk of choking, getting obstructions in their digestive system, becoming very sick from the toxins the litter contains, and so on. In the worst case, the population of an animal species could collapse, affecting the whole ecosystem, often in unpredictable ways.
But that is not all. Highly dangerous chemicals, such as arsenic, nicotine and heavy metals found in cigarette stubs or bisphenol A and phthalates found in plastic receptacles, can leak out of the litter and pollute the soil and nearby water (not to mention oceans that suffer from severe plastic pollution these days). These toxins may then end up in the human body via the food chain. Pathogens in the litter pose a serious threat as well, as they can lead to epidemics. On the other hand, if the rubbish contains flammable materials a small spark or even lightning can immediately start a fire that can easily become uncontrollable, leading to great losses of lives and property.
So, the threats definitely are real, there's no doubt. The question is, therefore, how should one approach such risks? For us, survivalism doesn't mean just getting prepared for the hard times. We find that actually it is better to try and prevent the risks from occurring than to live with realized threats. Of course, in some cases you're not able to put a stop to unfavourable development, at least if you are more or less alone with your concern. Climate change is a good example of these kinds of colossal threats that are very difficult to approach and tackle (which doesn't mean you shouldn't try). But littering seems to be a relatively simple problem to solve. Just don't be lazy and put your rubbish in the bin. Recycle if you can. And avoid everything disposable as much as possible.
- Ian and Saara
* * * * *
Tänä syksynä Ian ja minä olemme aloittaneet uuden tavan. Käymme aamuisin pikkukävelyllä, koska se on terveellistä ja miellyttävää, saamme siemauksen raitista ilmaa ja Sophielle, herttaiselle joskin joskus hieman jörölle husky-koiralle, tarjoutuu siten tilaisuus nähdä lehmiä, lampaita ja muita ystäviä sekä saada vähän liikuntaa yhdessä pienen laumansa kanssa. Yleensä emme kulje kauas, vain parin kilometrin päähän kotoa, hiljaista maalaistietä pitkin. Tai ei se oikeastaan aina niin hiljainen ole, satummehan asumaan lähellä louhosta, ja melkein joka päivä, viikonloppuja lukuunottamatta, vastaamme tulee kymmeniä kuorma-autoja, jotka tekevät hiljaisesta kylätiestä meluisan, haisevan ja vähän vaarallisenkin.
Valitettavasti liikenteen vilkkaus ei ole ainoa syy lievään alakuloon, jota usein tunnemme aamulenkillämme. Lyhyesti sanoen, tienvieret ovat törkyisiä näillä main. Tölkkejä, pulloja, kertakäyttöaterimia, noutoruoka-astioita, muovipusseja, pahvimukeja, kasvomaskeja, tupakantumppeja… surkean, hylätyn jätemateriaalin kaikki eri lajityypit kattava lista on yllättävän pitkä.
Eräänä aamuna saimme lopulta tarpeeksemme tuosta murheellisesta näystä ja tulimme siihen tulokseen, että JOTAKIN on tehtävä. Se, mitä päätimme tehdä, on hyvin helppoa - oikeastaan kuka tahansa pystyy siihen. Joka aamu lenkillä ollessamme yksinkertaisesti poimimme maasta yhden roskan, viemme sen kotiin ja laitamme asianmukaiseen roskikseen. Pidän puutarhahanskoja voidakseni suorittaa tämän pikkuhomman hygieenisesti, mutta tokihan kädet voi myös pestä jälkeenpäin. Voi olla, että uudella tavallamme on lähinnä symbolista arvoa, mutta silti, on se tyhjää parempi. (Ian kertoi, että aikaisemmin joku on työkseen huolehtinut tienvarsien siisteydestä, mutta ilmeisesti tähän pieneen tehtävään ei kunnallisilla toimijoilla enää jostain syystä ole varaa.)
Miten tämä kaikki sitten survivalismiin liittyy?
Päällisin puolin luonnossa lojuvat roskat saattavat näyttää pelkästään esteettiseltä haitalta. Valitettavasti tämä ei ole koko totuus. Oikeastaan roskaaminen on luokiteltavissa eräänlaiseksi saastuttamiseksi ja sen vaikutukset ympäristöön ovat tuhoisat. Joka paikassa viruvan roskan takia eläimet esimerkiksi ovat vaarassa tukehtua, saada tukoksia ruoansulatuselimistöönsä, sairastua vakavasti jätteen sisältämistä kemikaaleista ja niin edelleen. Pahimmassa tapauksessa kokonainen eläinlajin populaatio saattaa romahtaa, millä on usein arvaamattomia vaikutuksia ekosysteemiin.
Mutta ei siinä vielä kaikki. Jätteet sisältävät usein erittäin vaarallisia kemikaaleja, kuten tupakantumpeista löytyviä arseenia, nikotiinia ja raskasmetalleja tai muovituotteissa käytettyjä bisfenoli-A:ta ja ftalaatteja, jotka voivat päätyä saastuttamaan maaperää tai lähialueen vesistöjä (puhumattakaan valtameristä, jotka nykyään kärsivät mittavasta muovisaasteongelmasta). Nämä myrkyt saattavat kulkeutua ravintoketjun kautta myös ihmiskehoon. Roskassa mahdollisesti vaanivat taudinaiheuttajat muodostavat vakavan uhan nekin, piileehän niissä epidemian vaara. Jos roskat taas sisältävät helposti syttyvää materiaalia, voi pieni kipinä tai jopa salamaniskukin aiheuttaa tulipalon, joka helposti leviää hallitsemattomaksi ja voi johtaa ihmishenkien ja omaisuuden menetyksiin.
Roskaamisen aiheuttamat riskit siis ovat epäilemättä todellisia. Kysymys kuuluukin, kuinka tällaisiin uhkiin tulisi suhtautua? Meille survivalismissa ei ole kysymys ainoastaan vaikeisiin aikoihin varautumisesta. Ajattelemme, että on oikeastaan parempi pyrkiä estämään riskejä toteutumasta kuin elää toteutuneiden uhkakuvien kanssa. Toki joissain tapauksissa epäsuotuisaa kehitystä ei ole mahdollista pysäyttää, ainakaan, jos on kovin yksin huolineen. Ilmastonmuutos on hyvä esimerkki tällaisista massiivisista uhista, joista on hyvin hankala saada kunnollista otetta (mikä ei tarkoita, ettei sitä pitäisi yrittää). Roskaaminen kuitenkin vaikuttaa suhteellisen helpolta ongelmalta ratkaistavaksi, kunhan vain ei vaivu laiskuuteen ja laittaa roskat roskikseen. Kierrätys kunniaan, mikäli sinulla on siihen mahdollisuus. Ja karta kaikkea kertakäyttöistä, jos vain suinkin voit.
- Ian ja Saara