Why I find bicycle touring the best way to travel
Put away that backpack and get on a bike!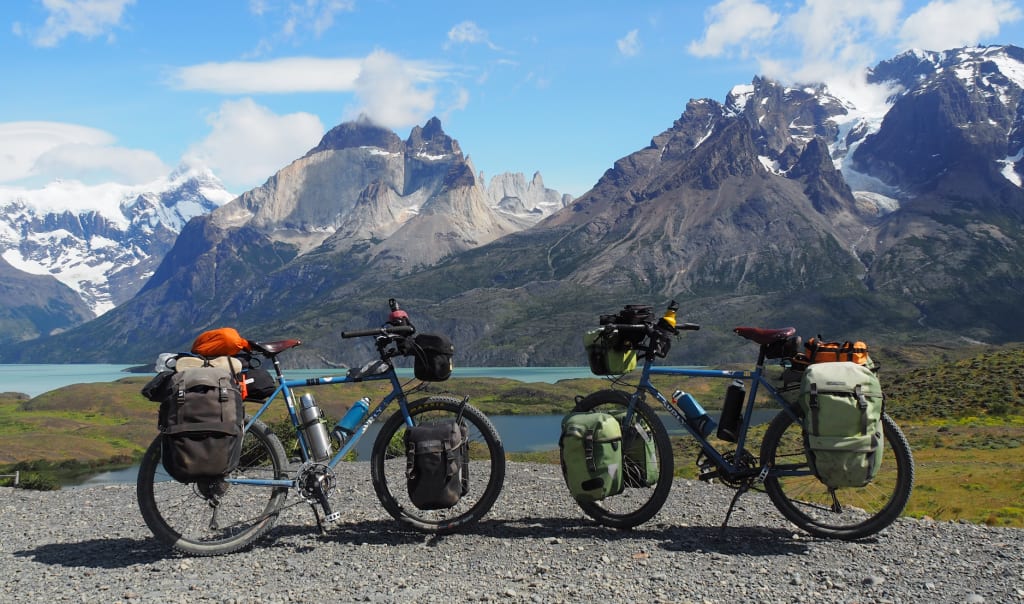 Torres Del Paine - Patagonia, Chile
Before setting off on my bicycle tour around the world, I knew I wanted to go travelling. I didn't really think about the method, I imagined I would just pack a backpack and catch a flight somewhere. The rest would figure itself out along the way. I had done small trips before my grand idea; six weeks in Kenya & Tanzania, three weeks in Thailand and city-hopping in Europe. Despite the amazing memories, I did remember the 13-hour bus rides along bumpy roads, whizzing past small towns & villages to get to the cities or the next tourist destination.
Whilst sat on a beautiful beach in Thailand drinking a mojito, my partner & I discussed our dream to travel the world. I wanted to go to South America but my partner, Conrad, said he was not keen on backpacking through the continent. I agreed, thinking back to the journey we had undertaken just to get to this small island from Bangkok (plane -> taxi -> bus -> taxi). How could we experience everything travelling offers but with more freedom..?
Bicycle touring was something I'd never really thought of as a way of travelling. Which is kind of crazy as I love cycling and I love camping. A few friends had completed cycling trips in the past, even one doing US coast to coast but I still never considered it. Then when Conrad suggested it, all the pieces fell into place. I was 100% in.
The top of my list was South America. After doing some research, we realised that traversing the Andes of Chile & Argentina wasn't the easiest way to introduce ourselves to the world of bicycle touring. So we looked closer to home to just over the Channel, France. We discovered that France could not only supply ample cheese, wine and pastries but also dedicated cycle paths which crisscrossed the country. It soon became obvious these paths could take us beyond France, opening up the whole continent of Europe.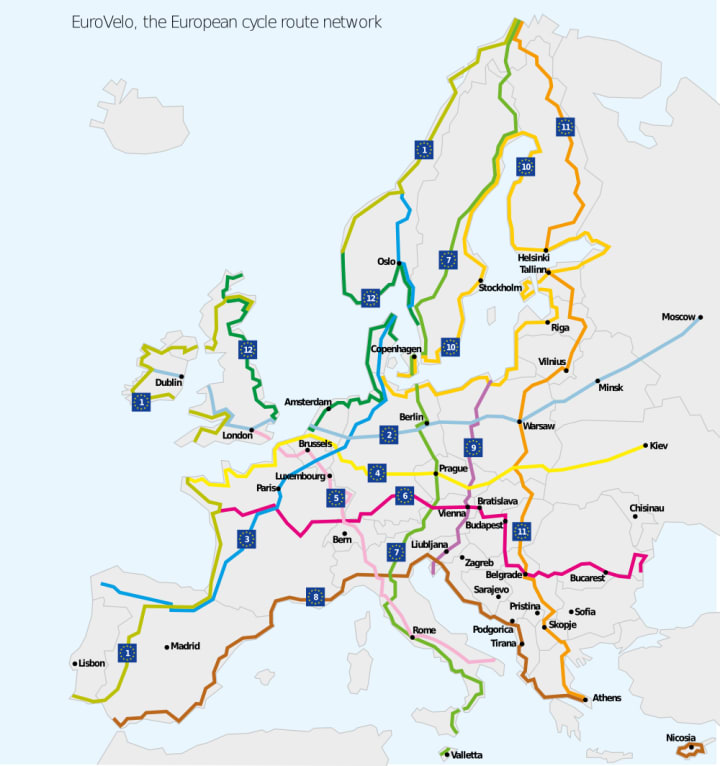 Like kids in a candy shop, we started to plot a route using the Eurovelo routes, a network of 17 long-distance cycle routes connecting the continent north to south, east to west. This extensive network makes it perfectly viable for any level of cyclist to travel any distance they wish. With friends & family along the way, we chose to follow Eurovelo 6 starting in France and finishing in Romania. We thought that if this way of travelling wasn't for us, at least we were close to home and not stuck on a dirt road in Chile... So on April 24th 2017, we got on a ferry and began pedalling from Nantes in France.
Over three years later, we are back in the UK. We've ridden 27,000km through over 30 countries in 4 continents. So I can safely say that bicycle touring is, by far, my favourite way to travel and here are my top 5 reasons why:
1. You are on your own schedule. No need to worry about catching the bus or train on time. Leaving when you want feels so liberating, especially if you get anxious about travelling!
2. Seeing your surroundings in a new way - Travelling slowly really makes you feel like you are there in the moment, you see every blade of grass and every wave from a local. You become used to taking days instead of hours getting to your destination. Which brings me onto my next point:
3. Discovering a country differently - You have no choice but to stop in the tiny village at their only shop to pick up some dinner or their version of bread for breakfast. I've interacted with locals on another level to my backpacking travels, they are interested in the bicycle, asking where you're from and where you've been (albeit language barriers). On countless occasions, we've been invited into people's homes. I can't really think of a better way to understand a country's culture and customs other than meeting the people, eating what they eat and living how they live.
4. Bicycle touring comradery is something else - One thing that I have now that I didn't have before the trip is friends all over the world. On the road, you are bound to meet other bicycle tourers; some going the opposite way, some you'll meet in a hostel for a night and have a different plan but often you'll also come across those going the same way as you. This is can be very common in countries that only have one road going in that direction! It becomes an intense relationship very quickly as you are eating, sleeping and riding together all day every day. You're all dealing with the same highs and lows which makes it all the more rewarding at the end of the day when you crack open a beer over a fire.
5. Being outside 24/7 - It's not something you realise until you are on the road but when you are in the cycle of riding and camping day in, day out, you only venture inside for supplies. Appreciating the nuances of your surroundings whilst you eat lunch on the side of the road is something I'll never take for granted!
Bicycle touring opens up a whole world of invigorating and achievement filled travel for all. It has taken me to some corners of the world I didn't know existed when I started and, of course, you get some killer Instagram shots!
Instagram: @worldon2wheels
Youtube: World On Two Wheels