Why I Always Fly with Virgin
Bring on the new!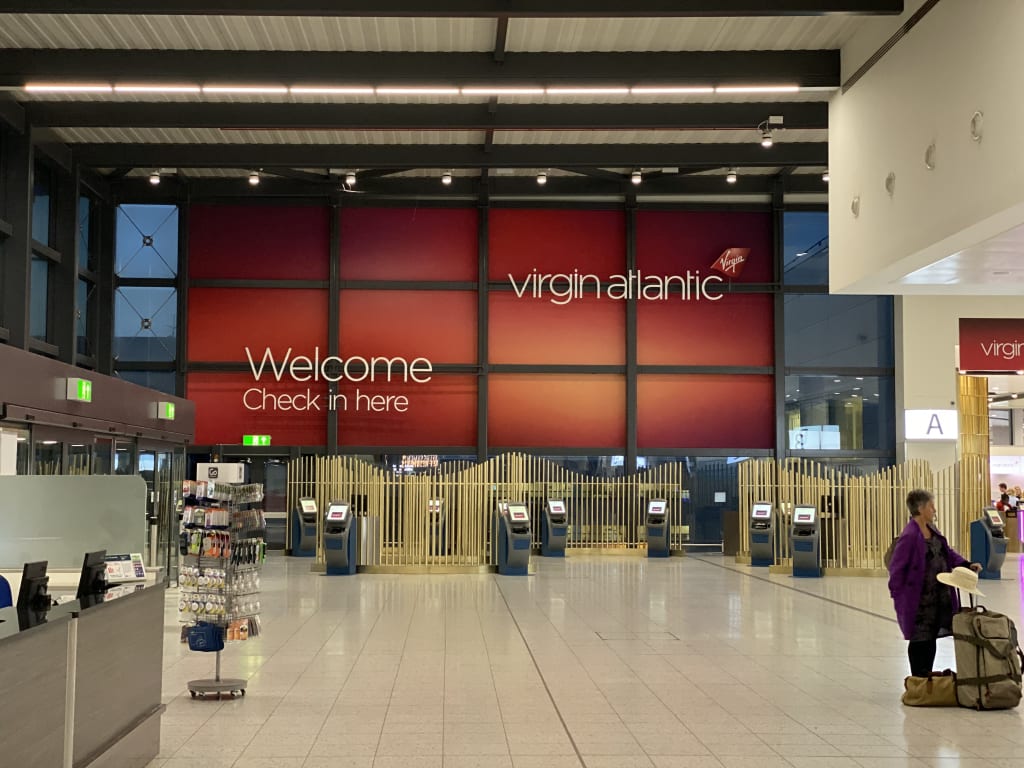 I wouldn't call myself a frequent flyer, but I do have at least 1-2 holidays a year which are mainly long-haul. They are usually to the Caribbean and Americas. One of my last holidays was to St. Lucia, a lovely country with great food, hotels, and culture. A bit on the pricey side, but the warm welcome given more than makes up for the empty pockets on your return.
On this trip, we booked an alternative carrier as Virgins prices weren't that competitive. I am a man who likes to get the most for his money, so we went for the cheaper option. My sister always gives me stick for penny pinching. But for me, its just me being careful with my limited funds, as I don't consider myself to be an individual flushed with cash.
I won't name the carrier we booked with, however, they are a stalwart of the British Skies. Wink wink.
The boarding process was a non-event and we were soon settling down in our window aisle seats, looking out of the window at the minions bustling around outside prepping for our departure.
The first thing I noticed was the decor, we must have been on the exact plane that made its maiden voyage on launch day for the company! Now, the whites were a dull brown hue, the seat covers were loose, and some places seemed to be darned by hand with ill matching thread. As the plane was taxiing, the jerking and bumping was extremely noticeable because my seat was moving rhythmically. 'This can't be right!' I thought, and as I looked down, I saw the bolts that held my seat in place. Two were missing?!
The screen to supposedly watch movies on was the size of an 80s Nintendo Gameboy, with pixels to match. There goes my ability to block out the seven hours of flight time ahead. It was of no surprise that there was no headphones placed at my seat, and when I requested another set, the reply was there were no spare ones available.
To say it was a torturous flight to sunny St. Lucia would be an understatement. There was no leg room and I had to convince my wife to change places so I could stick my legs out into the aisle just to gain some relief. I felt that this was a sure way of getting deep vein thrombosis.
On the upside and surprisingly, the food provided was edible and was greatly appreciated.
Can someone explain to me why the air conditioning on planes is kept sooooooo high? The paper thin blanket stuffed in the chair pocket in front offers not an ounce of protection from the gale emitting from the overhead vents. So not only were my leg veins trapped in stasis, they were slowly being turned to ice!
Once the plane had landed and the cabin doors were released, the warm St. Lucian air started to thaw my limbs. As I stood up to stretch out my creases, I couldn't help but notice I was not the only one suffering from the effects of reduced temporal stimulation and warmth.
However, word has it, this bastion of the skies have just replaced their old stock of planes with new swanky ones.
This is not the experience for me when traveling on any Virgin flight. There is enough leg room, the screens are iPad size, and the air conditioning is at a moderate level.
I hope I never ever fly on a plane manufactured circa 1972!