Why Capsule Hotels Are a Good Idea
From Tokyo all the way to Amsterdam, capsule hotels are here to stay!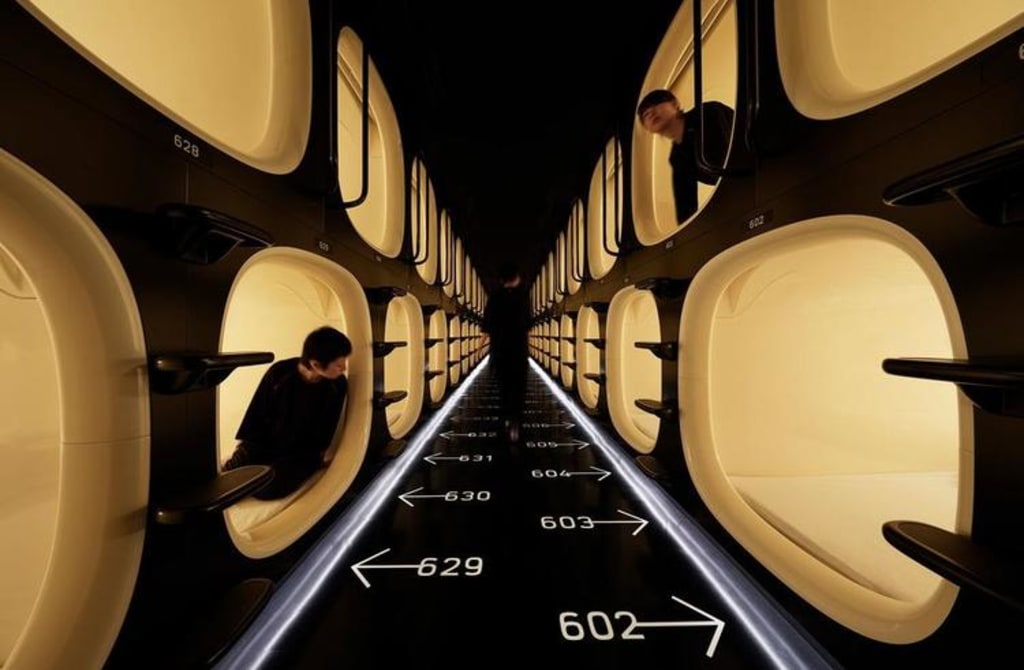 If you don't know what a capsule hotel is; it's basically a fancy hostel where, instead of sleeping in bunk beds, you sleep in a literal capsule together with 20-40 other people (all in individual capsules of course, not in the same one). All other areas such as the bathrooms are shared, but most capsule hotels do offer individual shower rooms to keep guests as comfortable as possible. In most of these hotels, it is also common to separate men from women, which is also common in hostels. This concept originated in Japan, and has since become popular all over Asia and Europe.
The reason why this became popular outside of Japan is largely due to social media. YouTubers from all over the world go to Japan to film their experience in capsule hotels. However, originally these capsule hotels were made for businessmen who worked late (or had too much to drink), and who needed a last-minute place to sleep, as well as backpackers who were seeking the same thing. Regular travelers might be a bit skeptical about the idea of having to sleep in a small pod for an entire night, which is why I made a list of reasons why it IS a good idea to book a capsule hotel for one or more nights.
Please note that these capsules are wide enough, and you can comfortably sit up, I have never seen anyone become claustrophobic in these. There is enough air flow, and the pods only close with blinds/curtains that you can easily open or close, not with an actual door. You can also leave the blinds open at night if you wish to do so. However, if you are aware that you are extremely claustrophobic, it is better to avoid them just in case.
Now back to regular programming!
It's cheap
This is the most important reason for many travelers to book a capsule hotel. In big cities like Tokyo, prices for a simple hotel room in the city centre can be extremely high. The good thing about capsule hotels is that they are located in the same areas as where you would find a Hilton hotel, but they are half the price.
Their location
Because capsule hotels don't need large buildings to accommodate a large number of guests, they are generally located in the most prominent areas of cities. This means that if you exit your capsule hotel, you are essentially already where you need to be. This is a huge advantage to most hotels (excluding some four and five star hotels) as they are generally located further away from the city centre to offer enough room to their guests.
It's very clean
Capsule hotels have the advantage that they are small, and people put their belongings in lockers, which ensures that all rooms in the hotel remain fairly clean on their own. Of course, a cleaning team cleans all pods on a daily basis as well. Additionally, no food is allowed in the capsule rooms, which also ensures the cleanliness of the place at all times. I found these hotels to be significantly cleaner than the hotels I stayed at in Asia.
It's a good option for when you lost your luggage
All capsule hotels provide you with the regular clean towels, slippers, soap, etc. But additionally, they will also give you very comfy pyjamas, umbrellas, a toothbrush and toothpaste, a bag to do some shopping, and any other items you might have forgotten to pack. This means that you could essentially show up without luggage, and they would have everything ready for you without even having to ask. As airlines losing luggage is very common, capsule hotels will always be ready to help you out whenever needed.
It's extremely comfortable
While the capsules might not seem very comfortable from the pictures, it's almost like a child's dream to have your own little fort of blankets where no one bothers you. The bed is surprisingly comfortable, you can charge your electronics from your capsule, you can close your capsule 'door' for extra privacy, some have a TV or iPad where you can watch your shows, and most capsules also have temperature—and light—controls where you can set the mood to whatever you like. The best part is: you don't have to get out of bed to do any of these things!
It's quiet
Most capsule hotels have a "keep quiet" policy in all rooms, except for the lounge. This means that the entire experience of sleeping in a pod becomes almost like a spa day. There are no loud noises from outside, no loud noises from your neighbours next door (the hotel also provides good quality earbuds in case your neighbour snores), not from the cleaning lady who's knocking at your door at eight AM... It's the perfect opportunity to work, read, or just enjoy the peace and quiet for a while in the middle of a big city.
It's a good place to meet new people
Because you have to be quiet in all rooms except for the lounge, the lounge becomes the meeting point of all guests at the hotel. The vibe at most capsule hotels is very much like a hostel, which means that people are generally very engaging and friendly when you say 'hi' to them. It's the perfect place to meet some new friends along the way.
Now you have seven more reasons to book that capsule hotel you have been looking at! If you're not sure which capsule hotel to book, I can always recommend ninehours. This is a very low-budget, yet modern capsule hotel, which you can find all over Japan. Other than that, I recommend looking at Google reviews to see what might be your best match in terms of location, budget, space, and amenities. Happy traveling!