Which Are the Deadliest Forests in the World?
Deadliest forests and where they are...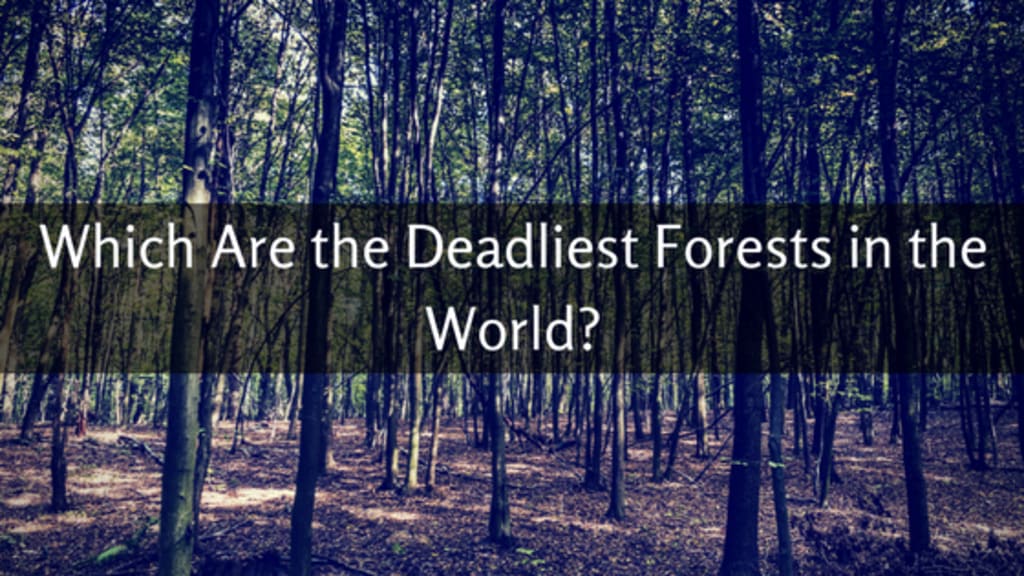 Dealliest forests in the world
A few decades ago, 30% of the land area across the globe was covered by forests. While this percentage may have dropped because of rapid urbanization and industrialization, forests still are a major part of the ecosystem. They are origin to exotic plants and herbs, and provide a natural environment to different types of flora and fauna. Being dominated by tall trees, shrubs, grasses, wildflowers, and animals, a few of the forest areas are converted into wildlife sanctuaries. For those adventurous by heart, forests provide them ample of opportunities to explore their wild side. But, despite verdant greenery and presence of rare medical plants, many forests have been labeled as the deadliest for humans. Major reasons that contribute to this factor are the presence of venomous plants, animals, insects, labyrinths, marshes, treacherous terrains, being haunted, and hideouts for extremists and terrorists.
Amazon Rainforest
Amazon Rainforest, also known as Amazonia or Amazon jungle, is the world's largest forest spanning across seven million square kilometers covering nine nations of South America. It covers 50% of the rainforests existing on planet earth. The rainforest is fed by the Amazon river and 1100 tributaries creating an ideal ground for exotic flora and fauna. While a major portion of the Amazon lies in Brazil, its few parts are stretched across Peru, Colombia, Venezuela, Ecuador, Bolivia, Guyana, Suriname, and French Guiana.
Amazon rainforest bears the richest biodiversity in the world. It is a home to millions of plant species and thousands of animal species. A broad variety of poisonous plants, like strychnos and curare, and deadliest animals, like green anacondas, jaguars, black caimans, cougars and others, have been discovered. Being densely thick, it is impossible for humans to penetrate deep into the forest, and those who did venture there never came back.
Sambisa Forest
Once renowned for its thick vegetation, stray elephants, poisonous reptiles and other deadliest creepers, Sambisa Forest has now become a safe hiding place for the Boko Haram Jihadist group. It is located in Borno State of Northeastern Nigeria. It is hugely dense, wide, and full of labyrinths that makes it easy for the terrorists to hide. The forest is one of the main strongholds for the jihadist, who find it a safe refuge after unleashing havoc on humankind. They made the forest their home-ground in 2013. The forest serves as a safe dumping ground for the terrorist group whenever they kidnap general people. Being hugely populated by tall trees and dominated by hilly terrain, the Sambisa forest makes it difficult to track and hunt down terrorists.
Crooked Forest
Crooked Forest is located outside Nowe Czarnowo village and West Pomorania province in Poland. It's been named so because of unusual shape of the grove of pine trees. There are over 100 pine trees that are twisted just above ground level towards the North direction, so that the trees look like an upside-down question mark. Some say the trees are bent by snowstorms, or floods. Others believe the trees are bent by a technique applied by men so that they can be used directly in building boats. Another speculation is about the pine trees being planted by Germans in 1930. Some theories even talk about witchcrafts and energy fields. Also, many horror incidents and paranormal sightings have been reported here.
Tsingy Forest
Located in Madagascar, "Forest of Knives" or Tsingy Forest, is actually a stone forest formed of limestone by geographical changes several centuries ago. The limestone rocks rise up to 70 meters from the earth with razor-sharp edges. The forest is divided into two areas, namely Tsingy de Bemaraha Strict Nation Reserve, located near the western coast of Madagascar, and Tsingy de Bemaraha National Park in northwest Madagascar. Going inside the stone forest is dangerous, since there is a very narrow opening between two walls. The convergence of two walls also forms a narrow opening obstructing the sunlight. Many locals claim that people who tried to go there never came back. Despite the harsh and rough conditions, many species like lemurs, long spiders, birds, etc, are found here.
Black Forest
Black Forest, located in Southwest Germany, is considered as a large forested mountain range. No doubt, it consists of the finest flora and fauna, but is also famous for its attractive lakes, fountains, etc. Despite this, it is still regarded dangerous for humans, due to the presence of a variety of deadly animal species and wild creatures. The reason it has gained this name is for being massively populated by the tall pine and fir trees that form such a wide and thick canopy that no sunlight penetrates through. As a result, there is darkness in the forest even during the daytime. The forest is also associated with myths and legends of spooky and haunted noises emanating from nowhere.
Aokigahara Forest
Aokigahara Forest, also known as the sea of trees, is a place of various mysterious and weird happenings, which is why it is called the "home of ghosts" by local villagers. Located in Mount Fuji, Japan, this forest has become internationally famous as a suicide point as a lot of people go there only to commit suicide. Since 1950, about 500 suicide cases have been reported. Perhaps, the height of the rocky mountains and probability of getting lost drive people to this forest to commit suicide. It is rumored that due to interference of underground iron deposits with compasses, many visitors had lost their path and died. Moreover, these forests are so dense with large trees that many hikers easily get lost.
Hoia Baciu Forest, Romania
Also referred as the Bermuda Triangle of Transylvania, Hoia Baciu Forest is located in Transylvania region of Romania. It is considered to be one of the most haunted and scariest forests in the world. According to the locals, it can be a portal to another world from where no one can return and also where UFOs, ghosts, and weird noises are common. Also, it has grabbed the attention of many people, including parapsychologists, ghost hunters and others, for all the wrong reasons for more than half a century. If someone is lucky to survive, they experience unusual feelings, such as insomnia, thirst, nausea, anxiety, vomiting, etc. The weird shape of the trees also makes the forest the creepiest place.
Daintree Rainforest

Daintree Rainforest is located on the northeast coast of Queensland, Australia and is considered one of the best natural attractions. This forest is not only dense and thick, but is also one of the oldest and most beautiful rainforests in the world. Despite this, it falls under the category of deadliest forests and that is because of the presence of the wild animal species, like the saltwater crocodile, which are dangerous for human lives.
Jog Falls Forest
Jog Falls Forest is located in Karnataka state of India, and has the second highest plunge waterfall in India. The waterfall is connected with a huge forest that is still not explored, due to an inaccessible path. The falls are actually the main attraction for tourists, and are 13th most attractive falls in the world. The forest is among the deadliest, due to its huge and deadly waterfalls, and that is why entry for humans is completely restricted in monsoon seasons. Also, there is a signboard of danger at the checkpoint, so that people can understand that they don't have to enter for adventures in the forest. Moreover, many people have claimed that there are hidden caves surrounding the waterfall, which makes this forest even creepier. This forest is also very dense with presence of varieties of dangerous wildlife species.
Jiuzhaigou Forest
Located in China, Jiuzhaigou Forest is not only the deadliest forest, but extremely beautiful, as well. Anyone can easily get mesmerized by its beauty and can get lost in it. The forest is very dense and contains varieties of the deadliest wildlife species that can cause instant death to humans. Although there are no cases of paranormal sightings or terrorist activities reported, and since it is open for visitors, it's best to have a guide so that there are fewer chances of getting lost.