Where has Coach Mandy Jo been?
On a business trip/vacation.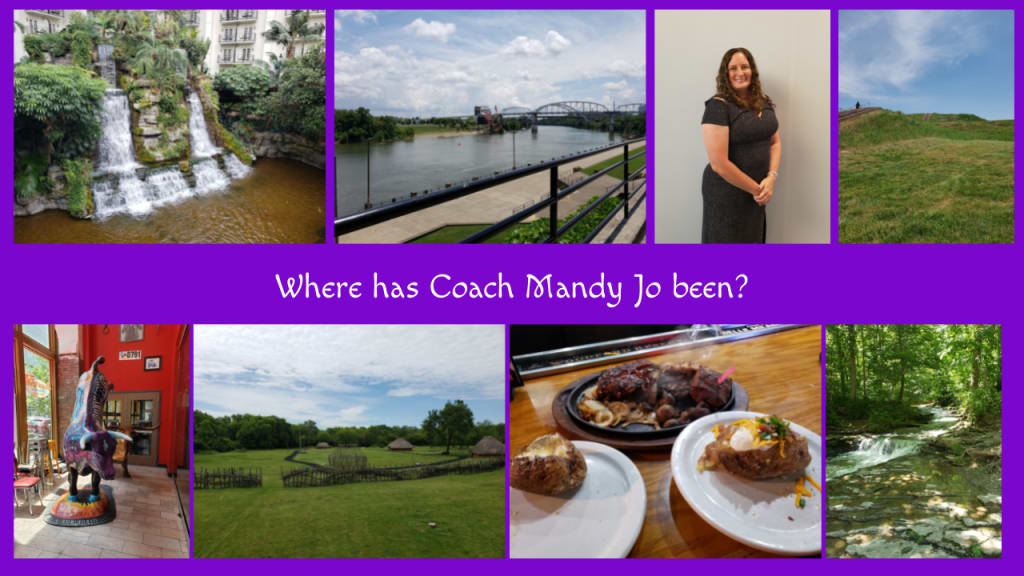 What?!
Yep, we always put a vacation around our business trips.
This business trip took us to St. Louis, Missouri. We had a convention that was Friday evening and all day Saturday that ended with a gala and dance.
Our vacation part started out in Terre Haute, Indiana before and then afterwards we swung over to Nashville then up through Kentucky and Ohio to home in Michigan. I will give you the highlights and some pics below.
Wednesday, June 16th
Let's get this trip moving!
Our trip started off and we drove to our first stop, which is a usual stop when heading this direction, at Chick-Fil-A in Noblesville, Indiana. The only disappointment was that the inside was not open. When on the road I really like to get out and stretch my legs. We went down the road a little bit to a hotel and used their parking lot to get and eat by our vehicle.
We then made it to the hotel in Terre Haute, Indiana. We stayed at the Holiday Inn Express & Suites. Unfortunately the pool and hot tub were not available. They were waiting for a pump for the pool. Now, there would have been a way to block off the pool and still get to the hotel, but they didn't.
Dinner was at Rick's Smokehouse. We love BBQ and were looking forward to going there, just because of the name. For those that don't know, my boyfriend's name is Rick. We were not impressed with the food. It just wasn't very flavorful. It was ok.
Thursday, June 17th
On to the convention
When we go to a convention, we always stay at the host hotel. This makes it easy to go back to the room for any reason. The Marriott St. Louis Grand was where we stayed. This is a nice hotel, but no pool. The hotel is actually in two buildings and you can go between them underground.
For our dinner we walked over to Sugarfire Smoke House. We have been here before and we enjoyed it this time as well.
We were ahead of the convention, so it was a great time to relax.
Friday, June 18th
It was a warm one!
This was a busy and warm one. We started out by walking over for breakfast at Rooster. We had some crepes - they were ok. It wouldn't excite me to go back.
Next on the agenda was going to the Cahokia Mounds State Historic Site, which is actually in Collinsville, Illinois. The day got up to 103. We still went for a walk around a couple of the mounds and up to the top of Munks Mound.
We survived the heat and headed off to Fitz's for lunch/dinner. This is a favorite place of mine. They make a great burger and the pop/soda is made right there on site. Of course, we got a variety case for the road.
Then finished off the evening with our national training event/convention, the core reason why we went. It was great to be in person and see everyone's smiling faces.
Saturday, June 19th
It's gala day!
The hotel's restaurant offered a buffet on Saturday and Sunday mornings. It was a nice setup, but I do like my omelets cooked more. I am not a fan of runny eggs. Thankfully they did have bacon done right and some great fruit.
Saturday morning's training session was about marketing and we learned some great things there. After the morning session it was time for lunch. We walked over to Snarf's MX Downtown. They have great sandwiches. They have locations in Colorado, Missouri and Texas. If you happen to be near one, I highly recommend stopping in.
Saturday evening was what we had been preparing for and looking forward to for a while. The gala event (pic of Rick and I below) was great and we ended the evening with dancing. During the gala they announced a great new opportunity within our business where it's excessively easy for people to make that extra money that so many are needing these days. If you want the details, just reply to this email and we'll set something up to chat about it.
Sunday, June 20th
Off to Nashville
Being that it was Father's Day, there was no business stuff scheduled. We took our time and headed off to Nashville. This included stopping at Waffle House for breakfast. It was a longer than scheduled drive due to construction.
We pulled into the Courtyard by Marriott for our stay. The bummer was that they no longer had their hot tub, although the picture on the hotel's website shows a hot tub. If you like a heated pool, that was there. The front desk gal said that the hot tub has been gone for a couple years. Yes, I will be putting a review on TripAdvisor. I picked the hotel because of the hot tub.
Finishing up the day, we went to Santa Fe Cattle Company. This was a great find. The meal that we split was steak (which we had 2 and each done the way we like it), chicken and ribs sitting on a bed of mushrooms and onions. We will be returning here when in town.
Monday, June 21st
Time to Explore
I actually did not have anything scheduled for this day. We started out at the Cracker Barrel for breakfast, after stopping by the Bob Evans and they only had 1 server show up for work. Then it was off to downtown. We found a parking garage and went walking. We did stop by Fort Nash and along the riverfront. Do you remember the blast that took place downtown on Christmas morning? They are still rebuilding and sections of downtown are still blocked off.
After picking up a purple Nashville t-shirt, we went back to our vehicle and headed out for the Nashville Parthenon. It's a full scale replica of the Parthenon in Athens, Greece. I hadn't thought about going there until we were watching the Food Network and Trisha Yearwood had recommended it.
Gaylord Opryland Resort & Convention Center. It is not free to park there, but once you go in it's well worth the money. They have beautiful gardens and you can get a lot of walking in. We also went on an indoor boat ride which gave us some great details about the hotel. As we walked around we determined that we will be returning to Nashville and staying here. There's a huge indoor/outdoor waterpark right on site.
As always, we headed off to eat. We were going to go to one restaurant and even though it said open, they were not. So, we decided on going to Paula Deen's Family Kitchen. The food was very tasty and one thing to note is that they serve everything family style, even for 2. We even picked up a set of new pans to take home.
Tuesday, June 22nd
On the road again.
We decided to give the Bob Evans a try. We had a little bit of a wait, but not long and they had more than one server come in.
As you can tell, we don't drive for very long between stops. So, we stopped at Saunders Springs Nature Preserve. Only saw one waterfall, but we got some great hiking in. This is another one that would be great to return to, so many trails to travel there.
After our hikes we were hungry. Tried to find a BBQ place, but have no idea where it was at. We ended up over at Cheddar's Scratch Kitchen. Yes, it is a chain, but not one we have near us. This is one that we will be visiting again. I had a very tasty darkened salmon over rice with carrots and corn. Plus, they had an awesome crescent roll before hand.
We learned a few things that I hope that others will learn from our mistakes. The first thing is that if you end up getting a new credit card for whatever reason, ours was due to fraudulent activity, you need to update your credit card on file for your already scheduled hotels. The second is to answer all the strange numbers that pop up when you are driving to your next hotel. The hotel we had booked tried to call us - only 1 call showed up and a voicemail. However, because we were driving through the mountains and trying to deal with lots of semi's we didn't answer an unknown number and didn't realize they left a voicemail. So, when we arrived at our hotel they had canceled our reservation. The reason they gave us was that it was policy if we weren't there before 6 pm and they couldn't charge the card, that if they needed the room for someone else that could pay at that moment, they could cancel our reservation if we didn't answer the phone. They said that they tried to call us 3 times, but I only see 1 on the missed call log. Now, it's 7:30 - the only missed call was at 7 pm, and we need another hotel. Meanwhile, there's lots of kids in the lobby and it was noisy. The manager did come out and recommended a hotel for us. I called them and we were off. This was a definite blessing in disguise. This hotel was MUCH quieter.
We ended up at the Marriott Cincinnati Airport. The pool was NOT heated, but it was quiet. The room was nice and spacious. This will be on our list of hotels that we will return to.
Wednesday, June 23rd
The final stretch home.
For our final breakfast we went to the local Waffle House, which was a nice quick meal. Then on to way home.
We did have one stop on the list and that was the SunWatch Indian Village/Archaeological Park. This was worth the stop. It was a self guided tour with lots of signs along the way. You get to walk through where the village was with a few huts that were available to walk through.
Lots of traffic from there towards home. We did make one more stop for lunch at a Chick-Fil-A in Ohio. Once again the inside was not open. We asked if they knew when the inside would be open and we were told July 5th and it would be company wide. While picnicking in the shopping center parking lot there were fighter jets that flew overhead.
We made it home safely around 4:30/5:00 pm.
humanity
About the author
Mandy Jo loves writing fiction and travel. Currently her writings are a fictional story but also a walking training manual; some recipes that she made over Christmas; a mystery series, and a fantasy series.
Reader insights
Be the first to share your insights about this piece.
Add your insights