Where are the best Christmas lights in London?
From Regent Street to Covent Garden, London has the best Christmas Lights 2020. Here are the best displays and decorations for the festive season.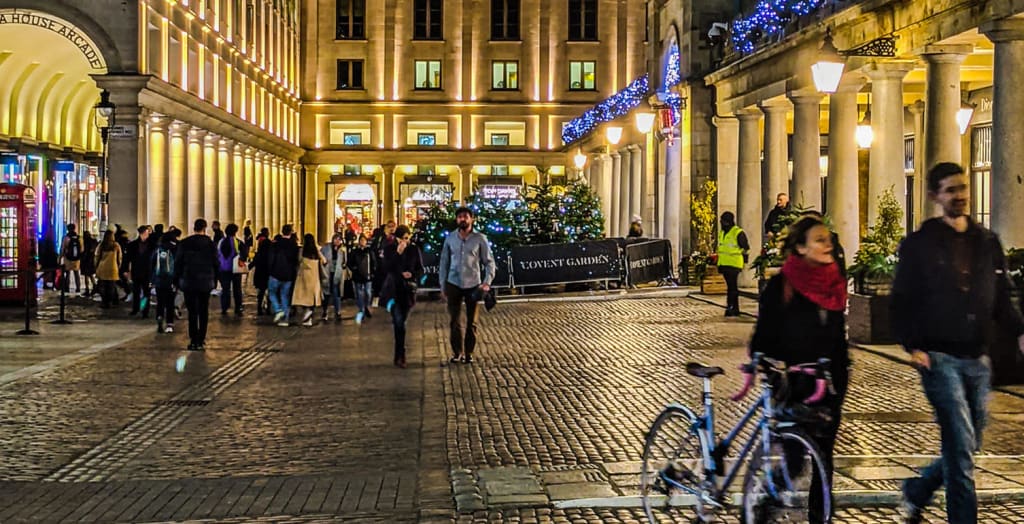 Photo by @Sstreetsoflondon
It is unlikely that vast crowds will be travelling to see lights turned on across London this year, which makes them even more appealing than ever.
See the city at its most sparkly once London switches on its Christmas lights for 2020
OXFORD STREET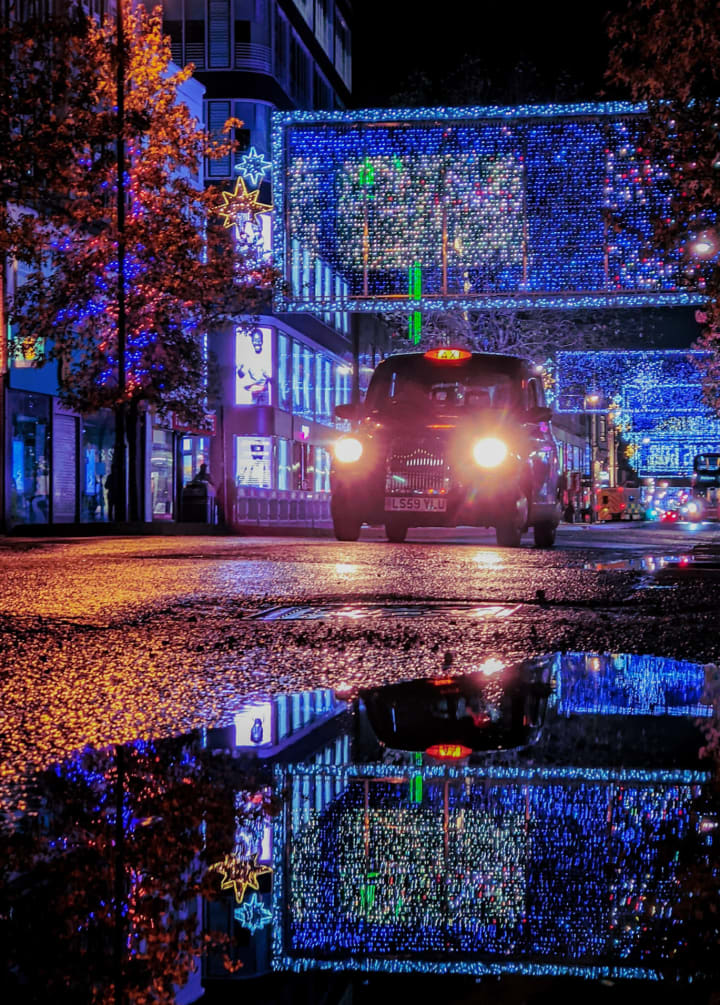 The place that most locals avoid like the plague becomes an attractive place to head when the Christmas lights are turned on, making the busiest shopping street in Europe sparkle. There are 27 LED curtains draped down the street this year, made up of 222,000 bulbs.
The sculpture illustrates the words of a poet dedicated to London and those who have worked tirelessly in a turbulent year to keep the city going.
Sadly, due to safety restrictions, there was no big crowded celebrity switch-on. As a small compensation, the lights arrived earlier than usual t5his year.
REGENT STREET
In its usual style, Regent Street is this year shrouded in glittering lights that extends through Oxford Circus, St James and Waterloo Place. The 300,000 LED lights have been crafted into 45 ghost-shaped displays that create a warm canopy over the neighbourhood. Take a socially distant walk to admire the festive decorations, which are as decadent as any this year.
MARYLEBONE VILLAGE
Typically, the Village is a cheerful, community-oriented event that always has a fitting twinkle in its eye. This year, the lights were switched on the evening of Wednesday, November 4, in response to the revised lockdown policy. From Wednesday, November 11 (the originally planned date for switching on the Christmas lights), exclusive online discounts of 20 per cent will be available from High Street retailers including Caroline Gardner, Kabiri, KJ's Laundry, Margaret Dabbs, Luca Faloni, Rachel Riley, The Ginger Pig and Tracey Neuls.
CARNABY STREET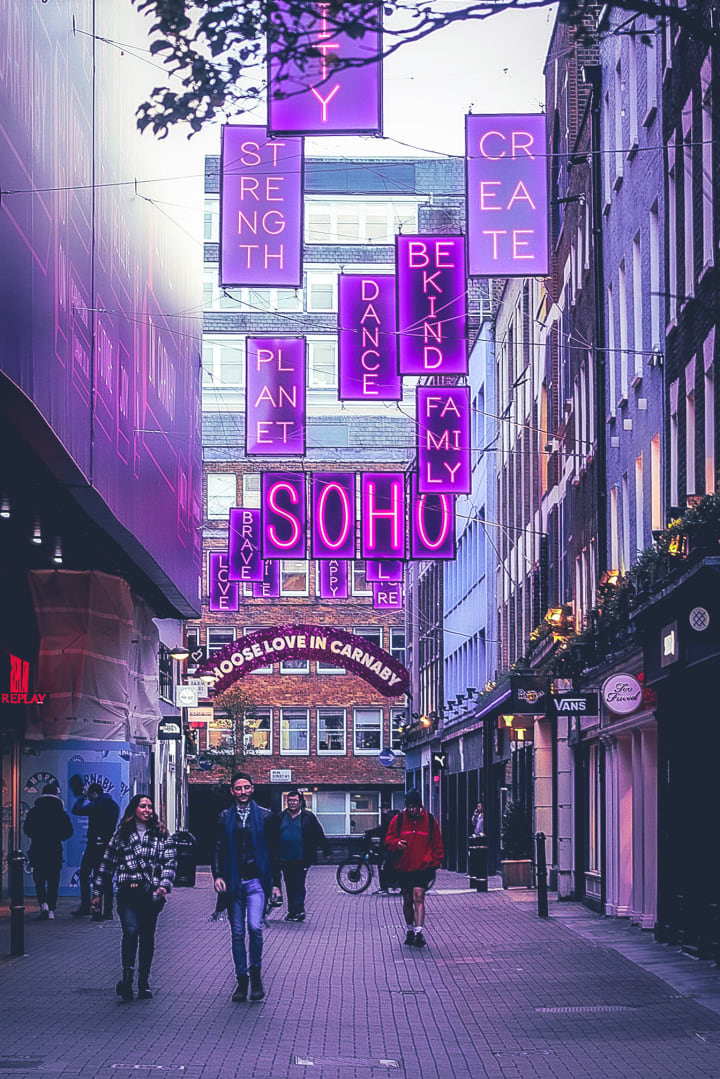 This year Carnaby has teamed up with Choose Love, a charity run by Help Refugees, the world's only shop selling genuine gifts for refugees. In addition to a Choose Love pop-up shop, which will be located at 24 Carnaby Street during the festive season, the street will be bathed in pink neon light from a series of lightboxes that extend along the entire length of the thoroughfare. Each box will contain a positive word to pay tribute to the strength, courage and kindness of Londoners during this challenging year.
COVENT GARDEN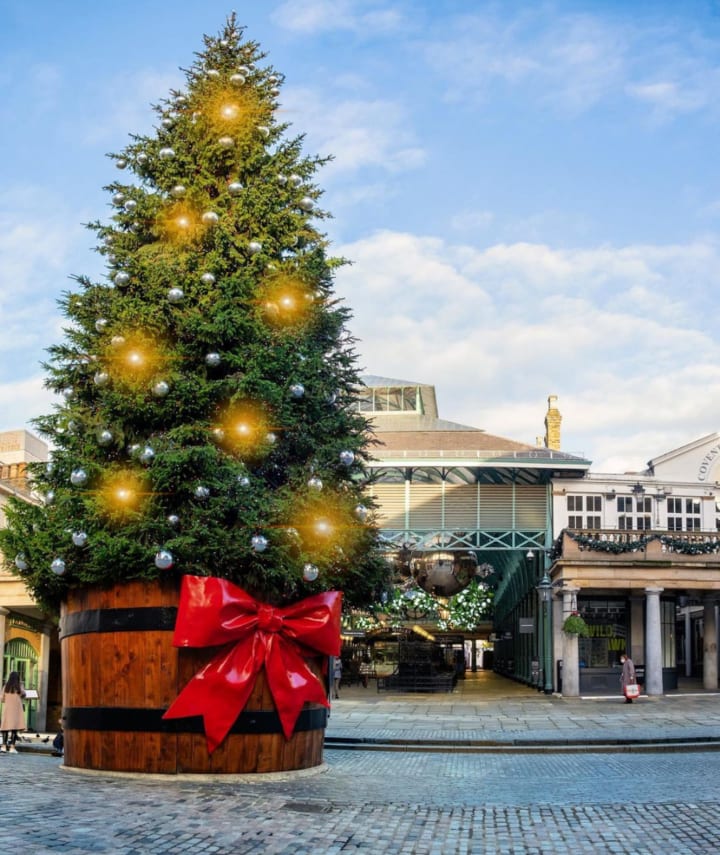 Even in the hellscape of 2020, Covent Garden's cobbled piazza and market buildings will still look irresistible this winter. You can expect another huge, hand-picked Christmas tree that glitters across the piazza and adjacent streets with 30,000 festive lights and 115,000 lights. The lights were on from November 10 but unlike previous years there was no public switch-on in 2020.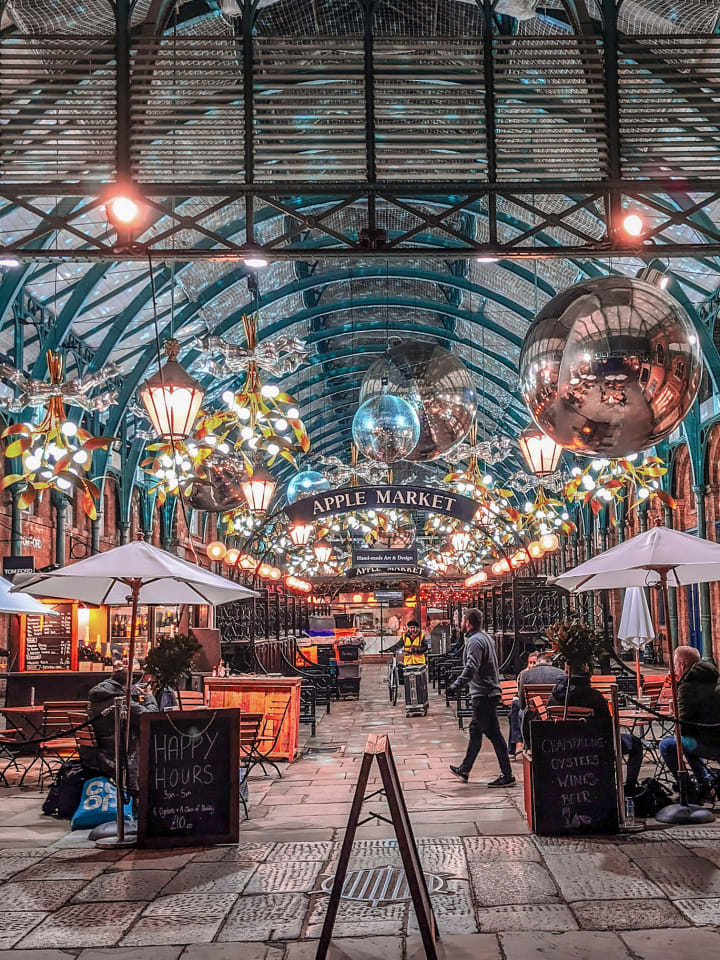 CONNAUGHT VILLAGE
Right in the middle of London, this village brings Christmas spirit to its high street at the end of November. Besides twinkling lights and festive decorations in the shop windows, renowned artists Rob & Nick donated their interactive artwork "Wavelength" to the neighbourhood. The free, neon-coloured exhibition, which was previously on view at Tate Modern, can be viewed from the outside so visitors can stay away socially while viewing.
SOUTH BANK CENTRE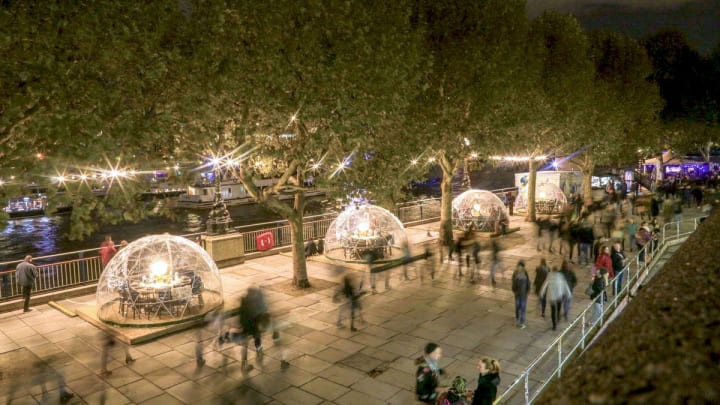 The Southbank Centre has announced it will be staging an outdoor art exhibition in the colder months. Winter Light will present 17 light and colour commissions that will take over the buildings and Riverside Walk. Installations are added in waves, and they are all completely free to look at, socially detached and to see in the great outdoors. Work will continue into the new year.
KEW GARDENS
Kew Gardens looks more spectacular than ever as it adorns its grounds with glittering Christmas lights. Now in its eighth year, the illuminated evening path features more than a million twinkling light bulbs, thousands of laser beams illuminating the trees, and a breathtaking light show set to a festive soundtrack at the Palmenhaupond. A stroll along the atmospheric winter hiking trail with spicy apple cider, festive atmosphere and COVID-friendly practices is guaranteed.