Week 1: Oregon to Utah
Traveling as LGBTQ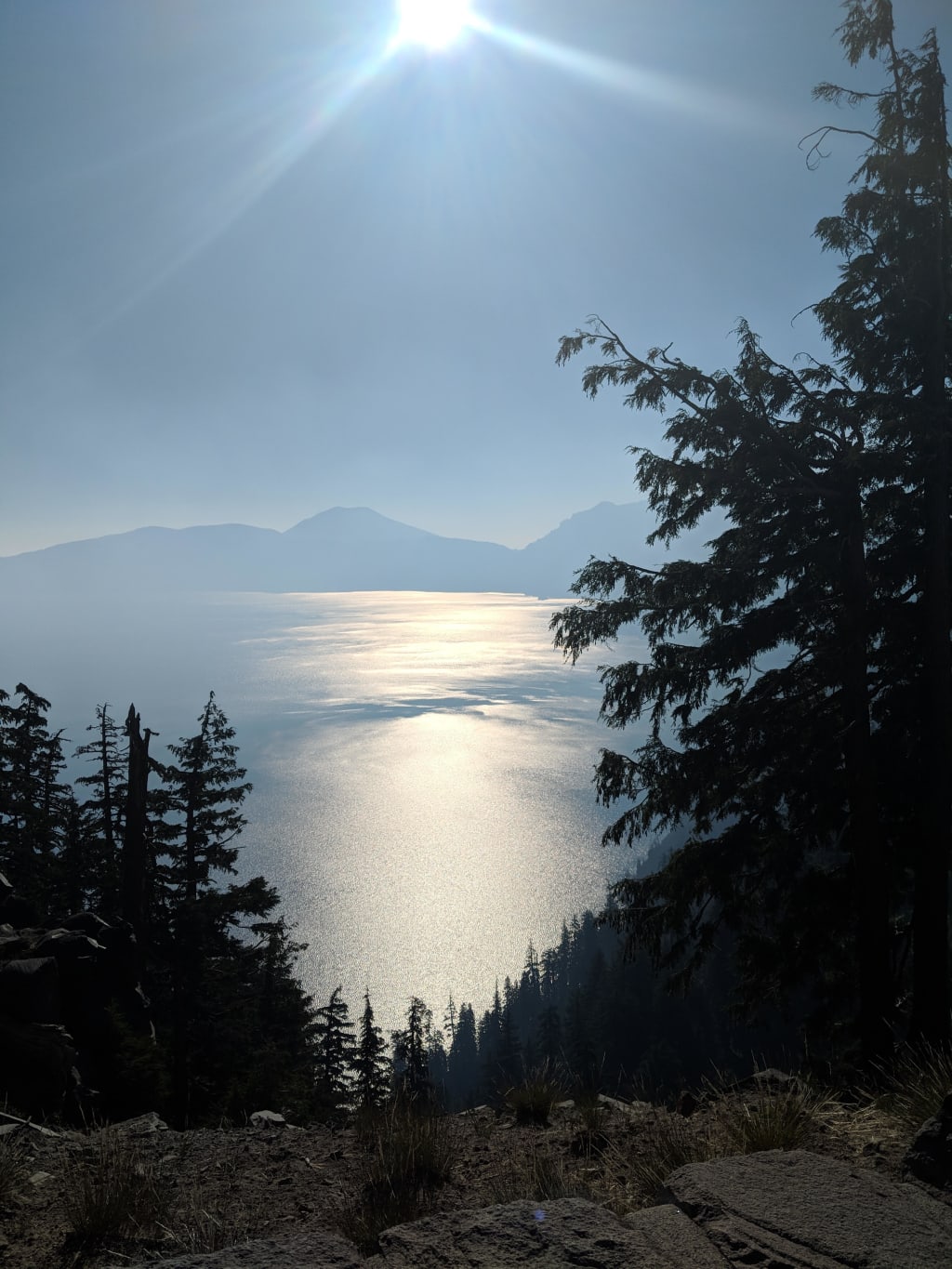 Crater Lake, OR
So far in our trip we have traveled from Seattle to Portland, from Portland to Central Oregon, and yesterday (Monday, August 13th) we went from Central Oregon to Utah. Today, we will be driving from Utah to the Four Corners Monument. It has been a pretty amazing week, and I am so stoked for what we have planned over the next couples weeks. During our travels we have experienced a few interesting interactions with various people who we have told that we are on our honeymoon. We have received both positive and somewhat negative reactions, which I am a tad surprised about since we were still in the PNW. I knew that by going further south in Oregon, we were more likely to get a negative response, however I still hoped for better. For the most part though it has all been pretty great.
While camping with my family in Central Oregon we had several people come up to us because they wanted to pet our pup. During small talk some of the people started to ask specific questions about what we were doing there. One family in particular who we spoke to said they were visiting from San Francisco area, and had two young children. As we were talking, the six-year-old boy heard us say that we were on our honeymoon. He asked his mom "So wait... the two girls got married?" and the mom very sweetly responded with " Yes! Just like our two female friends who just got married!"
Once she said that the kid understood perfectly, and clearly had a positive reaction, and continued to pet our dog Charlie. I thought that it was very cool that the mom was super casual to talk to her child about two women getting married when sometimes that's not the case. Another interaction we had was while we were talking to this woman who was staying in the campsite next to ours. Her daughter had just got married at the campsite that weekend, so we were bonding about new marriage and the excitement that goes with being a newlywed. Two of her friends who were also guests of the wedding came into the conversation a few minutes later, and when she had told them that we just got married too they became super awkward and responded with, "ohhh…" We could immediately tell that they felt uncomfortable and didn't know how to react to that. Frankly, I found this to be a little rude, because I feel like even if you don't believe in supporting gay marriage or whatever, you could still be polite and give some sort of a better response.
One thing that I have been a little worried about when driving through certain (potentially unsafe) states is what will happen when we stop at small town gas stations or rest stops. I have some hesitation to walk in to the bathrooms, or just the gas stations, because I can look very obviously gay, and I am worried that there might be some huge homophobe that will harass me, or do something even worse. For example, if I walk into a female bathroom and I am wearing baggy mens clothing, with one of my snapback hats, and with no makeup on, I am worried that someone would mistake me for a dude and react negatively. I have told Sasha that she doesn't really have to worry about that because she looks more like a "typical" girl. I know I don't look particularly "butch," but it still bothers me that I have to worry about this. This always make me think of the scene from Season 3 of The L Word where Moria/Max is traveling to L.A with Jenny, and when they stop at some small town gas station she is called a freak for going into the woman's bathroom, and Moira/Max is physically attacked.
I know that this was a while ago (2006), and this is an extreme case, but I also know that this stuff still happens, and it scares me. We are just going to make sure we are careful where we stop, and we are going to make sure we keep ourselves safe wherever we go. So far we have been stopping at only rest areas to use the restroom, and only during daytime. I am also making sure that I don't mention that I have a wife unless I know that it is safe. As ridiculous as it sounds and this should not be the case, our safety is key. Anyway, I am definitely optimistic that this is going to be an amazing trip overall, and I am excited to explore the rest of the country.
Cheers!