Washing Away the City
With Rock and Sand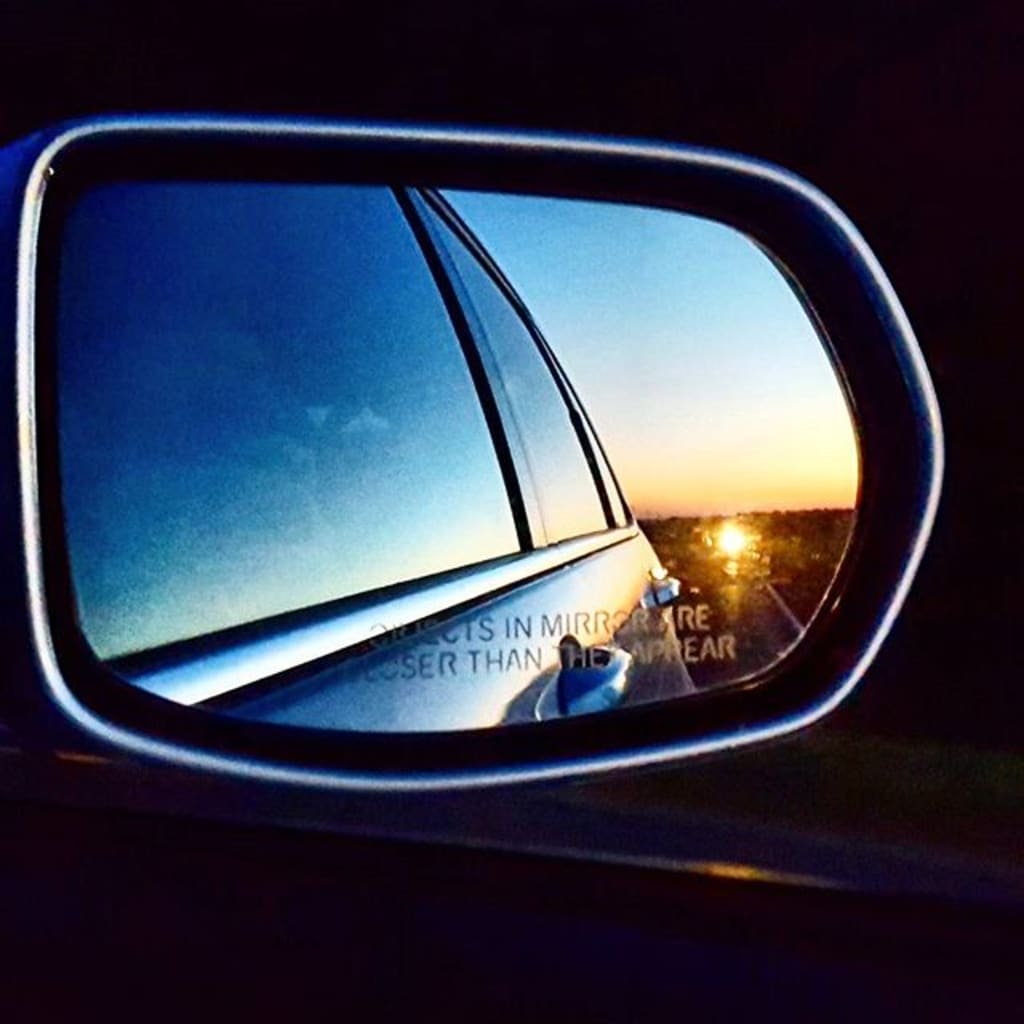 I had just taken a breath after graduating college. The week after I took my last undergraduate exam, we ran away to New Mexico. I am an artist and my partner is an artist—the desert towns which serve as an oasis of artistic splendor and productivity drew us to the valleys and mountains. Just before the crack of dawn, we blinked away our sleep, packed up my parents' car, snuggled our sweet pit bulls one more time before their puppy-sitter arrived, and hit the ground like the bulls of Spain. With the sun at our heels, we made it halfway across Texas before the clouds woke up.
As the sky opened its eyes, I got an email that took the wind out of my sails. Before graduating, I had begun to panic-apply to jobs. I had had an interview with my own college the week before our sojourn, and was awaiting the conclusion of their deliberation. It was then that I learned I would be continuing my job search. The stress of a six-year higher education and the panic of survival set in and I bawled—the ugliest cry I have allowed myself in several years. Thank goodness for my partner driving and quietly allowing me my emotions. This was not the way I wanted to start the trip.
I got angry. I also needed to use the restroom. We stopped at a gas station, and my partner filled the tank while I emptied mine.
I came back out madder than hell and told him I needed to drive. I needed to be in control of something, and flying down the highway would give me the illusion that I could determine my own path, that I could make the world bend to my will—if only for a moment—if only just a road.
I took us out of Texas and instantly the speed limits plummeted. I was disappointed at first, mostly because of my attitude at the time and partially because of my constant need for speed. As I snuck glances beyond the road on either side of us, the speed limits complimented the devastating beauty of the vast landscape dovetailing around us as we sped through. The slow speeds gave us the chance to elongate our glances and revel in the grand, complex emptiness around us. We could see for miles.
For nearly an hour after the state line there was only dirt, patchy plant life, the road, and the whisper of mountains on the edge of the horizon. Suddenly there was a town. The poverty of the state slapped us in the face. The once lively and vital buildings lining the road were dilapidated and had clearly been abandoned since long before we were to pass them. An entire town had experienced devastation. Town after town, the silence of empty, crumbling buildings rang with the same erie ballads in different keys.
The devastated towns finally gave way to the mountains, and we were able to pretend for a few moments that we were in the vacation state we had envisioned upon planning. It is easy to fetishize the landscape and a seemingly beautiful way of life when all you've seen of it are the breathtaking vistas depicted by the master-painter residents.
The vistas will indeed suffocate you.
We listened to Ender's Game as we passed through the juxtaposed spaces— town, mountain, shanty, peaks, ruins, plains—and pondered the complexities of humanity. The vastness of the terrain brought to the forefront of one's consciousness the visceral sensation of existing upon a planet, floating rock in the ethereal nothingness and everything-ness of the universe. The simultaneous magnitude of our chance existence and the insignificance of our puny stature in comparison to the sheer enormity of existence itself was made ever-present by the cinematic, alien terrain which we drove through. We exchanged gasps of wonder.
I would have missed Santa Fe if I had blinked, except for the comical mispronunciations of the Google Maps lady. Having come from the hustle and bustle of an overgrown Texas-sized city, the low-built adobe structures seemed like too small of a town to be the mecca we had come for. We could walk through all of downtown in just one afternoon, and would. Our AirBnb was just the right size—tiny. It felt natural to have such a small enclosed space when the grandeur of the mountains surrounded us in every direction.
Santa Fe was beautiful. The artisans were great, but nothing manmade could compare to the desert splendor. The town and its inhabitants were overshadowed by the surrounding state. We wanted to explore our insignificance further. We drove to the nearby hot spring - Jimenez. Along our path there was a valley which we circled for nearly 45 minutes of our trip. The length of time we could see the landmass in the center of a valley to our right was entirely surreal. Once past, I became nauseated by the altitude as we climbed further into the sky and realized being in the valley looking up at the mountains may be where I belong. My partner pulled into a shoulder so I could acclimate while he emptied his tank in the wilderness - proving his ownership of the entire state of New Mexico simply by disposing of his excrement in less (hopefully) than one square foot of a singular mountain in a state comprised of mountains. His declaration of said ownership was loud and proud, to say the least. He then felt the need to whip out the polaroid camera while I sipped a Topo Chico to calm my churning stomach.
After all that and losing our GPS signal for several miles, we managed to make our way to the appropriate "hot" spring. It felt like it would be more of a great place to cool off in the summer than a place to warm up in the winter. It was more fun climbing our way to it than actually finding it. A motif began to appear in our journey. This leg of our trip changed our point of focus. I had felt like a tiny speck, dwarfed by the immensity around me —here I could examine the microcosm of this individual mountain. I took a photo to capture this phenomenon, the focus literally on a small strand of grass in the foreground with a fuzzier expanse of mountains behind it—a perfect symphony of natural composition.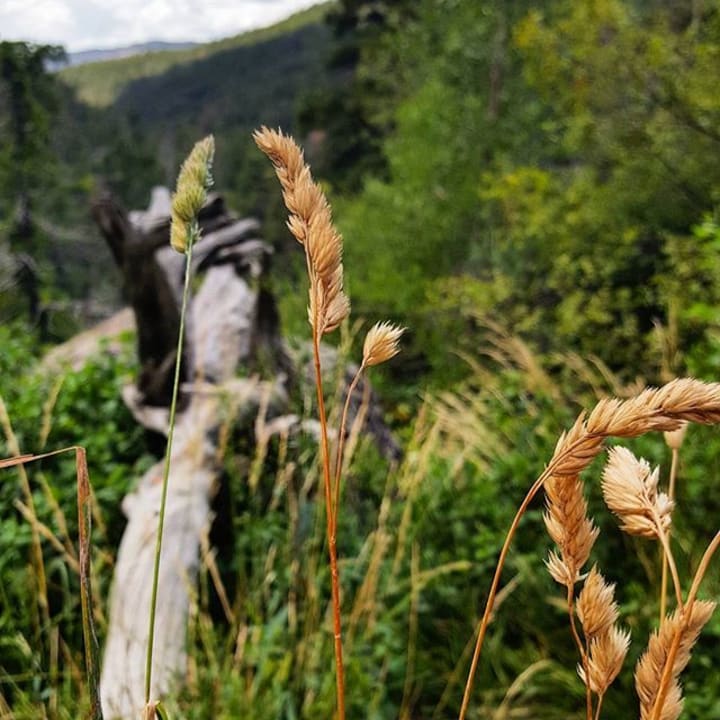 We dipped our toes in the cool water of the "hot" spring and then began our descent. You're not supposed to take anything from the environment with you, but I may have snuck a pebble or two, earning the title of "dirty rock stealer." Somewhere there's a photo of a bra hanging on a wooden railing upon our exit. I have since discovered at least one undergarment hanging from something strange on every one of our succeeding road trips.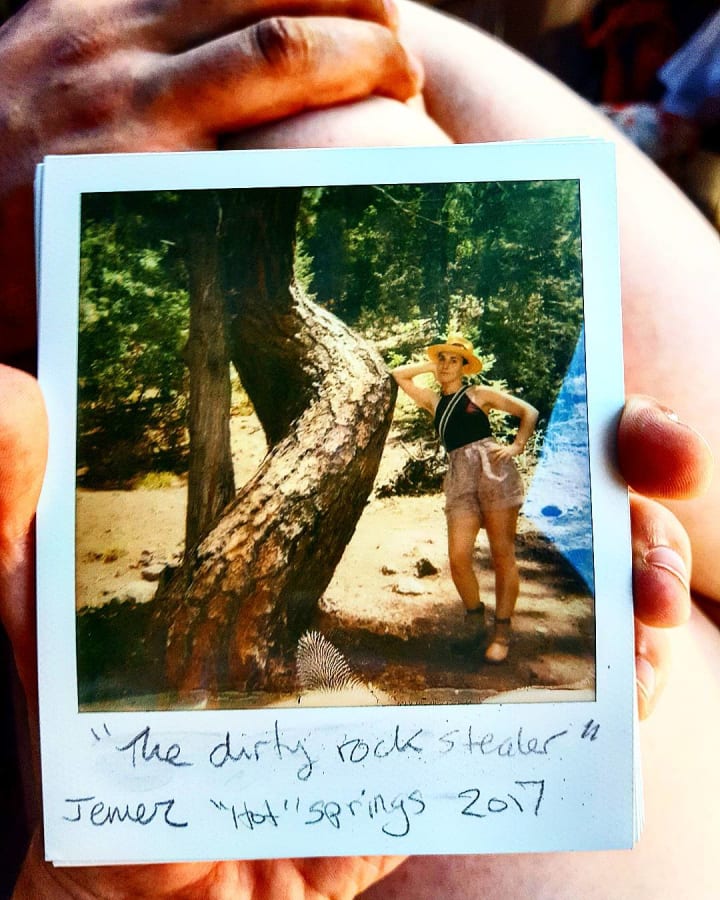 We snacked briefly and drove back to our tiny haven in Santa Fe, changed for a night out, and then ate an extravagant dinner before passing by a concert our host was performing in on our way back. We dreamt of the sweet mountain air and of the problems we left in Texas. The next day would be a deeper investigation of our humanity.
I burned pancakes the next morning, we cleaned dishes, and had a little tiff about packing up the car. We said our farewells to our tiny abode, and turned our faces to brighter (and dryer) horizons. We drove to White Sands.
White Sands was everything we had experienced along the trip magnified and boiled down to their most pure and visceral. At the same time we could see ourselves closed in by mountains, we were more than simply up close to the dunes of blistering sand, but it was on our skin. We became the dunes with every sinking step. The air was so dense and so dry I could hear everything within a single foot radius as if it were threaded directly to my eardrums. My own breath was like the breathing in a Space Odyssey—a Singularity. For a brief moment I was so hot, sweaty, dehydrated, and sandy, I felt as though I were a grain of sand among the rest. I was a direct extension of the planet in one iteration of its reflexivity. The whole collection of dunes were flowering me, as Alan Watts might have put it— and it was, indeed, flowering. Even in this parched, impossible environment there were plants aplenty, poking up through shallow roots. How quietly they shouted "I am here, I am invincible." And I felt that way too; as beautiful as a plant sustaining its own life in the middle of a sandy desert.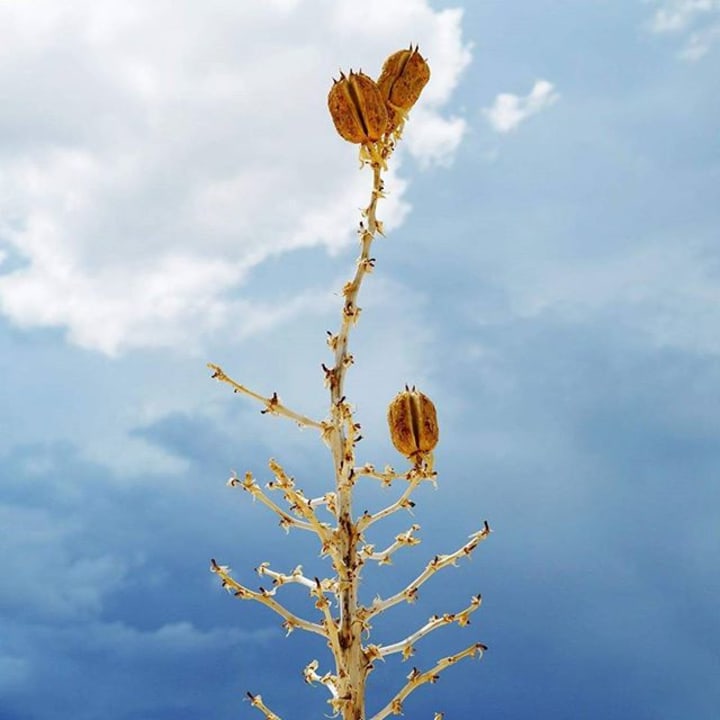 I started to get preliminary heat stroke symptoms as storm clouds rolled in.
We finished up at White Sands as the sun began setting and the storm began to swallow us whole. We managed to drive away from it—flying again—into the nothing and everything and the whispering mountains. Our next destination would be Roswell, the town of extraterrestrial life and perfectly terrestrial conspiracy theories.
Half of that town was stuck in the 50s and the other half was stuck in the 80s. What wasn't stuck in those two decades was stuck in the early 2000s with not much to offer but an Applebee's. Good luck finding gas between White Sands and Roswell, or food, for that matter. All we managed to find on our stops was wildflowers, tumbleweeds, and cacti samples. Thank you, New Mexico. Our home is much more lovely with these preserved magpie clippings. There wasn't much other than the small museum outlining various conspiracy theories of Area 51 and the UFO sighting in the early 50s, a junk shop with keychains, and a mildly satisfying restaurant I can't remember the name of.
We woke the next day and took our time getting back into the car. I don't remember the breakfast we had, but we must have had one before whisking our way back to Texas. Our only stop on our way home was a brief sojourn to Fredericksburg - a quaint Texas town with plenty of western wear, German food, and knick-knack shops to satisfy any shopper's impulse for retail therapy, but don't go there for coffee… Fredericksburg certainly took my money, but I came away with a beautiful western riding skirt (more like palazzo pants, but with the leg width of two skirts). Interesting that I would come away from a trip to the everything and nothing and come back with little more than a few rocks and a tumbleweed, but from my home state I manage to bring back what felt like a truck drivers' haul. You can take the girl out of Texas, but you can't take the Texas out of the girl.
While New Mexico did provide me with the head space to manage my post-undergraduate depression and recover from the years of constant tumult of varied—and often layered—emotions, it did not solve any ounce of the conundrums I had left Texas pondering. I returned home relieved to be back in the comfort of what would soon be my home, but without the comfort of knowing my next steps. I tried too hard to fix my problems and forced solutions as best I could...a best which fell short of par. So far, I have managed to recover little by little from the events following our trip to New Mexico (along with those that preceded it). I realized the mountains had been calling my name for years; a far off whisper to which I paid no attention save for that week. They lent me great wisdom just long enough to breathe a deep sigh. And every week after, I hear them quietly speaking my name. May I someday heed the call of the mountains once more.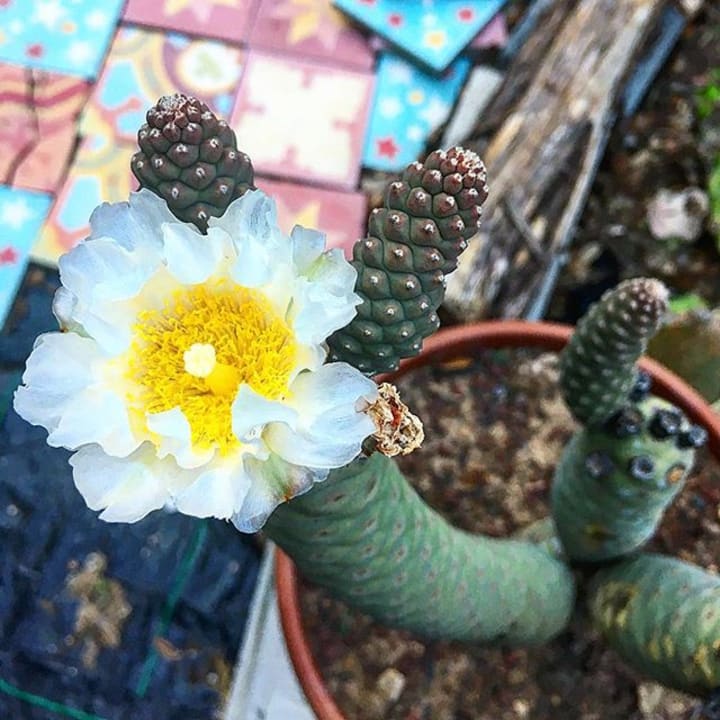 america
Interdisciplinary Artist located in the Austin area. Writing about anything and everything.
Receive stories by Sarah Wingfield in

your feed