Wanna Travel to Iceland? Here's How to NOT Break the Bank
Iceland is one of the most expensive places one can travel to, but there are ways to experience Iceland without blowing your entire life savings.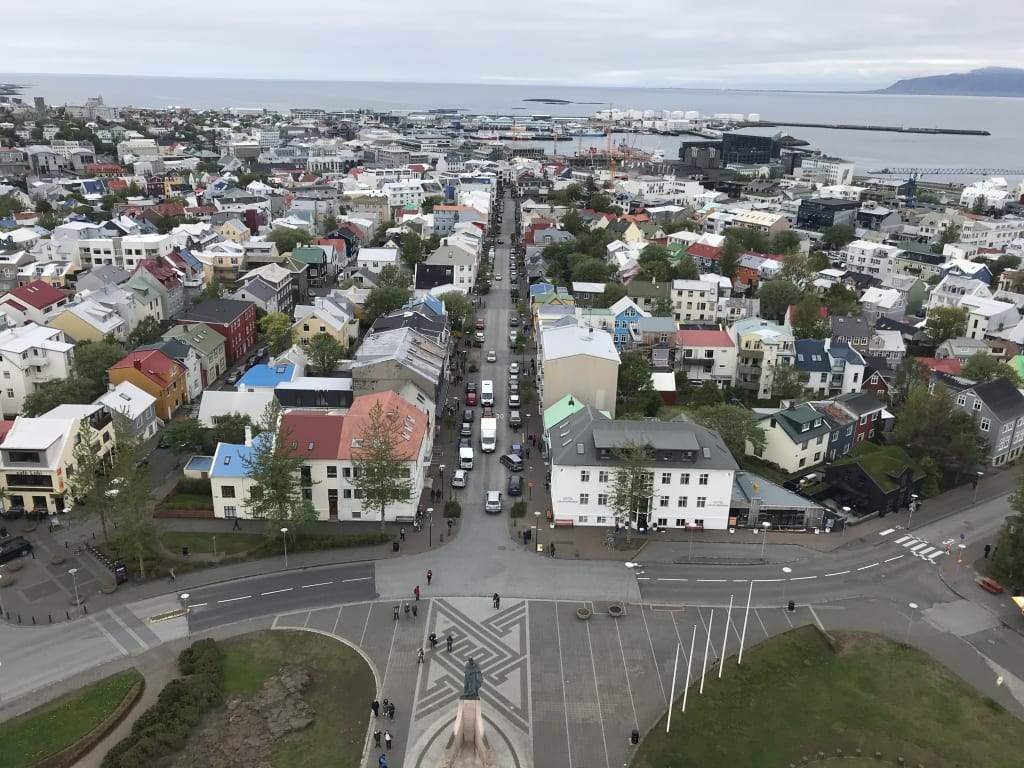 A Picture I Took Overlooking the City of Reykjavik From the Top of the Hallgrimskirkja Church.
Iceland's tourism industry has been booming in recent years, and it's no surprise why. It's a magnificent country with breathtaking waterfalls, marvelous volcanos, and miles of vast farmland. The only downside of this country? It can be VERY expensive. But, if you're smart with your money, it is possible to travel to Iceland on a budget. I took a 7-day trip to Iceland recently, and all in all, I spent around $1350. How did I do it? Let me share my tips. :)
Flights
In my case, it wasn't too hard to score an inexpensive flight to Iceland. I was able to find a non-stop flight from Minneapolis to Reykjavik for about $275. And while prices fluctuate, I've seen prices hover anywhere from $200-$400 from several locations in the United States. If you have your heart set on Iceland, keep checking flights and be flexible with the dates that you're traveling. That's how I got my cheap tickets! From what I've seen, Icelandair, WOW Air, and Delta have several flights from various destinations.
Accommodation in Iceland
Before my friend and I left on our Iceland excursion, I did a little research. Many people like to rent a car and camp in various locations. While that sounded intriguing to us, we decided to go a different route because a.) both of us were a little nervous about driving in an unfamiliar country and b.) gas and car rentals are hella expensive in Iceland. So, we were stuck with a few options in terms of accommodation; we could stay in a hotel, hostel, or Airbnb. The most inexpensive option, in my research, was to stay in a hostel. Hotels, even 2- or 3-star ones, ranged anywhere from $200-$500 a night, and we did not have that kind of money. We found a hostel in a really great area of Reykjavik that ended being about $95 a night, per person (which, if you have stayed in a hostel before or know anything about hostels, is pricey). We did find some cheaper options that were around $65-$75 a night, but they were either booked for the duration of our trip or didn't have good reviews. Plus, breakfast was included in that $95 a night fee.
Food
Eating out in Iceland can add up very quickly. What we decided to do was shop for groceries and make a lot of our own food, since our hostel had a full kitchen. We bought things like bread, peanut butter, jelly, avocados, and pasta. Don't get me wrong, groceries are still a little pricey compared to what you would pay in the United States, but trust me when I say you will save a fat dollar when you cook your own meals.
However, this isn't to say that we never ate out. We definitely went out to lunch and dinner a few times, but we were smart about it. We would check out restaurant menus before entering so we could get a feel for how expensive it would be.
Another tip regarding food is to bring some of your own from home. I brought granola bars and trail mix to snack on in between meals, or just to have in my backpack if I randomly got hungry.
Alcohol
A tip regarding buying alcohol in Iceland if you're on a budget: DON'T. I know it doesn't sound fun but alcohol is ridiculously expensive. I'm talking $10 for a bottle of beer expensive. A couple that stayed in our hostel was telling me that they saw a one-liter bottle of Jack Daniel's whiskey running for $75. I had a total of two drinks during my entire trip—one was a beer that I brought from home and the other was a glass of wine that was included in our Blue Lagoon admission. In my opinion, Iceland is not the place to go out and get hammered, unless you want a $100 bar tab by the end of the night.
If you feel as though you must drink in Iceland, I would recommend finding a restaurant that has good happy hour specials so that you can get a discount. I personally didn't pay attention to alcohol prices at the grocery store, but I imagine buying a bottle of wine, even if it costs you a chunk of change, is more economical then going out and drinking wine.
Also, as I mentioned earlier, I brought a couple bottles of beer and a bottle of wine from home. If you decided to do that, just make sure you have it in your packed luggage. :)
Activities
We were based in Reykjavik, but we didn't want to spend ALL of our time in the city, so we booked a couple of day trips. One of our day trips was a Golden Circle tour, and the other was a Southern Iceland tour. Both were about 8 hours long and were booked through Viator. I highly recommend using this site if you want to book day trips, because they have a TON of different activities and if you're on a budget, there are a lot of cool ones that are fairly inexpensive. We paid about $90 each for our Golden Circle tour and $75 each for our Southern Iceland tour. Another great thing about Viator is that they usually give you a small discount on your first purchase. I believe ours was 10 percent.
As far as activities within Reykjavik, there are a lot of cheap and even free things to do. My favorite free activity? Just strolling around the city! There's a lot to soak in, and you won't spend a dime.
I highly recommend you purchase the Reykjavik city card, which includes free admission to several museums and other places within Reykjavik, and discounts on other activities, restaurants, and shops. Definitely worth your money! You can buy a 24-hour, 48-hour, or 72-hour card.
Transportation

Now, you're probably wondering how you're going to get to all of these places that you want to go to. Well, the great thing about Reykjavik is that it is a fairly small city, so it is VERY walkable. We only took a public bus twice; first to a place that was 3 miles away and then to the BSI bus terminal at midnight so we could catch another bus to the airport. But even then we didn't pay for it, because guess what? Public transportation is FREE with the Reykjavik city card!
So there you have it! I have first-hand experience with traveling to Iceland and not breaking the bank, and you can do the same! I hope these tips helped and I hope you enjoy your trip to Iceland, whether you're leaving tomorrow or your trip isn't for another five years. :)
budget travel
About the author
Hi everyone! My name is Amanda, and I just graduated from college this past May with a Bachelor of Arts degree in English with an emphasis in creative writing. My passions include travel, animals, fashion, food, and (of course) writing!
Reader insights
Be the first to share your insights about this piece.
Add your insights