Wandering through the cold
A short story.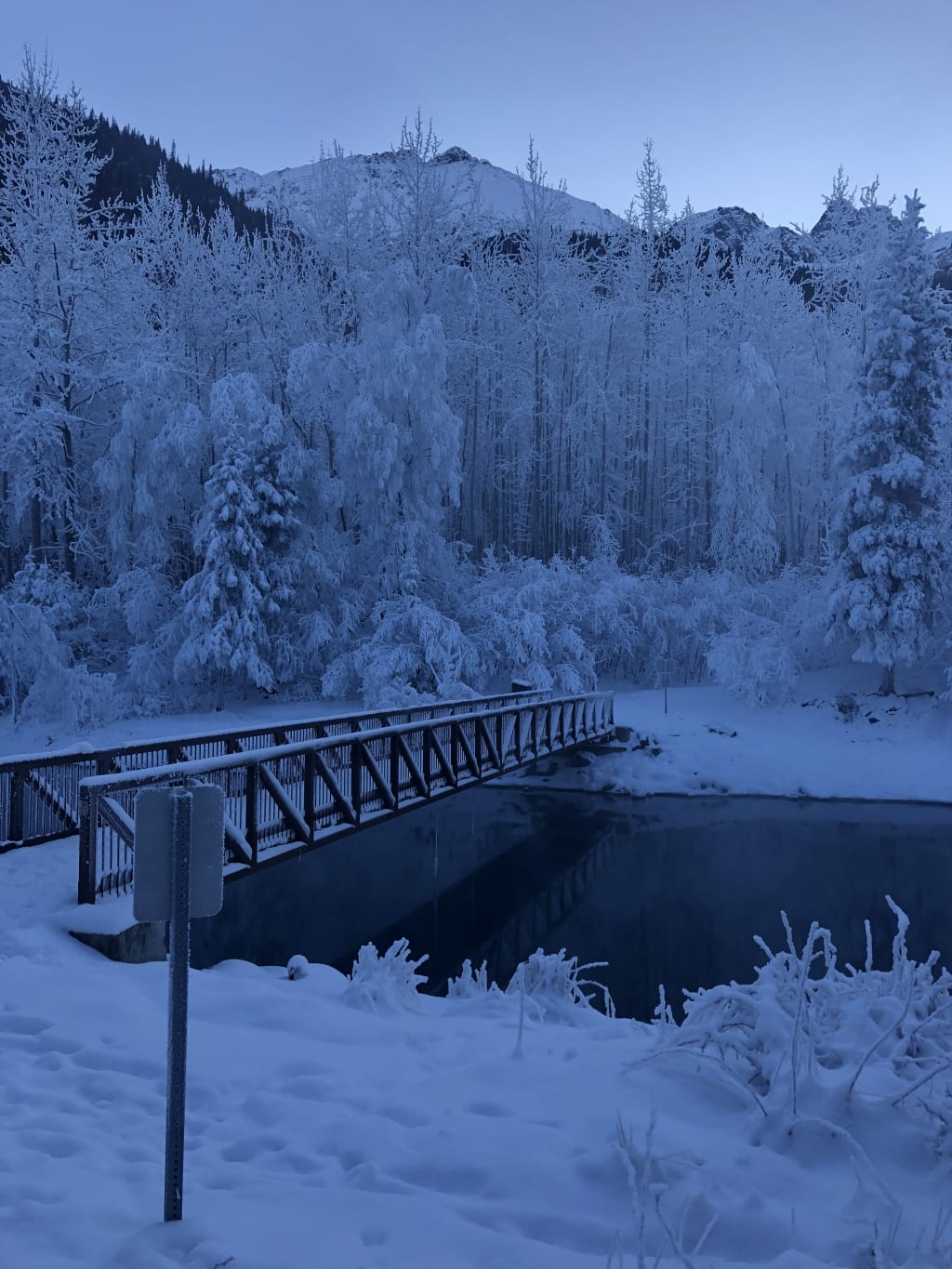 It's a freezing negative fifteen degrees and Sal, a healthy twenty five year old, is finding his way back from a long hike. He notices a bridge near by and a sign next to it covered in snow. He thinks to himself if he should read it, just in case there's anything important. Inevitably he doesn't and walks across the bridge to try and find his way back. After he crosses he looks around at the snow glistening in the sun, and he hears the faint sound of water rushing behind him. The sound of a raven cawing also passes by. Five minutes pass and Sals legs have started to feel warm and ache horribly, his hands have started to go numb too. He looks up at the sky and notices the sun beginning to set in the distance. A beautiful mixture of pinks, yellows, and oranges cascading across while soft clouds float by. Seeing this causes him to panic, he runs further into the woods following what looks like his footprints and something that looks like ski tracks next to it. Sals heavy breathing mixed with the cold temperatures makes his chest hurt. While running he trips and looses his balance for a second, then tumbles onto a piece of metal protruding from the ground. In a panic, he rips off a piece of cloth from his shirt and ties off the wound to keep it from bleeding out. He then finds another small piece of cloth in his coat pocket. After thinking to himself why he didn't use it, Sal tries to cover his mouth with this musty smelling handkerchief to make things easier but it doesn't help much. As he's wandering deeper into the wooded area he grows more delirious and anxious. Checking his phone he has one bar left for signal and very little battery life left. He calls for help, but his words are jumbled and speech in general is slurred. The deeper he goes, the more it feels like his body is fighting against him. He's gone entirely numb, his vision goes blank, and not so soon after he has fallen unconscious. The cloth tied around his leg has gone undone, and he's now bleeding profusely. It's started snowing, huge flakes of crystallized water slowly start to burry Sals limp but still living body. His breathing has slowed significantly, and it looks like nobody came for him. Then at what seems like the last second, someone finds him laying there and rushes over to his side. They check for a pulse, and once they find out he's still alive they pick him up. They don't know if there's any hope for him, but they carry him out to their truck and call for help. They tie off his wound again to attempt to stop the bleeding and starts his truck to get him warm. As the engine rumbles and their gloves are soaked in a red metallic smelling liquid, they look at down at Sal, still unsure if he'll make it out okay.
Thank you for reading part one of this short story! Part two will be posted sometime tomorrow!
Hi, my name is Toby I'm a digital artist, photographer and storyteller. All of which are hobbies of mine. I wanted to try this out to share some ideas for stories I've been working on for quite a while now. I really hope you all enjoy them! And if not that's ok too. I know my writing style is very slow and most like a fast paced style that has action. Again thank you so much for reading this, part two will be out tomorrow afternoon!