Waiting for a Sunset
The Santorini Experience
The most ethereal place in the world is Santorini, Greece. It has everything I want right now: breathtaking sunsets, a salty sea breeze, and white stone buildings with bright blue rooftops. If there was anywhere in the world where I could just stand outside and take a deep breath, it would be Santorini.
My family and I went to Greece a few years ago. It was myself, my parents, my brother, and my aunt and uncle. We visited the places that most tourists do. Athens, Mykonos, and Santorini. Athens had history and architecture I'd read about for years in school, and seeing the Parthenon up close was surreal. Mykonos had the bluest water I've ever seen and probably will ever see. They were both amazing places, but Santorini was what took my breath away from the start.
We arrived on a ferry and traveled by bus to our hotel up steep cliffs and sloping hills. The hotel was across from two volcanoes, and we had a clear view across the island from the outdoor pool. I have too many memories of Santorini to list. There were cute shops, sunset cruises, donkey rides, and all sorts of different beaches.
Even though I've done it already, my ideal vacation would be heading straight back to Santorini with my family. This time, it would be even better if more of my extended family were with us. We have a wild group of personalities in our family, and it's always a great time when we're all thrown together. It would be hectic, but we'd laugh louder than any other group at the hotel, no doubt.
It would be best to have my mom there. Our family is Greek, and I'd never seen her so excited for a trip before. She would make jokes about how we were "the first Olympians" and that we were "rediscovering our roots". The thing about my mom is that she's always worked very hard for as long as I can remember. She's worked 60+ hour work weeks, leaving early and getting home late. Even on vacations, it's hard for her to relax at times. Santorini was the vacation where I saw her the most laid back. We would sit by the pool drinking cherry juice, or take our time looking at handmade jewelry in the crowded streets. I could tell it was her favorite trip from the amount of souvenirs she took home. There's her little sailboat wind chime with yellow beads, or the round ceramic fish with a mouth comically shaped like an 'o'.
What I want to do more than anything is take that sunset cruise again. My family unanimously agreed this was the best part of our trip. We were on a small boat. There was room to stand up front and feel the wind, and a nice seating area in the back. The crew gave us facts about the area, and cooked us dinner as well (which was of course, delicious). We got to stop at different places and jump off the back of the boat to swim. We floated in a shallow spot right off the coast. You could see right down to the rocks below. I'd never swam in water that clear before, other than the town pool back home.
There was even a chance to swim near the volcanoes. Those hot springs was unlike anything I'd ever experienced. There were warm pockets of water to wade in, only for you to suddenly swim back into the cold areas. It was amusing, and we'd all know who hit the cold spots without looking back; you could hear the shrieks.
Once the swimming was done and we were full of chicken, fish, and grilled veggies. The boat drifted to our final spot. Clustered with other boats of a similar size, we simply floated there, perfectly timed to see the sunset. They say Santorini has the most beautiful sunsets in the world. I've never been too wrapped up in romantic images like that, but in the span of fifteen minutes, Santorini completely changed my mind. I snapped a couple pictures, knowing this was the only time I'd experience Santorini like this for at least a few years; I was scared to forget what it looked like. We took some family photos too, but the majority of my time was spent in silence.
I was scared, knowing that this was the only time I'd experience Santorini like this, at least for a few years. More than anything, it was calm. The sea breeze was cool and the sun was hot. The boat was gently bobbing up and down, and I could hardly come up with the right colors to describe the view. The sun was a white hot ball, nestled atop the surface. The color gradient was astounding. At the bottom was a strip of ashy purple, fading to fuchsia, to blood orange, pale yellow, and eventually a gentle blue. The water was a dark blue, the shadows black and highlights sherbet pink. The other boats ahead of us were black slivers against the sky, and I thought that everyone else in the ocean at that moment was doing the same thing as me. I could taste the salt. I could hear the rhythm of the waves. I smell that unique scent that only comes from seawater, along with what had to be my 87th layer of sunscreen I'd applied that afternoon.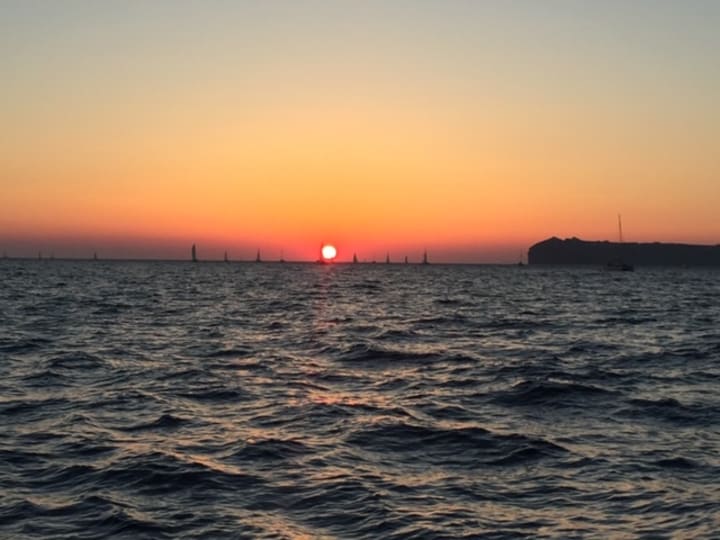 I'd never been so aware of myself and all the sensations around me. I think someone tried talking to me but I didn't pay attention. I didn't want to miss any second of the scenery. I meditate often, and meditation is the best way for me to describe the experience. It was like meditating, being completely in the present and not worrying about the past or present. In that moment, it was just Santorini. It was just gorgeous.
If I could be outside right now, there's simply no place I'd rather be. I want to trip on the uneven, sloping steps of Fira, I want to leap back into the water. I want to watch the most beautiful sunset in the world again. I know I'll get back to Santorini someday, and I can't wait until that day arrives.