Vik
A Trip to Vik, Iceland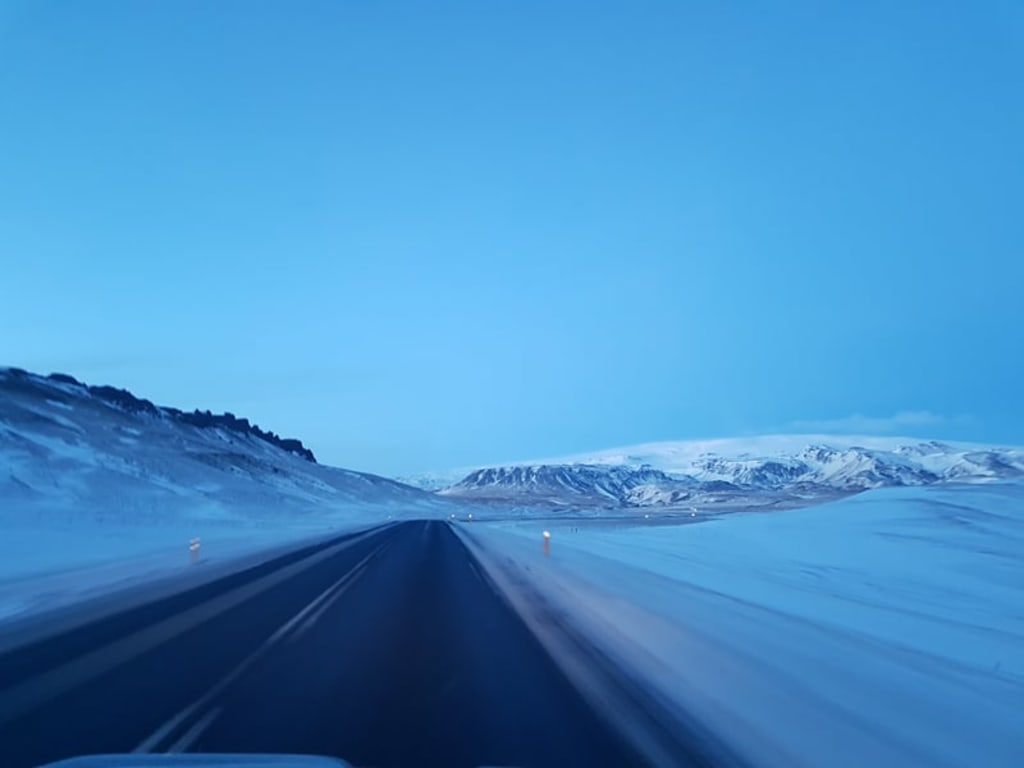 Day 4
On a day four we've decided to go to Vik, we were meant to go there on our second day but, we were too tired and overslept.
So, as usual, we woke up for breakfast at around 7 or 8 am and were gone for adventure. Vik is based in Southern Iceland nearby Sólheimajökull, which is a glacier. The reason why I really wanted to go there was because of the black beach, which has been created due to volcanic eruptions and the fact that Vik is under one of the most dangerous volcanoes, Katla, which, if it erupts, can flood Vik, so the sand is consistent is basalt. I've seen several pictures of the beauty they had, I just said I have to go and see them, and we did.
Storm Eleanor was raging when we decided to go to Vik. The previous day was windy as well but only in some parts of Iceland. This time, throughout entire journey the wind was hectic and dangerous, everywhere we have stopped and went.
We were driving for around three hours. My boyfriend decided to take a couple of breaks for a coffee and general view admiring time. We wanted to take it slowly considering the weather conditions. Anyway, while driving there I never thought I would be so scared in my entire life. We were going uphill and ended up in high mountain parts with roads on them, all good and beautiful views, until wild wind decided to blow and start pushing our car towards the abyss. This happened a couple of times especially, when we have started to get close to Vik. Plus, when driving next to a lorry it's not fun either. The gust of wind just blows you off the road and it is extremely difficult to control the car at this point.
When we got there, I was shocked at how beautiful it looked. The ocean raging in the wind. The waves crashing against the rocks. We got closer to the beach and walked on it. The fun part of it was, to try to run away from the waves. The storm was so strong, the waves were huge, that most of the beach was taken by the water.
Funny story time:
I was standing and admiring the loveliness of nature which was around me and my boyfriend asked me if I can take a photo of him. I thought yeah why not; it would be weird If I've said no. So I am trying to take a nice photo of him and seconds after I've taken it the wind tripped me over. I landed on my knees and with my face in the rocks, trying to protect my darling's phone. Talk about a fun holiday.
We've spent some time there walking on the beach listening to the ocean and the whistling wind. We were very lucky as well, as there was a coffee shop near—this is how you win life. Also, we wanted to stop at Mýrdal but the wind got too hectic at that point and we wanted to be somewhere safe.
After taking a couple of pictures we've decided to go and again, having fun going uphill and trying not to die. When we got to the open road between mountains and grass I saw the most beautiful creature ever. A horse. Yes, you've read that right, a horse. It was beautiful and fluffy it looked so mystical, that I just wanted to take it home. I told my boyfriend to stop the car and I managed to get close to it and pet it. These things are so soft honestly, it felt like a pillow. I took a photo of this beautiful animal and we drove off.
This was the end of day four.