Veneziani
A Glimpse of Venice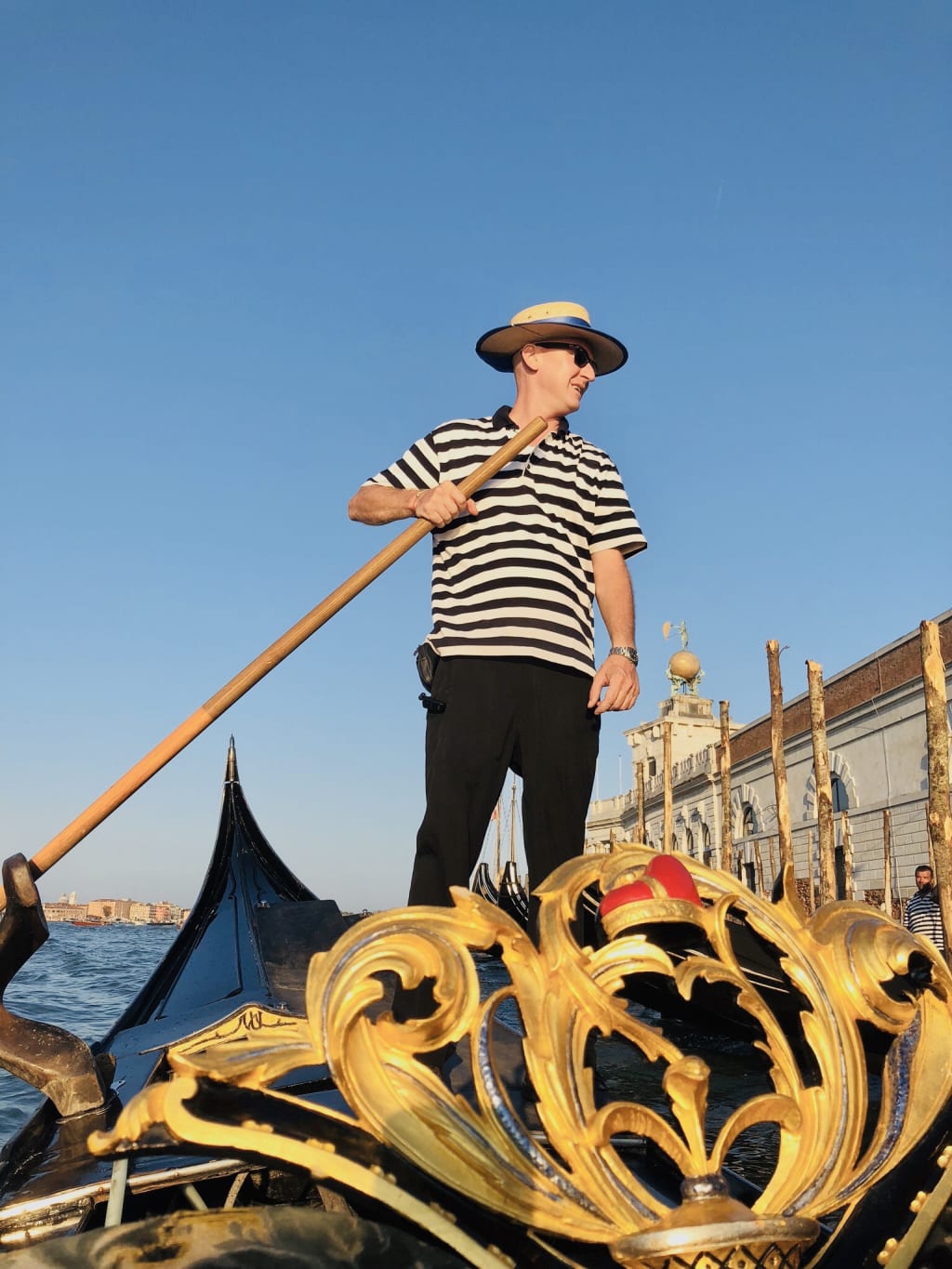 By Veronica HD
If I were to choose one picture from the thousands taken on my IPhone and Camera on my trip to Italy to be my favourite, it would be this one. This photo captures a perfect frame of what we as tourists associate as the essence of Venice and tourism. This man has been working with his Gondola boat for his entire life, paddling families, to tourists, to lovebirds on a romantic date down the very channels of the city surrounded by water. His boat was passed on down from his father, which had come from his grandfather. These boats pass on for generations, and may undergo some fine tuning and upgrading for durability, they remain as important heirloom through the generations of Venice residents. These gondoliers line up at the ant docks situated across the city, and wait for the next guests to board the boat and take on this journey they have set sail many times over in their lives, making a decent living from it, and reproducing the very Venetian lives their fathers lived.
This special ride that I had the honour of experiencing, took place at sunset, the perfect time to capture the picture I always wanted at golden hour. Of course, it was a risk to take my camera on the ride with me, I was not about to let myself anywhere near water with a camera, I am very clumsy. I did however let myself bring my phone with me as long as I kept my phone close to my body at all times. The plan was to take a beautiful picture of us on the boat, with the city in the background, making the perfect shot for Instagram. However as I sat listening to the stories of the Gondolier initiated by my very curious father, I started to appreciate the beauty in the gondolier himself. I was introduced to a whole new culture and way of living, something so unfamiliar and strange to me coming from Vancouver Canada, a very large city. What began as a super cool once in a lifetime opportunity to snap a picture of myself in the sunset lighting, my attention shifted to see this experience in a new light, the way of living for our fellow Venetian taking us through our foreign experience. In Vancouver that is simply not something you do or see here, riding a gondola is something you do once or twice in your life to say you did it, to show off to all your friends. But in Venice this is a lifestyle, and has become a norm for many of the Venetians there, to be committed to a lifetime to serving the tourism industry for people like me. So instead of focusing the picture of my own experience on the ride as an adventurer and traveller, I centered the photo around the gondolier, I his normal, everyday element. I hope to capture another side to the story of cities like Venice where tourism is one of the biggest industries keeping their city afloat. Changing your perspective to see new ways of culture, living, and the world offers an insightful glimpse into other people's shoes, or in this case striped shirts.
In order to make this picture as perfect as I can envision it to be, I used the photo editing tools to emphasize the elements I wanted to be highlighted. As it was sunset, I decreased the temperature to a bit cooler, so it was not as orange on the sky, because the contrast from the sky to the man and the boat is beautiful and essential in creating a bright and vibrant photo. I did not want to edit the image too much, in order to keep the initial and original state of the moment, and keep it as real as possible as we step into this gondoliers life through photos. The brightness of the image also illustrates the heat of the sun on the gondolier as he toils in his boat through the heat of the summer, as shown by the fact that he wears his hat and sunglasses.
Other than that I left the photo as natural as possible, to leave it as raw and real as it was when I took it.
Once again, thank you for taking the time to read the story, and process behind taking the image, editing it, and posting it with a message. I encourage you to read other stories I will be posting! I am so grateful for every opportunity I get to capture images, and tell my interpretations of their stories and share/discuss with others!
Reader insights
Be the first to share your insights about this piece.
Add your insights